Live Updates
Alabama Shuts Up and Shuts Out the Vanderbilt Commodores 59-0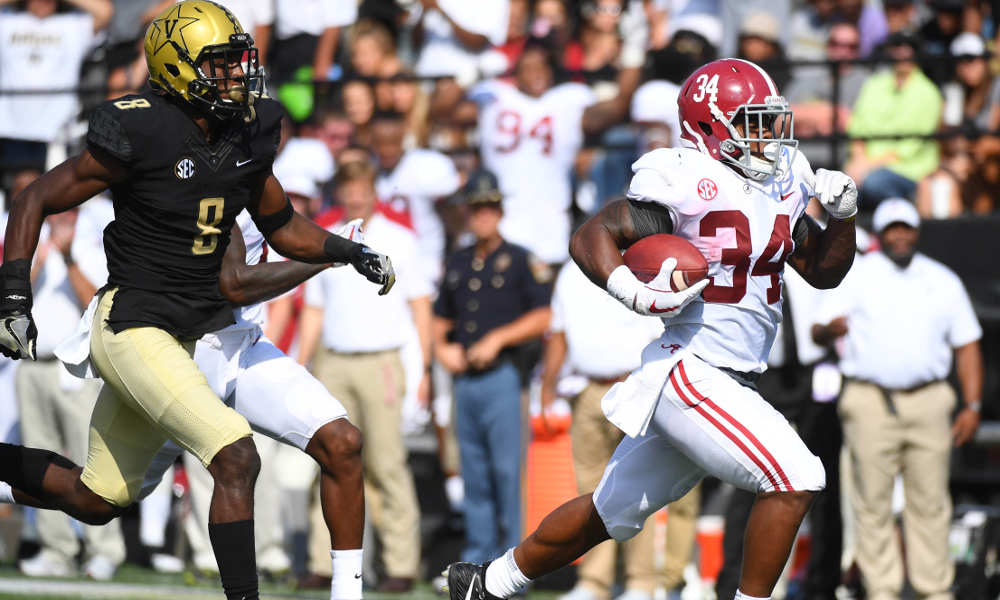 In a game that was never close, the top-ranked Alabama Crimson Tide shut out the Commodores of Vanderbilt on both sides of the football. Alabama's typically ferocious defense reappeared to hold Vandy to just 78 total yards on the day. Brian Daboll and his offense turned in their most impressive performance, as well. Alabama's offense put up nearly 700 yards – almost 500 of which came on the ground. Everyone that played for the Tide was impressive, today.
Jalen Hurts played well but his arm was not needed due to all of the success had by the running backs. He went 9-of-17 passing for 78 yards in two quarters of play. Backup quarterback, Tua Tagovailoa, ultimately turned in the more impressive game on a career day. The true freshman went 8-of-10 passing for 103 yards and a pair of touchdowns, including this Flutie-like throw that set social media ablaze:
Wow! Alabama Freshman QB @Tuaamann_ To freshman War @Smityyy03 #BamavsVandy #CBS pic.twitter.com/rFBWyz1XHN

— InsideBamaRecruiting (@RTRnews) September 23, 2017
As far as the ground game goes, everyone got involved in the 496 yard effort. Damien Harris lead the way with 151 yards on 12 carries and three scores. Bo Scarbrough also had incredible success as he tallied 79 yards and his own pair of touchdowns. The true freshmen tail backs also impressed: Najee Harris managed 70 yards on 10 carries while Brian Robinson had 51 yards and a score of his own on five carries. Joshua Jacobs – who is still being carefully limited after his injury – also got four attempts which he turned into 28 yards.
True freshman wide receiver, Jerry Jeudy, and superstar Calvin Ridley lead the way in the air game. Jeudy had three receptions for 68 yards and a score while Calvin Ridley pulled in five passes for 43 yards but went scoreless after dropping one in the endzone. Another freshman, DeVonta Smith, was on the receiving end of the crazy Tagovailoa highlight play above.
The defense denied the Commodores even as much as entering Alabama territory, let alone scoring. Ronnie Harrison recorded the lone interception on the day early in the game, and outside linebacker Anfernee Jennings – who missed the last two games with an injury – forced another turnover by way of a fumble.
All in all, fans and coaches alike have to be proud of how inspired the team looked to play today. The extra noise from Vanderbilt's camp this week surely helped them focus, but they never let up in their intensity. The defense got some of their players back from injury and looked as dominant as ever, and Daboll's offense finally seems to have found its identity. This CBS tweet just about wraps it up itself:
How good was Alabama today?
Nick Saban smiled. pic.twitter.com/KK0GHUP90z

— CBS Sports (@CBSSports) September 23, 2017