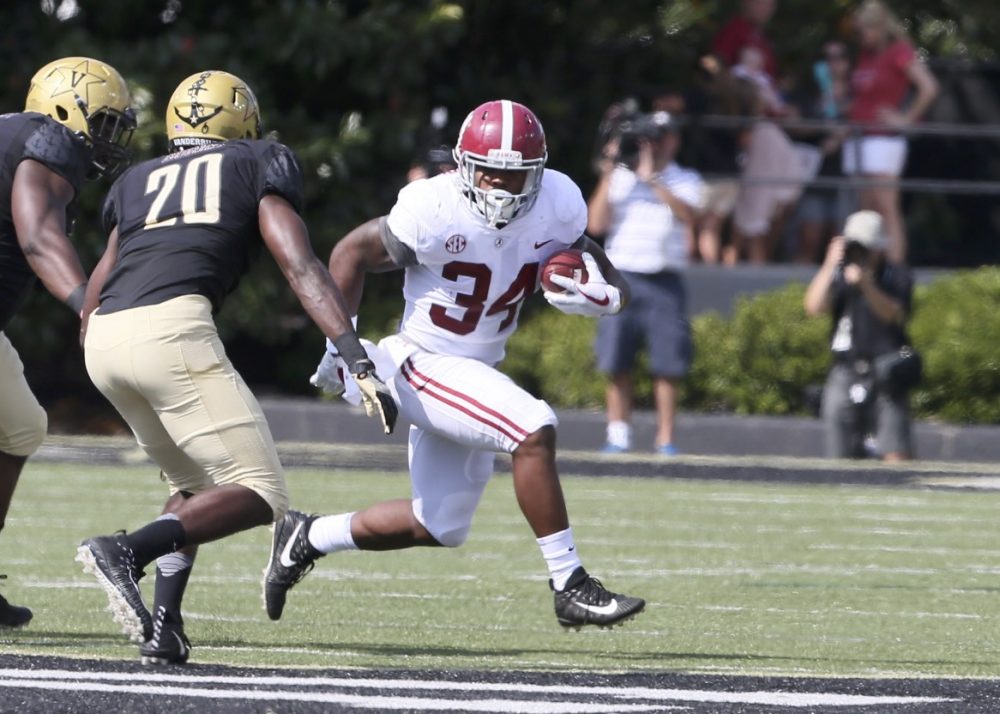 It was a day where hardly anything went wrong and everything went right. It was a day that the men in Crimson made Nashville part of Sweet Home Alabama.
Sweet Home Alabama in Nashville
By: Larry Burton
Yes there was something in the air in Nashville yesterday, but what was more important was what was in the seats. And what was in the seats by a good majority in Nashville, were Alabama butts!
Vanderbilt was off to one of their best starts in a long, long time. So why did their own fans give up their tickets and a chance to cheer on their own team? We may never know, but maybe they knew that the Tide was rising, finally looking like the beast that everyone knew it was going to be and that the only chance the Commodores had was if the bus got lost on the way to the game.
What happened yesterday was Alabama's best day of the 2017 season. It was a day that Alabama simply dominated a team who was statistically the best defense in the SEC and one of the best in the nation. It was a day where Alabama's starters were clearly the best team in the nation, the second team looked like the third best team in the country and the freshmen looked like the 4th best team in the country.
It was a day that quieted all the folks who wondered if maybe Clemson had an edge over Alabama in the "who should be number one" talk.
It was a day that made Nick Saban smile, even laugh on the sidelines as his players were urging him to run the ball just one more time to go from 499 yards rushing to over 500. There is no need to review this film, give everyone including the water boys an A for day and go on. It was a day that Nifae Lealeo, a defensive lineman for Vanderbilt looked utterly stupid for declaring after a big win the week before that, ""When you come to our house, we show you how to play some SEC ball. It don't matter where you from. You're going to know what ball we play. We're going into next week ranked. That's fine. Alabama, you're next." Really, you were going to show THEM how to play some SEC ball?
That idiot stood panting with his hands on his hips gasping for air after futility chasing Alabama running backs all day who gained almost 500 yards on the ground against him. Yes Mr. Lealeo, when a 6th string running back Brian Robinson, Jr. averages over 10 yards a carry against you, we hope you have learned a valuable lesson in keeping your darn mouth shut with your foot entrenched firmly in it. You weren't ready for Alabama, not by a damn long shot, at least not this Alabama.
Yes, for a few hours, it was Sweet Home Alabama in Nashville.
But it just wasn't the running backs who showed out and shut up the Commodores. Both Alabama quarterbacks put on a clinic and the defense pitched not just a shut out, but allowed just 78 total yards the entire game. That was less than Damien Harris had alone in the first quarter by himself.
It was as if everyone in Crimson was Superman and everyone in black and gold was Lois Lane. Alabama's subs were utterly fantastic and the true freshmen may have beat them by the same score at the rate they were playing. Had Saban not called off the dogs in the fourth quarter it would have been one of the great blow outs of all time.
Everyone in football knew that the Alabama team they'd seen so far this season hadn't hit their stride yet, but yesterday's performance gave everyone an indication of they can expect when this team brings their A game and the A doesn't stand for Alabama, it stands for Awesome.
While every game remaining may not have the beauty of this blowout, it was great to see a team break out and show their potential. As great as it was for fans of Alabama to see, a shudder ran down the spines of everyone else on the schedule this season.
Larry has been published in almost every media outlet for college sports and now primarily writes here for Touchdown Alabama. Follow Larry on Twitter for inside thoughts and game time comments at https://twitter.com/LBSportswriter
THANKS FOR SHARING THE LINK TO THIS STORY ON YOUR FACEBOOK PAGE OR A FACEBOOK GROUP YOU BELONG TO, FACEBOOK RESTRICTS HOW MANY PLACES WE CAN POST IT ON, SO PLEASE SHARE!