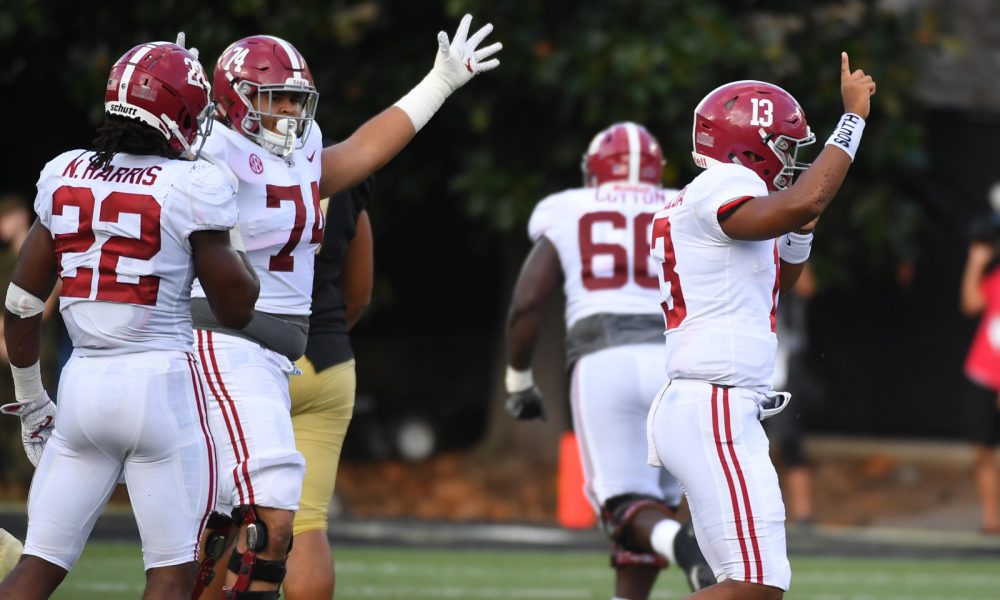 As good as Alabama's signing classes were in 2008, 2012, 2013 and 2015, this year's group of freshmen could be the most gifted of the bunch – especially on the offensive side of the ball. 
Despite saying "Alabama, your next" following Vanderbilt's win over Kansas State, defensive lineman Nifae Lealao did not think the Crimson Tide's young stars would bring much damage. 
From five-star quarterback Tua Tagovailoa to tight end Major Tennison, head coach Nick Saban was able to play a lot of guys and they rewarded him in return with pitching a 59-0 win. 
Listed below is a breakdown of all freshmen that shined over the weekend. 
Tua Tagovailoa, QB 
No quarterback controversy lies at Alabama, but seeing the Hawaiian punch showcase a talented arm in Nashville was exciting for fans. After a rough outing versus Colorado State, Tagovailoa looked much more relaxed and allowed his athleticism to guide him into some explosive plays. 
He completed eight of 10 passes attempts for 103 yards and two touchdowns, including a 34-yard strike to wide receiver Jerry Jeudy – his partner in crime from the Tide's spring game. 
Tagovailoa's 27-yard touchdown pass to Devonta Smith in the third quarter had a little of Michael Vick, Steve Young, Brett Favre and Johnny Manziel wrapped up in one motion. 
He eludes a couple of defenders in the pocket, keeps his eyes focused downfield, and fired a timely rope to Smith in the end zone for a score. While sophomore quarterback Jalen Hurts looked mightily impressed, the 219-pounder celebrated with Najee Harris and the offensive line. 
Wow! Alabama Freshman QB @Tuaamann_ To freshman War @Smityyy03 #BamavsVandy #CBS pic.twitter.com/rFBWyz1XHN

— InsideBamaRecruiting (@RTRnews) September 23, 2017
Najee Harris, RB 
He may have Derrick Henry's physical build (6-2/227), but Najee Harris' running style resembles none other than Eddie Lacy. As he continues to fine-tune both the spin move and hurdling prowess, the California native added some power to the mix against the Commodores. 
Alabama Freshman RB Najee Harris leaping Guys #BamavsVandy #Cbs pic.twitter.com/u3ZXvqViUr

— InsideBamaRecruiting (@RTRnews) September 23, 2017
He was one of three running backs – Damien Harris and Bo Scarbrough – to account for at least 70 yards rushing, as he chimed in with 70 yards on 10 carries. Harris could have registered a touchdown in the second half, but Alabama decided to go with four-star Brian Robinson. 
Brian Robinson, RB 
Brian Robinson runs angry. 
This was the conversation during the offseason when I talked players, and it was nothing short of accurate over the weekend. A homegrown product of Tuscaloosa, carried the team's second-highest yards per carry average (10.2) and posted 51 rushing yards on five carries. 
Td! Freshman RB @BrianR_4 #BamavsVandy pic.twitter.com/bgPiis17oT

— BamaVideo (@BamaVideo_) September 23, 2017
He supplied the finishing touch on last week's matchup, recording a 17-yard touchdown run in the fourth quarter. Robinson's score was the Tide's sixth on the ground throughout the game. 
Jerry Jeudy, WR 
He shared a new photo to his Twitter account following the matchup, and one that confirms his happiness on signing in Alabama's 2017 class. Despite his frustrations before the Vanderbilt game, Jerry Jeudy got his moment in Nashville as he totaled a game-high 68 receiving yards. 
TD! #Freshman2Freshman Alabama QB @Tuaamann_ To WR @jerryjeudy #BamavsVandy #CBS pic.twitter.com/VedCn0TpCE

— InsideBamaRecruiting (@RTRnews) September 23, 2017
All three of his catches went for first downs, including one that resulted in a 34-yard touchdown in the third quarter from Tua Tagovailoa. 
Jedrick Wills & Alex Leatherwood, OL 
Rarely ever does one sign two offensive linemen that are highly ranked in the ESPN 300 recruiting network; however, Nick Saban does not believe in being like everyone else. 
The combination of Wills (right tackle) and Leatherwood (left tackle) kept the Crimson Tide's offense on attack mode in the second half. Both players helped with the team generating 38 first downs, 677 total yards (496 rushing), nine third down conversions (15 attempts) and five touchdowns in the red zone on seven tries. Wills set the edge on the right side for Brian Robinson's first career rushing score in the fourth quarter, giving Alabama a 59-0 lead. 
Others that made an impact: 
Devonta Smith: one catch, 27 yards, TD 
Major Tennison: one catch, 9 yards 
Henry Ruggs III: one punt return, 16 yards 
Dylan Moses: one tackle 
Daniel Wright: two tackles 
Stephen M. Smith is the managing editor and senior writer for Touchdown Alabama Magazine.  You can "like" him on Facebook or "follow" him on Twitter, via @Smsmith_TDALMag.