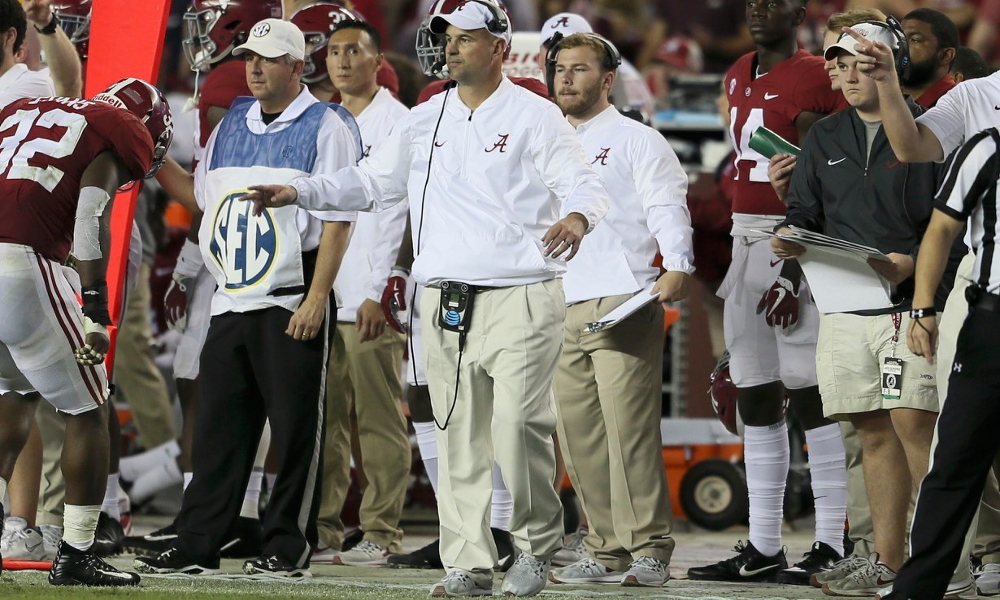 Another year, another assistant coaching shake up in Tuscaloosa.
Recently reported by ESPN, the controversial Knoxville coaching search may finally be coming to an unceremonious closing. Fourth-ranked Alabama's Jeremy Pruitt was hired to replace Kirby Smart in 2016 when he left to become the head coach of the Georgia Bulldogs. Now, Saban and Co. may be back on the hiring trails as Pruitt appears to be headed to Rocky Top.
In his short but illustrious college coaching career, Pruitt has already coached under some of college football's best. That list includes the likes of Kirby Smart, Mark Richt, Jimbo Fisher, and Nick Saban. Before joining the Crimson Tide's staff in 2007, he was a defensive coach at Hoover High School – an ever-fertile recruiting area and consistent nationally-ranked program. Having coached under that many greats, and at that many schools, in the southeastern area, Pruitt comes in with an extensive recruiting background in one of college football's richest recruiting grounds.
After striking out on Jon Gruden, Mike Leach, Greg Schiano, Chip Kelly and a handful of others, few appeared willing to put up with the uncertainty within the University's higher-ups. An abrupt change at Athletic Director following the ugly social media backlash had Tennessee looking dead in the waters. Though Pruitt comes to town with no former head coaching experience, his resume and upside speaks for itself. His defensive mentality makes him a perfect counter to UGA's Kirby Smart and UF's Dan Mullen.
Now, for Tide fans at least, all eyes are on Nick Saban. Assuming Pruitt heads out of town early, Co-DC Tosh Lupoi would be the most likely candidate to replace him. With a tough matchup against #1 Clemson ahead, Saban will likely desire to have this solidified and nailed down completely before game planning begins.