Nick Saban
Nick Saban appreciates Sugar Bowl opportunity, reverts to his favorite phrase for Clemson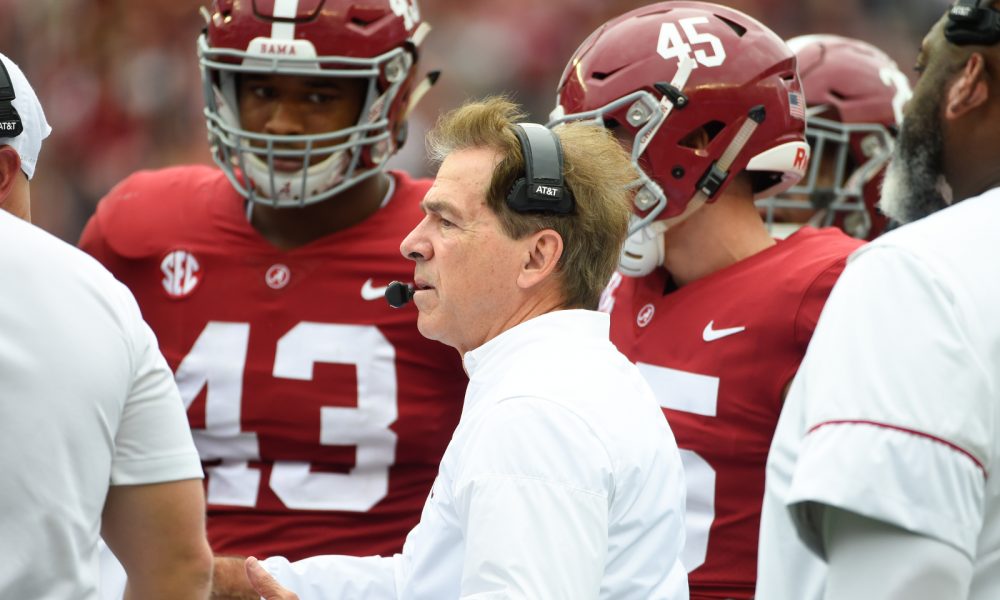 He gave ESPN's Laura Rutledge a good laugh in terms of getting socks for Christmas and expressed appreciation to the Allstate Sugar Bowl committee for the invitation, but University of Alabama head football coach Nick Saban is on a mission and one that desires a national title. 
He and Crimson Tide arrived in New Orleans, La., earlier today and Saban immediately spoke to the press about how the team is taking the opportunity with urgency. Alabama is the lone Football Bowl Subdivision program to appear in the College Football Playoff four times. 
After not finishing the job last season, he has reverted to his favorite message of 'don't waste of failure.' While debuting this information at Southeastern Conference media days in the summer, Saban and company intend to capitalize on the nugget in this endeavor versus Clemson. 
"When you get an opportunity like this to play against a team like Clemson, or any team in the playoff at this point, players have to expect it to be a difficult game," Saban said. "Most of these games are dog fights so, you have to overcome adversity, everybody has to take ownership to do their job. It is not a feeling, it is a choice and your identity starts with how you finish." 
Although he said he was pleased with the preparation and focus of players and coaches during practices in Tuscaloosa, Saban mentioned the team losing its identity against Auburn. 
"We kind of forgot who we were in our last game," he said. "We feel fortunate to have an opportunity to rectify that in the playoff." 
As for balancing the bowl/playoff experience, Alabama players have become more locked in on success in a game than the experience itself. Per Saban, he lets the leadership on the team decide the curfew along with other things to make sure everyone stays in line with the main purpose. 
"They experience consequences in the game, good ones and bad ones," he said. 
"I think they understand that after going through that experience as I do, the fun of it all is having success. The fun of it all is winning the game and no matter what you do, you do not remember all the things that you did but you always remember whether you won or lost the game." 
Despite it not having linebacker Shaun Dion Hamilton (knee), safety Hootie Jones (knee) and linebacker Dylan Moses (foot), Alabama will continue with practice in New Orleans.  
The trilogy between the Tide and Tigers is set for Jan. 1, 2018 at 7:45 p.m. CT 
Stephen M. Smith is the managing editor and senior writer for Touchdown Alabama Magazine.  You can "like" him on Facebook or "follow" him on Twitter, via @Smsmith_TDALMag.