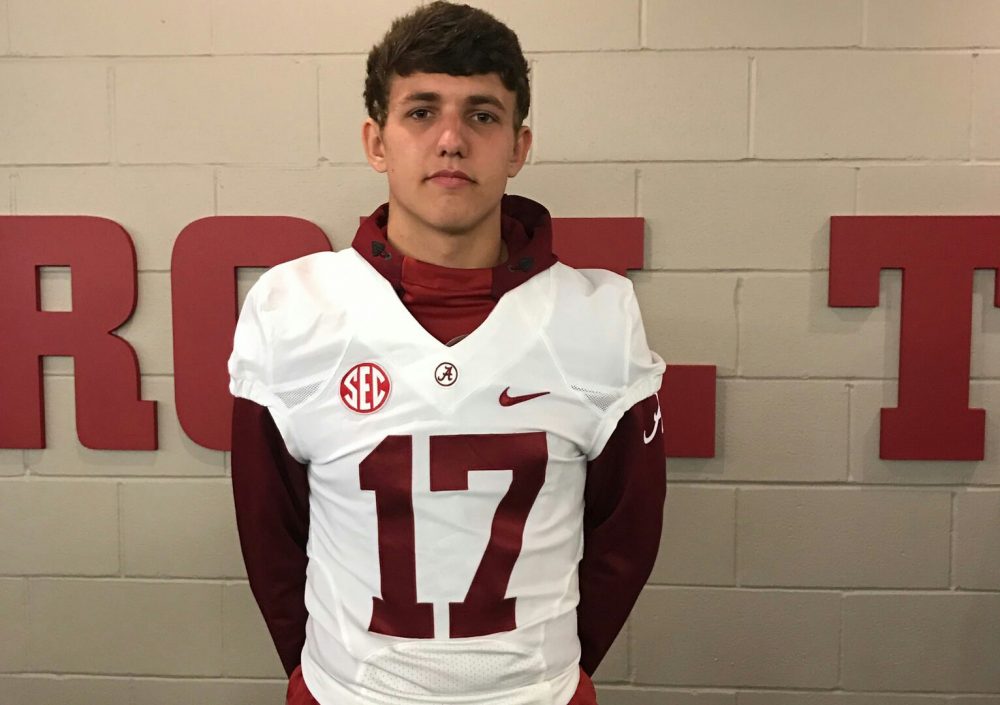 Alabama did not land a scholarship quarterback in their 2018 recruiting class and it is easy to see why. Alabama has two quarterbacks, Jalen Hurts and Tua Tagovoiloa, that will battle it out for the starting position on next season and neither of them are seniors. In a college football world where early playing time is crucial, this offer did not look very tempting to the top quarterbacks in the 2018 class.
The Crimson Tide is hoping that their luck is a little bit better in the 2019 recruiting cycle as they want and may need to land a high caliber athlete at the quarterback position. Considering the fact that Tagovailoa will be eligible for the draft and Hurts will be a senior once the 2019 class is enrolled in college; it will be in the Tide's best interest to have a freshman on the roster working on learning their offense.
The Tide has offered some great 2019 quarterback prospects and it should be interesting to see how things shake out. Here is a quick look at some of Alabama's Top 2019 QB targets:
Taulia Tagovailoa
Taulia is the younger brother of Alabama quarterback, Tua Tagovailoa. Although, his brother is a special talent; Taulia is pretty special himself. His game is quite similar to his brother as he is able to make plays on the run by using his elusiveness to keep plays alive. He has great vision and knows how to make plays when things break down. The Tagovailoa family moved to Alabama once Tua enrolled into the University of Alabama and all roads have seemed to point at him playing with his brother in Tuscaloosa. It could be interesting to see where he decides to go. It has been situations where brothers want to do their own thing and go completely different routes.
#12 Taulia Tagovailoa / QB / Thompson High (AL) Class of 2019
Paul Tyson
Tyson has a strong tie to The University of Alabama. He is the great-grandson of non-other than Paul Bear Bryant himself. But make no mistake, Tyson is looking to make his own legacy as he is one of the top pro-style quarterbacks in the nation. This guy has a rocket for an arm and knows how to use it to put the ball on the money with incredible accuracy. He is being highly recruited by some of the top schools in the nation. Notre Dame, Michigan and LSU are just a few of the many schools that have offered Tyson. Only time will tell whether he will take his talent to Tuscaloosa and give Alabama fans another reason to appreciate the Bryant Family.
Paul Tyson Highlights: CLICK HERE
Michael Johnson JR.
Johnson is the No.1 player in the state of Oregon and is the No. 3 dual-threat quarterback in the 2019 recruiting class. Alabama will have to battle hard to get this guy down south to Tuscaloosa as several Pac-12 schools will use their close proximity pitches. Oregon will have the biggest advantage. Especially, considering that Johnson is from Eugene, Oregon. Johnson is extremely dangerous on his feet and can sling the ball with the best of them. Alabama would be lucky to have him.
Michael Johnson Highlights: CLICK HERE
Jayden Daniels
Daniels is a guy with a huge upside. He will have to put on some more weight before he is able to step on a college field as he is currently 6-feet-3-inches and 170 pounds, but he looks promising. He has great accuracy and can make passes on the run. His lengthy body helps him see the field a lot better than a shorter guy could. He also has great arm strength. His deep passes seem almost effortless. He could be a great fit for Alabama.
Jayden Daniels Highlights: CLICK HERE
Justin Smith is a Scouting/Recruiting analyst for Touchdown Alabama Magazine. You can follow him on Twitter, via @Jdsmith31Smith