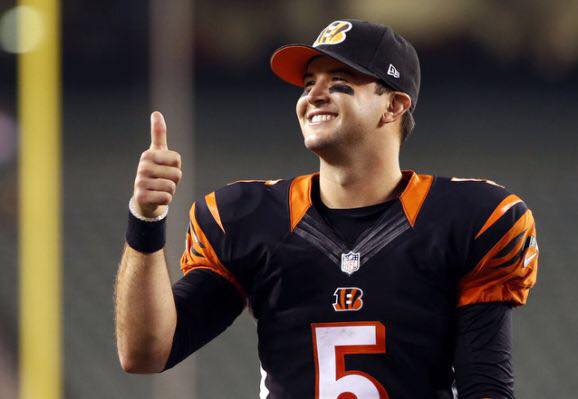 While some Alabama fans feel AJ McCarron didn't get his due in this season's free agency market, it really is a win – win for both the Bills and AJ. Read why.
Why AJ McCarron's Deal With Buffalo Was a Win -Win Despite Low Dollars
By: Larry Burton
As for Buffalo, they could have gotten the steal of the spring. They not only got a quarterback they felt could come in and be a starter on day one and a good one at that, but they also got to move on from Former quarterback Tyrod Taylor and his big salary. By stealing McCarron for 5 million a year and shedding Taylor, the Bills now have 7.5 million dollars to bring in other players and stay under the salary cap.
Even if McCarron only does as well as Taylor, it's a big financial gain for the Bills.
McCarron it would seem has the short end of the stick on his free agency deal. Especially when you see the numbers thrown around that other free agent quarterbacks were able to muster, but you have to look long term and that's why a two year deal and guaranteed money actually will work in McCarron's favor.
While McCarron's agent was telling anyone who would listen that this is a game one ready starting quarterback who a team can build around for a good long future, team owners were saying privately that he's still a virtually untested quarterback who hasn't stood up to even season as a starter and a few games as a fill in quarterback and is hardly worth the big bucks.
But it's not such a bad deal for McCarron. First of all, it's a short contract which means he's back in the market in two years and it gives him a chance to finally show the NFL world what he can do. So you could say it's a put up or shut up short term contract for McCarron.
In the worst case scenario if he falls on his face, which is highly unlikely, he'll have about six million dollars in the bank, if he's wise and he can start his coaching career at a low salary to start and work his way up from there. Or if he chooses another career or even none at at all, he'll have money to retire on and live comfortably.
But if he shows that he's the same gritty determined winner that he was in college, in two short years he'll command a huge payday and will have many years to make up for the shortfalls of the dollars from the contracts he's had to sign here to date.
The biggest worst case scenario in McCarron's mind, was to continue holding a clipboard on the sideline of an NFL team and not getting the chance to display his talent. McCarron told me once he was more afraid of not getting the chance to show what he could do than he was of getting the chance and failing. That's partially true because McCarron is not short on faith in himself and he just doesn't see failure as a real option.
So even though he didn't the big bucks he wanted and may have deserved, he at least got his chance to prove his worth and set his next contract by his performance and not what others imagine he's worth. So while the Bills are happy to have obtained a great quarterback at a bargain price, in the end it's what McCarron wanted too.
McCarron said in his first press briefing as a Bill this past week, "It's not about the money, it's never been about the money." He went on to say that he didn't come from a wealthy family so money isn't something he's got to have. "We get caught up wanting things to happen in our time." AJ continued, "But we have to learn to accept the fact that things happen in God's time." Meaning he has no ill will that he hasn't already gotten his star to shine in the NFL. It sounds like he's just as grounded, just as ready and just as eager to have his star go super nova just as it did at Alabama.
Now we just wait and see how it all works out.
Larry has been published in almost every media outlet for college sports and now primarily writes here for Touchdown Alabama. Follow Larry on Twitter for inside thoughts and game time comments at https://twitter.com/LBSportswriter
THANKS FOR SHARING THE LINK TO THIS STORY ON YOUR FACEBOOK PAGE OR A FACEBOOK GROUP YOU BELONG TO, FACEBOOK RESTRICTS HOW MANY PLACES WE CAN POST IT ON, SO PLEASE SHARE!