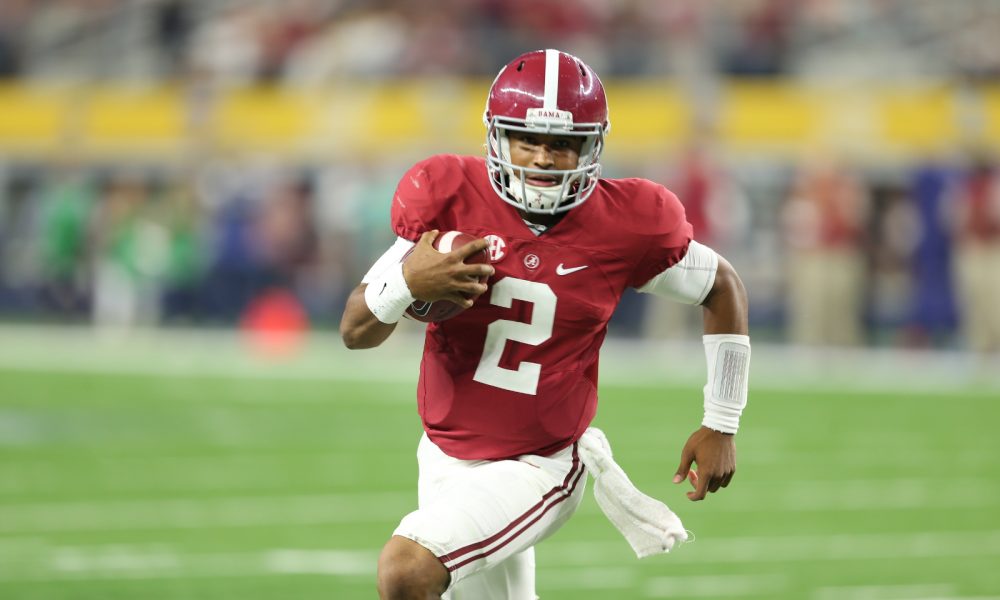 Jalen Hurts father has opened his mouth and set off a firestorm of conversation, but Jalen himself has said nothing of the sort. Read and decide what you think.
Jalen Hurts Father Suggests Jalen Will Leave if Not Named the Starting Quarterback
By: Larry Burton
Jalen Hurts father, Averion Hurts, who was also his high school football coach suggested in an interview with Bill Eichenberger of Bleacher Report that if his son was not the starting quarterback at Alabama this coming season, he could  become "the biggest free agent in college football history."
Other comments that have been said to come from Hurts father are that "I told Jalen, you f–ked up, you opened the door and put yourself in this situation," Averion Hurts, Jalen's dad, told B/R in an exclusive interview in the Hurts' hometown of Channelview, Texas. "Now it's up to you to dig yourself out."
As for backing up Tua or changing positions, Averion Hurts was quick to dismiss those notions. "All he has ever wanted to do was play quarterback," Averion was quoted according to Eichenberger. "He's not a tight end or an H-back or anything else. He's a quarterback."
Now you've heard the blustery comments from an overprotective, upset father. Take them for what they're worth. But you haven't heard such comments from Jalen Hurts, the man himself, who has exhibited nothing but support and team first attitude in his dealings with Tua Tagovailoa, the man who certainly seemed the successor to Hurts following the national championship game.
Jalen has personified class in all his verbal and non verbal actions since that time concerning the quarterback battle.
However, if it does come down to that, anytime that Nick Saban has been presented a situation like this, the program and Saban simply rids themselves of any "cancer" causing athlete. Demands and threats are not tolerated by Saban in any form or fashion when coming from either a player on his team or a loud mouth parent.
So before you make a judgement either way on these soon to be the biggest topic of conversation in the Alabama nation, wait to hear what Jalen himself says on this matter. After all, that is the only voice that matters.
Larry has been published in almost every media outlet for college sports and now primarily writes here for Touchdown Alabama. Follow Larry on Twitter for inside thoughts and game time comments at https://twitter.com/LBSportswriter
THANKS FOR SHARING THE LINK TO THIS STORY ON YOUR FACEBOOK PAGE OR A FACEBOOK GROUP YOU BELONG TO, FACEBOOK RESTRICTS HOW MANY PLACES WE CAN POST IT ON, SO PLEASE SHARE!