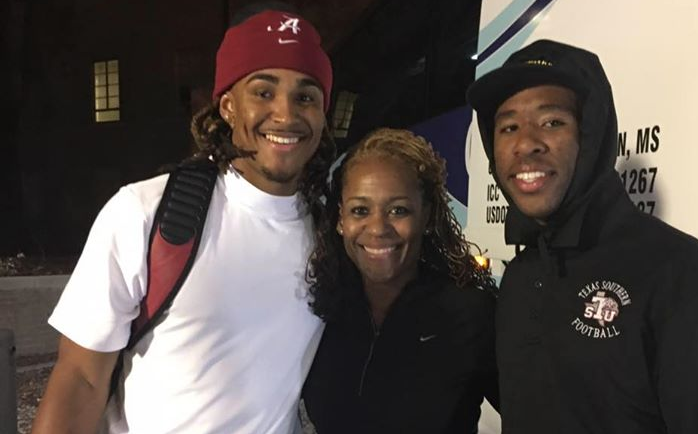 Jalen Hurts' mother took to Facebook to express her feelings about the criticism Hurts has faced after he spoke to the media during Alabama's Fan Day.
"Wow ignorance is blissed," Pamela Hurts said in a Facebook status. "When has Jalen ever spoken to media about anything other than the team? When has he ever whined, pouted or talk about what "y'all" don't know takes place behind the scenes? There's a reason why players aren't allowed to speak to the media. Jalen spoke his truth, finally, after 3 years of being compliant and controlled. You have no idea what is and has been going on— and most likely, never will."
"Folks quick to speak highly on his character and demeanor, but know he is completely opposite of those accolades today. If you can turn on this young man today and not your president for any of his rhetoric, you were never with him to begin with," Hurts added.
Jalen Hurts set social media on fire on Saturday when he spoke to the media. His words seem to shine a light on miscommunication between him and Alabama's coaching staff.
"Coaches can't control the situation. They will dictate who plays, but as for other variations to it they can't control it. This whole spring, ever since the title game, they kind of wanted to let it play out. I guess they didn't think it was a thing or they tried to let it die down like it was not there, because there has always been an elephant in the room. The whole spring, coaches included, no one asked me how I felt. No one asked me what was on my mind." 
Hurts also ensured that he was not leaving this season.
"I told him [Nick Saban] in June that I would be here," he said. "It was never a decision made regarding me leaving. That was something that the general media placed on me and it's something I never said. With that, I told him I'll be here. And then they talk about how I'm about to graduate in January and how I should leave."
Alabama has yet to name a starting quarterback. All eyes will be on Tua and Jalen as they continue to battle it out.