Alabama in the Pros
Crimson Tide rookies who underachieved but could have better careers in the NFL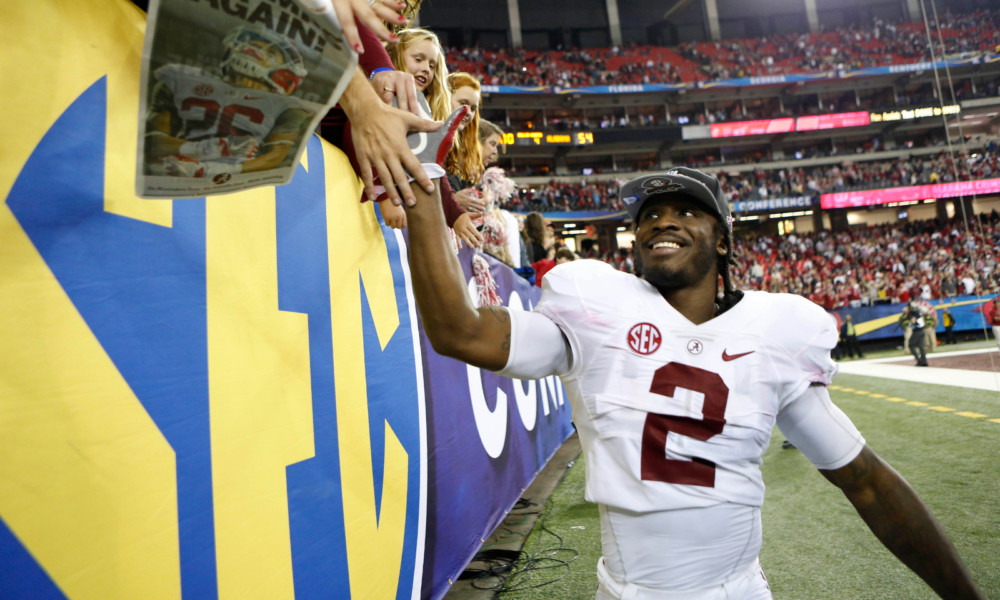 Without question, Alabama is home to blue-chip recruits. Many come in, live up to their lofty star rating, and get drafted high in the process. On rare occasions, other star recruits get lost in the mix and are passed up by other talented players. Injuries, scheme fit, and talented recruits play a factor in that.  However, because players are rated so highly, NFL teams will give them a shot based on talent and untapped potential. In this feature, we analyze former Tide players who struggled in college, but could have a better pro career as they begin their NFL journey.
Shaun Dion-Hamilton, Washington Redskins  
If it wasn't for injury, Shaun Dion-Hamilton would have gone in the first two rounds of the 2018 draft. The linebacker was a two-year starter and had season ending knee injuries in both years ('16-'17). The Washington Redskins took a chance on him in the sixth round and it looks as if they got a steal. In his first preseason game, the rookie accounted for 10 tackles. That's very impressive for a player who hasn't played since 2017. Dion- Hamilton is everything you want in a linebacker. The instincts and talent are there. The biggest issue for the rookie is; can he stay healthy for a full season? If Dion-Hamilton keeps up his fine play in the preseason, he'll likely start week 1 for the Redskins.   
Robert Foster, Buffalo Bills 
Foster was a five-star recruit coming out of high school in 2013 and many expected him to wreak havoc alongside Amari Cooper. That didn't happen. Foster redshirted in 2013 and only played 3 games in 2015. Not to mention, a guy named Calvin Ridley was on the roster for three of his five years at Alabama. Despite a sub-par career, he was invited to the 2018 NFL Combine and ran a 4.41 in the 40-yard dash. The Buffalo Bills signed Foster as an undrafted free agent and he's in a fight to make the final roster. The problem for Foster was he couldn't stay healthy at Alabama. If he is available, his size and speed could cause match up problems for opposing defenders. Finally, the offensive coordinator who he had his best season under (Brian Daboll) is now his coordinator in Buffalo. That could bode well in Foster's favor as he tries to make the team. 
Cam Sims 
In 2014, Sims was a highly touted recruit out of West Monroe, Louisiana. Sims was a victim of bad timing. He came in 2014 when Amari Cooper was the focal point of the offense and left when Calvin Ridley filled that role.  Sims did average 14.8 yards a catch in his final season at Alabama, showing signs of big play potential. After going undrafted in 2018, Sims signed a contract with the Washington Redskins.  The Redskins got a player who has already shown in his short time that he can offer a lot to an NFL squad. In his first preseason game, Sims had an amazing 57-yard catch and run against the New England Patriots that led to a score. The Redskins don't have great depth at receiver and if Sims continues his consistent play, he has a case to be on the roster opening day. Sims offers great size at 6'4 and could be a great red zone option for Alex Smith. 
Deshawn Hand, Detroit Lions 
Viewed by many recruiting services as the best player in the class of 2014, Hand was expected by fans to be the next great Alabama defensive lineman. Hand was a good rotational player for the Tide and became a starter in 2017. Despite being a one-year starter, he was drafted in the fourth round of the 2018 NFL Draft by the Detroit Lions. Hand will get more opportunities to play because the Lions aren't very deep on the defensive line. It helps that he has a former teammate in A'Shawn Robinson to learn under. Also worth noting, former Tide assistant coach Bo Davis recruited Hand and is now his pro position coach. Those things should allow a smooth transition to the pro game.  
Bo Scarborough, Dallas Cowboys  
Scarborough was productive when healthy. The problem is, he couldn't stay healthy for most of his college career. After redshirting in 2014, he missed 4 games in 2015 after tearing his ACL in spring practice. In the 2017 CFP Playoff Championship, Scarborough broke his fibula. Those injuries caused Scarborough to drop to the seventh round of the 2018 NFL Draft, where he was selected by the Dallas Cowboys. It's a great fit because the Cowboys have the best offensive line in the NFL, Scarborough should easily flourish if given carries. Although he is backing up All-Pro Ezekiel Elliott, Elliott is one off the field incident away from an indefinite suspension. If that occurs, that could open the door for the bruising rookie who has already scored a touchdown in his 2018 preseason debut.  
Tony Brown, Los Angeles Chargers 
Tony Brown came in as a highly decorated 5-star cornerback recruit. Unfortunately, Brown won't be remembered much for his play on the field. His time in Tuscaloosa was marred by incidents that kept him from reaching his full potential. In 2017, Brown showed signs of maturity and had his best season as a member of the Tide. Brown went undrafted in the 2018 NFL Draft and signed a contract with the Los Angeles Chargers. Brown was a great special teams player in college, something he took tremendous pride in. His ability to play there will make him an attractive candidate for a roster spot.  Gus Bradley is the defensive coordinator in LA, running a similar pattern match coverage scheme that Brown played under in college. Being familiar with those coverage concepts should be a positive for Brown. Not to mention, Pro Bowl corner Jason Verrett was placed on injured reserve in training camp, opening a roster spot for Tony if he earns it.