Breaking News
McCarron Traded From Buffalo to Raiders, Bench Awaits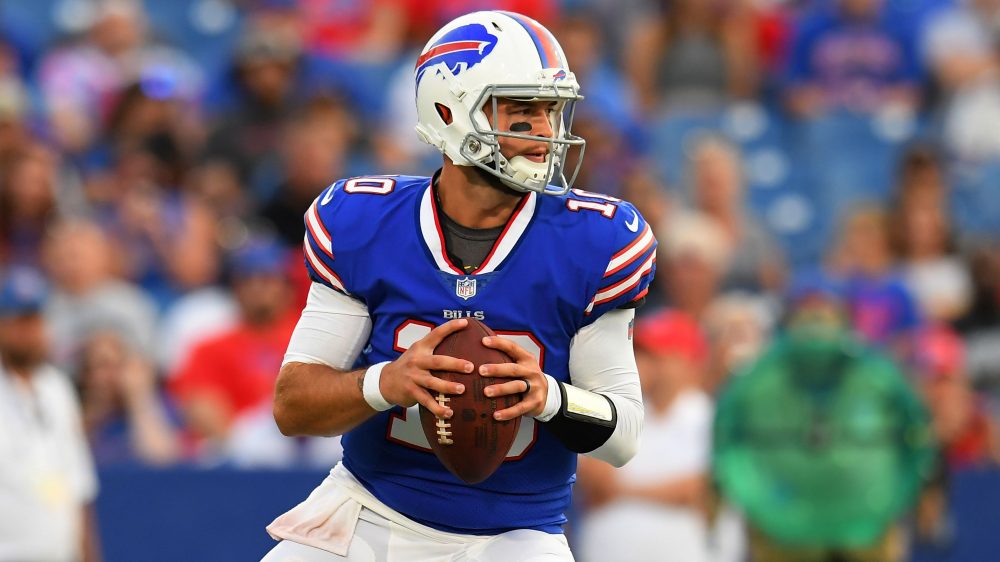 AJ McCarron had hoped that this would be the year and Buffalo would be the place where he could finally take the starting job, but now it's back to waiting again.
McCarron Traded From Buffalo to Raiders, Bench Awaits
By: Larry Burton
AJ McCarron just can't seem to catch a break when it comes to landing a starting job in the NFL, even though his play shows he deserves one.
Today it was learned the Buffalo Bills traded McCarron to the Oakland Raiders for a 2019 fifth round pick. This puts McCarron in line for the bench yet again as the season is about to start and he hasn't even seen the playbook yet and two quarterbacks in Oakland have been fighting it out for the starting job all preseason. Derek Carr has been both looking good and will be one taking snaps on opening day for the Raiders, not McCarron who looked like he had a great shot to land the starting job in Buffalo from his good play in preseason including his recent win against Chicago.
Part of McCarron's 10 million dollar contract was tied to playing time, so unless Carr gets injured, McCarron took more than a blow to his ego, it will also affect his wallet.
All McCarron seems to have for sure is his guaranteed 1.9 million salary and his 3 million dollar signing bonus.
AJ took the news well, but it was clear he wished it had not happened. According to the Buffalo News, McCarron told assembled reporters, "It's just one of those feelings you can't explain. First I said, 'Watch this, we're going to go down and win. You're going to remember this for a long time. This is going to be legendary for us, our group.'
"Final game together, it's part of the business not knowing who's here tomorrow and what not. I'm just super proud of the guys. That was just awesome to battle with them. Probably the most fun I've ever had." McCarron concluded.
At 27 years old, time is marching by for McCarron who despite playing like a bride is once again just a bridesmaid.
McCarron was thought to be a valued prospect and many teams expressed an interest in him, but he has yet to be handed the reigns in a program he can make his own. It remains to be seen if the Raiders wanted McCarron for insurance or another trade down the road. Only time will tell if McCarron finally gets the shot he's seemingly deserved.
Larry has been published in almost every media outlet for college sports and now primarily writes here for Touchdown Alabama. Follow Larry on Twitter for inside thoughts and game time comments at https://twitter.com/LBSportswriter
THANKS FOR SHARING THE LINK TO THIS STORY ON YOUR FACEBOOK, TWITTER, SNAPCHAT, INSTAGRAM OR OTHER PAGES OR A FACEBOOK GROUP YOU BELONG TO. PLEASE SHARE!