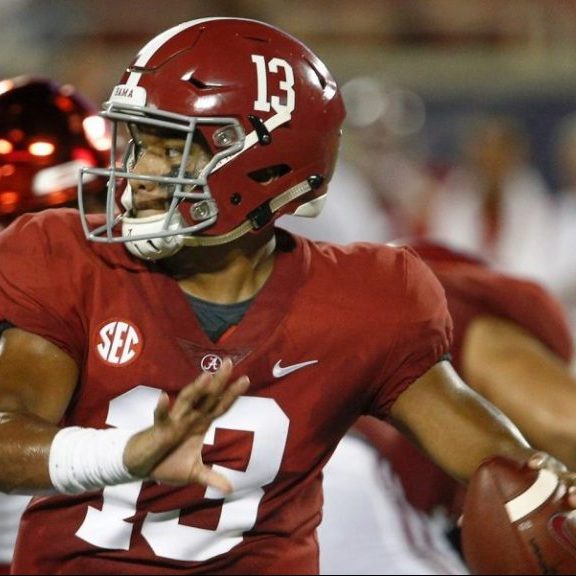 Prior to Nick Saban's hiring as the head coach for Alabama football, the Tide had exactly zero Heisman winners. Tua looks to be the third winner since 2009.
Alabama football- Las Vegas has spoken. Alabama may be on the verge of producing yet another Heisman Trophy winner. Currently, at 3/1 odds, sophomore quarterback Tua Tagovailoa leads the race for the nation's most sought-after college football award. Rightfully so. His performances against Vandy, Ole Miss, and Tennessee last season were absolutely impressive. Then, his national championship game performance against UGA in the second half was legendary. There is no denying Tua's talent on the field. The best part is, he is an even better person off the field. He is a true representation of what UA and Nick Saban value most: kindness, honesty, hard work, preparation, and execution.
Through two games so far this season, Tua Tagovailoa is 25/35 passing with 455 yards and 5 touchdowns. He has also carried the ball 9 times for 46 yards, giving him a respectable 5.1 yards per carry, adding 1 rushing touchdown. Most important of all, he's done all this while throwing just one interception. If Tua can continue churning out stats like this, he may just run away with the Heisman this coming December. Behind Tagovailoa, Vegas has Will Grier, Dwayne Haskins, Jonathan Taylor, and Trace McSorely in the top group.
Stay tuned to Touchdown Alabama Magazine throughout the season for all the latest on Tua's Heisman race and for news on all the other potential award winners for the Crimson Tide this season. Be sure to follow @tdalabamamag on Twitter for news and updates.
Ricky Green is a writer for Touchdown Alabama Magazine. Follow him on Twitter @rickylamargreen