Headline
How The SEC Looks After Five Weeks – Team by Team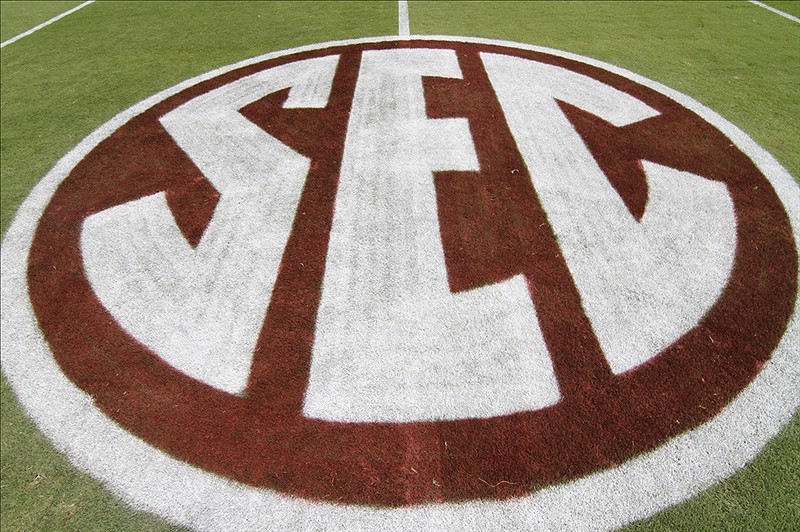 Five weeks in the books and that tells us a lot about where teams are in the SEC and where they may finish. Do you agree with the assessment?
How The SEC Looks After Five Weeks – Team by Team
By: Larry Burton
Overall the SEC appears a much better conference top to bottom than in previous years. While the win/loss categories may not show a significant difference, the play on the field has.
It would be safe to say that the SEC has regained much of it's lost luster from recent seasons when it was say two or three good teams and others.
Case in point is Vanderbilt, who has a 3-2 record after five weeks, but came within five points of upsetting number 8 Notre Dame. So while the record may not show it, their play has been gritty and tough.
So let's start with the East and see where teams are and where they may be headed for the regular season.
Tennessee – At 2-3 and looking lost for the most part, Tennessee is making a strong case for worst team in the SEC. It's hard to see more than two more wins in this Volunteer season and they look like a 4-8 team with little to no chance of making it to a bowl game. That's a shame as new coach Jeremy Pruitt certainly needs the extra work.
The worst thing is that Tennessee with this kind of record isn't going to attract the kind of recruits they'll need to help right the ship quickly. The Vols look like a long rebuilding project for the next few years.
Vanderbilt – With a record of 3-2, as said before, the Commodores could be said to be better than they appear due to the tough way they played Notre Dame, but you also scratch your head how they almost lost to Tennessee State.
They could pull out two more wins and end the season at 5-7 but a bowl game seems unlikely at this point unless they get in by their academic standards.
Vanderbilt is Vanderbilt. While a five win season won't cause any fan to be too upset, it hurts to be this good and still not make a bowl.
Missouri – The Tigers are a huge question mark after week five. Their 3-1 record is good, but two of those were cupcakes and the other was a reasonably mediocre Perdue team. When they played a great Georgia team, they were dumped hard.
So it's still undetermined just how good this team really is. Since they put up 29 points on Georgia, there's reason to believe they can beat other SEC teams, but they also gave up 43 to Georgia, so the defense really needs to show they can tighten up.
Looking down the road, they have the potential to possibly pull out five more wins and easily make bowl season. An 8-5 season isn't a bad thing and shows that this is a team that headed in the right direction.
South Carolina – When the season started, the Gamecocks looks to have a promising season than a seven win season, but right now they're 2-2 with a game to be made up and have simply crapped the bed in both losses looking simply terrible.
With Debow Samuels coming back and an experienced offense, SC was thought to have what it took to put points on the board, but in the big games so far, that just hasn't happened.
Unless a big turnaround happens, look for the Gamecocks to finish 7-5 but momentum will continue to build in this program despite a disappointing overall record.
Florida – The Muschamp era began this season and while it may pay dividends down the road, right now they look like just another decent SEC team sporting a 4-1 record with three of those wins coming against cupcake teams.
Eaking out a close win over Mississippi State helped a little, but they were absolutely beaten by Kentucky so that doesn't bode well for future good SEC teams.
A good bet would be an 8-5 season and the future is bright at Florida as Mullen will attract some good recruits.
Kentucky – If there's a prize for biggest surprise of the first five games, it has to go to Kentucky. At 5-0, these Cats have not just won each game, but whipped the teams they've played. No flukes, no fumbled wins, they've lined up at whipped good Florida and South Carolina teams. That should make a lot of future opponents shudder.
Kentucky is to be commended for sticking by Bob Stoops who has slowly developed players and finally recruited the team that Kentucky officials may have never dreamed they'd wind up with.
Who would have thought at the first of the season that a 10-2 record could even be a possibility? Will they do that? Will they do better? Boy, this is going to be an interesting team to watch the remaining of the season.
Georgia – We'll know in about a month if Georgia truly is the best in the East and who would have thought that the Georgia – Kentucky game could decide the king of this division.
But for now there's no reason to see Georgia as anything else than the King of the SEC East. They they could stumble against Kentucky or Auburn, right now they look like a 12-0 team.
Kirby Smart is an excellent recruiter who seems to be poised to keep the Bulldogs in the apex position for the foreseeable future.
And now for the West…
Arkansas – Pity the Piggies. In any other conference they'd be a decent team and go bowling every year, but having to play in the SEC certainly has its drawbacks and somebody has to be on the bottom and in the West, it's Arkansas.
With only one win so far and a 1-4 record, they won't make a bowl this year and new coach Chad Morris may actually have folks pining for the good old days of Bret Bielema and it's a good thing for Morris that he got a six year contract to retire on when this job goes bust. I know I could retire in style after earning 21 million after only six years.
Unfortunately a 2-10 season seems a likely outcome which is sad, because they're not as bad a team as that record, but it's just life in the SEC.
Ole Miss – When they've won they look they look good, but those were cupcake wins and when they've lost, they looked really bad, but those were against good teams.
With a record of 3-2 and two more seemingly sure wins on the schedule, they'll only need to get one more win from either South Carolina, Vanderbilt or Mississippi State to make bowl season.
So a 6-6 record seems doable yet Ole Miss still seems in limbo as to showing signs of improvement in this the real second season of the Matt Luke era.
Mississippi State – At 3-2 so far, it's not the season they had hoped for. They are stocked with good talent, but they didn't see Kentucky being so good or their offense simply abandoning them in the Florida game's 13-6 loss.
If new coach Joe Moorhead can in fact get the offense going, they could easily wind up with a 6-6 season and making it into bowl season, but the Dogs could sneak in another win.
It's all going to wind up what kind of recruiter Moorehead can be to see where the Dogs go from this season and we'll not make a decision on that until he's had a good year on the job to show us results from that front.
Texas A&M – They got the big name hire, secured him with a big time contract and so far they haven't been let down. They almost upset Clemson in a very close game and while no one expected them to take down the Tide this season, they did at least put up a struggle.
Five games in they're only 3-2, but four more sure wins get the to 7-2 and they have an outside chance of maybe getting to 9-3 and that would give the Aggie faithful hope for the future.
With Jimbo Fisher's recruiting, the future could indeed be bright, but it's going to be hard to shine real bright in the SEC West as long as Nick Saban and Alabama keep stealing the light.
Auburn – At 4-1 with a close loss to LSU, Auburn has seemed good so far this season but not great. With only four more sure wins in their column, they could go as low at 8-4 as a win over Texas A&M isn't assured and wins over Georgia and Alabama seem unlikely.
It was thought at the first of the year that Auburn would be the sure bet to finish second in the West, but the LSU loss and a tough ending schedule seem now to make that now a much tougher mission.
Auburn has a habit of playing down to their competition as was exhibited last week in a much closer game than it should have been against a pitiful Southern Miss team and also have a record of sometimes beating teams they shouldn't and losing to teams they have no business losing to also. So a 9-3 season seems about right and Auburn's future seems to always depend on the quarterbacks that run the Malzahn system.
LSU – While Kentucky is the surprise of the East, LSU is the one in the West. At 5-0 and in the top 10, what seemed like a stupid decision in ditching Les Miles for Ed Orgeron now seems to paying off.
What's more, with four more seemingly sure wins on the schedule, that gets them to nine wins and one more against Texas A&M gets them to a 10 win regular season mark and a final high national ranking.
While Georgia has looked beatable this season, LSU could pull off an 11 season, but we're not going there just yet and will stick to a 10-2 record with losses against Georgia and Alabama.
Alabama – At 5-0, this year's edition of the Crimson Tide seems unstoppable. But their history works against them. Nick Saban has only managed on undefeated season at Alabama despite all those national championship and they usually lose a game somewhere in the season.
But that was during the game manager era and this season Saban has a real gun slinger in that role and Alabama just doesn't win games, but decide how bad they want to beat them. So far, despite playing a decent Louisville and Texas A&M team and a middle of the road Ole Miss team, they could have beat every team they've played so far by 60 points if they wanted to.
So it's hard to see a team that seemingly can score on every possession when it wants to can be challenged and Alabama should finish the regular season at 12-0 and as long as Saban is on the sideline in Tuscaloosa, the good times should keep right on rolling.
Conclusions:
While everyone thought before the season that Alabama and Georgia would tee it up once again in Atlanta for the championship game of the SEC, that may very well be the case, so there's no earth shaking surprises then now and maybe at the end of the regular season.
But Kentucky could be a monkey wrench in that plan and in the SEC, there's always some other minor surprises every year, so nothing is certain in this league.
Larry has been published in almost every media outlet for college sports and now primarily writes here for Touchdown Alabama. Follow Larry on Twitter for inside thoughts and game time comments at https://twitter.com/LBSportswriter
THANKS FOR SHARING THE LINK TO THIS STORY ON YOUR FACEBOOK, TWITTER, SNAPCHAT, INSTAGRAM OR OTHER PAGES OR A FACEBOOK GROUP YOU BELONG TO. PLEASE SHARE!