Headline
A Game Filled With Crimson Tide Moments to Remember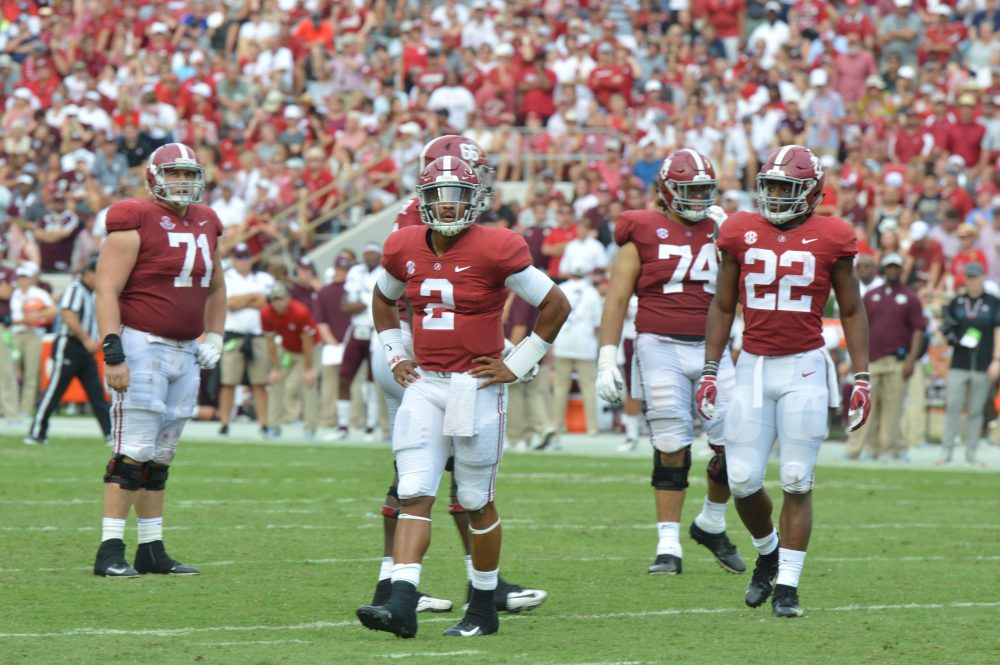 Each game has moments to remember, but few have had such big moments that meant so much. See what they are and why they were so big.
A Game Filled With Crimson Tide Moments to Remember
By: Larry Burton
A commentary from an old reporter…
Twenty-five years from now, people won't remember the score of this past Saturday's game in Tuscaloosa when the Crimson Tide beat the lowly Rajun Cajuns from Louisiana. They may even forget that the Rajun Cajuns were even the opponent. But there were some moments that will never be forgotten that epitomize what Alabama is all about and the kind of class they show.
In that game, you saw Tua Tagovailoa show why he may become the greatest quarterback of all time at Alabama. They will remember he led the team down the field with ease scoring on each drive until the next and perhaps greatest moment in this old writer's opinion.
That moment was Jalen Hurts, walking onto the field, giving up a year of his eligibility but more importantly, giving up a year of being the big star and leading his team to greatness as the starting quarterback. In that moment, he unselfishly gave Alabama, their fans and his team that year showing he was the consummate team player, team mate and Alabama man. He was here for them to do whatever role he was given to help this team and put his team first.
What was equally important and but brought me close to tears, was the standing ovation he got from the crowd for doing that. It was a moment when an athlete showed his love for everyone in crimson and the crowd was showing that love back to him.
At 61 years old, it was one of the finest moments I've ever experienced.
But then there was more. As if written by a Hollywood screenwriter, Hurts then looked like a million dollars with some beautiful throws of his own and marched the Tide into the endzone just as well as Tua could have done it.
It was a statement by Jalen that said not being the starter isn't being second best, on this day, he was simply the other best.
The half ended with the score 49-0, the game was over for all intents and purposes. Alabama could have beaten them by 90 if they so desired, but it was time for Saban to call off the dogs, play the bench and let some others have their moments.
And that's just what happened.
The third moment of the day was Mack Jones statement and exclamation mark on the game.
So far in mop up duty, coaches sent in Mack to hand off, kill the clock and get them out of the game. But in this game, he got his, "Hey don't forget about me!" moment and threw a touchdown pass of his own.
What a day!
After scouring records for a while, I couldn't find another time in history when Alabama put three quarterbacks on the field that all threw touchdown passes. Certainly none where all three looked like men who could have all guided the team all day to the same outcome.
But in the end, even though he threw just six passes, four of them sensational, Jalen Hurts and the crowd in that stadium bathed each other in love, adoration and mutual respect.
It was one of those special moments in Alabama history where between the teary eyes and great plays rang the voice of coach Paul "Bear" Bryant saying, "I have tried to teach them to show class, to have pride, and to display character. If you do that, winning takes care of itself." But is wasn't just football that Bryant was talking about winning, it was life and becoming better men. On Saturday, we saw a lot of winning.
So coach, if you were looking down and saw this moment, I hoped you smiled that the man in charge of this team today teaches those same lessons and that these boys today are still listening.
This is a team, a fanbase and a coaching staff I am so proud to be an alumnus of, a sportswriter for and an observer of. As a whole, this game was nothing special, but the stories it contained and the moments within it make it something totally unforgettable. Thank you all for giving me these moments, memories and for stirring these feelings again. It justified everything I have always believed that makes this team special and nourishes my faith in the future for more in the future.
Larry has been published in almost every media outlet for college sports and now primarily writes here for Touchdown Alabama. Follow Larry on Twitter for inside thoughts and game time comments at https://twitter.com/LBSportswriter
THANKS FOR SHARING THE LINK TO THIS STORY ON YOUR

FACEBOOK, TWITTER, SNAPCHAT, INSTAGRAM OR OTHER PAGES OR A FACEBOOK GROUP YOU BELONG TO. PLEASE SHARE!