Headline
The Unbelievable Mindset that Nick Saban Got Alabama Players to Buy In to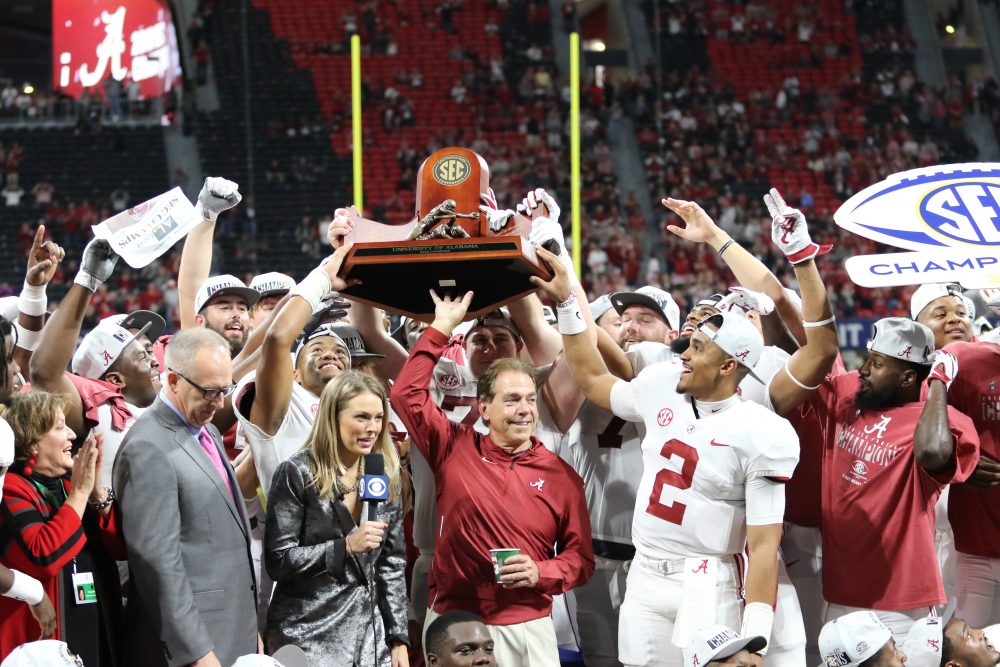 Every coach has his philosophies, mottoes and slogans to inspire players and urge on success. Nick Saban has players that live his. Read how that happens and see the results it's paid.
The Unbelievable Mindset that Nick Saban Got Alabama Players to Buy In to
By: Larry Burton
It's something that every coach in America would like his players to believe, that everyone on the team  needs to practice every practice like they were starting on Saturdays no matter what the depth chart says. But on some teams, the gap in talent between the first and second string is as wide as a gulf, not to mention the further separation to third and fourth string players.
But on Alabama's team, when you have five star athletes on the bench, the gaps between players are more like blurred lines. Even rookies buried down the depth chart get to play on special teams, get their uniforms dirty and contribute. With Alabama piling up early points on teams as they did during the regular season, almost everyone got to play snaps in game time too.
On a visit once in the off season, I went to see the players working out in the weight room and Scott Cochran's booming voice could be heard yelling, "We ain't got no fourth string people in here! We got players! Be a player!" And on they worked, buying into that mentality.
At Alabama, "next man up" is not just a saying, it's a hard won benefit from months of lifting weights, running sprints and sweating in Saban's fourth quarter conditioning program. At Alabama, players aren't concerned if a starter goes out, the next man up comes in with a "I got this" attitude and the game goes on. Play calling does have to change, schemes don't have to be tweaked, it's just keep on keeping on as usual.
Never before has that been more true than yesterday when according to the depth chart, a third string running back was the game's MVP and the second string quarterback was the hero.
Josh Jacobs, the game's MVP once said that the running backs don't really consider themselves as anything other than running backs. There's really no pecking order, it's running by committee and going with the guy with the hot hand. Yesterday that was Jacobs, sometimes it's Damien Harris, sometimes it's Najee Harris. Who gets the carries and who gets the lion share of yardage is not important, it's only about making the team get first downs and touchdowns.
Likewise, Jalen Hurts has now seen both sides of the coin. He went from the starting quarterback to backup, yet never let a step back keep him from working every day like he was a starting player, never let his mindset slip and only focused on getting better every day. Though of course there is a depth chart, Alabama's players and coaches never felt they had anything less than two starting quarterbacks.
In yesterdays game, Alabama had offensive linemen that were replaced at times, they rotated out defensive personnel, running backs, receivers and more and the Tide just kept rolling.
Savion Smith a junior that earned a starting job after the season started had a season high six tackles against LSU before Saturday, but stepped up with a new season high and team leading 11 tackles against Georgia. He almost doubled his previous record in this game. He wasn't trying to be a star, he was just doing what he needed to do. He didn't make the podium after the game, the TV announcers didn't play up that accomplishment, he was just doing his job and that was fine with him. No pat on the back or publicity needed, just one of the guys doing his job.
In all 16 different players had tackles, pass defenses, hurries and more, 51 different players participated in the game and each one of them played every second like they were the most important person on the turf.
Alabama did not play their best game on Saturday, there were fumbles, interceptions, missed tackles, blown assignments, dropped passes and more, but there was no finger pointing when the game wasn't going well, no blame being assessed, it was just men with the confidence that all would work out in the end because they knew everyone would do their best, no matter who they were. They put the bad plays behind them and only concentrated on the next play. They knew if they did that, things would work out.
It's one thing to have all the great sayings and mottos and philosophies and coach speeches, but it's another to see it all actually play out on a team that lives those things that coaches all want.
This team has truly bought into Nick Saban's process, they left their egos at the door and they all prepare everyday like they are they are going to win the next game because of their contribution. Maybe that's why Alabama has been in the five national championships in a row and why they may be fixtures there for some time to come.
*Get the BEST Alabama football insider information, message board access, and recruiting coverage today! SIGN UP HERE to unlock our subscriber only content!*
Larry has been published in almost every media outlet for college sports and now primarily writes here for Touchdown Alabama. Follow Larry on Twitter for inside thoughts and game time comments at https://twitter.com/LBSportswriter
THANKS FOR SHARING THE LINK TO THIS STORY ON YOUR FACEBOOK, TWITTER, SNAPCHAT, INSTAGRAM OR OTHER PAGES OR A FACEBOOK GROUP YOU BELONG TO. PLEASE SHARE!