Headline
Alabama Should Steamroll Oklahoma's Paper Defense for First Easy Win in Playoffs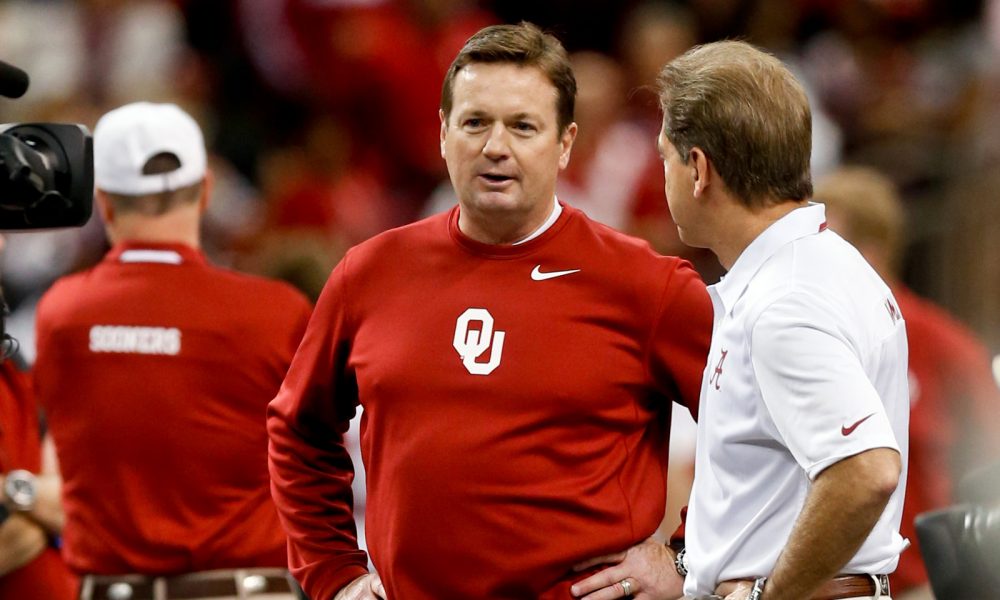 Oklahoma should have been more specific in what they wished for, In making the playoffs and #4 they face #1 Alabama and won't like what they get after all.
Alabama Should Steamroll Oklahoma's Paper Defense for First Easy Win in Playoffs
By: Larry Burton
Last season Oklahoma made it into the playoffs and played Georgia a fine game that went down to wire. That won't happen this year when they face number one seeded Alabama in the first round of the playoffs. They say journalists and sportswriters are supposed to fair and subjective, but at the risk of sounding neither, Oklahoma's defense simply sucks. I mean they have trouble stopping even the worst teams they've played. Even six loss Baylor put up almost 500 yards of offense on them.
In drawing Oklahoma, Alabama drew the easiest route to make it to the finals. Out of 130 division one teams, Oklahoma's defense is so bad only 22 teams are worse in total defense. But against the pass, Oklahoma is dead last, seriously, dead last. Soak that in for a second, no team in football's division one is worse than the Sooner's in defending the pass. It's hard to imagine Alabama not scoring on every single possession. No other team that's ever been in the playoffs has been dead last in one of the most important stats in football.
To make matters worse, while the Oklahoma offense looks good on stat sheets, part of that is they haven't played a team with a decent SEC type defense yet and when they play Alabama, they'll be playing the SEC's best and perhaps, the best in the nation. Oklahoma is used to winning track meets, but in facing Alabama, they'll find a defense that won't let them score at will as they have against the league with the worst overall defensive stats.
In scoring offense, playing against joke defenses, Oklahoma has averaged scoring 49.5 points per game, Alabama about 48. So by stats it's close, but in reality it isn't. However when it comes to defense, the Sooners average giving up almost 33 points a game and is ranked as the nation's 98th best defense in allowing points. By contrast, Alabama gives up just under 15 per game. That alone is a difference of 18 points and that is considering they've played equally talented teams which of course they certainly haven't.
Alabama can and will either run or pass against these Sooners at will. That will allow Saban to decide whether he wants to bury them in a track meet they can't possibly keep up with or simply chew up the clock the Sooner defense with long scoring drives keeping their potent offense on the bench. Either way Alabama should be able to score as much and as often as they see fit and while Oklahoma is so talented on offense, they'll find a crack here and there but's it very hard to see them scoring on more than 40% of their drives while Alabama can and should score on at least 85% of their drives.
There is also the revenge factor for Alabama. The last three times they played, two during the Shula coached years and once once over Saban. This caused some further irritation for Alabama when then coach Bob Stoops said things to effect that why should he be impressed with Alabama? He had no trouble beating them. Such talk has left a festering spot in Alabama for some payback.
That should be worth a few more points too when it comes to figuring a final score. Also consider the game will be played at Miami, which will be a plus for Alabama over a game played in Texas.
A final analysis of what to expect would seem to come to a final score of 56-24 Alabama. Be careful what you wish for Oklahoma. You wanted in the playoffs and you got it. Now be prepared for the consequences.
*Get the BEST Alabama football insider information, message board access, and recruiting coverage today! SIGN UP HERE to unlock our subscriber only content!*
Larry has been published in almost every media outlet for college sports and now primarily writes here for Touchdown Alabama. Follow Larry on Twitter for inside thoughts and game time comments at https://twitter.com/LBSportswriter
THANKS FOR SHARING THE LINK TO THIS STORY ON YOUR FACEBOOK, TWITTER, SNAPCHAT, INSTAGRAM OR OTHER PAGES OR A FACEBOOK GROUP YOU BELONG TO. PLEASE SHARE!