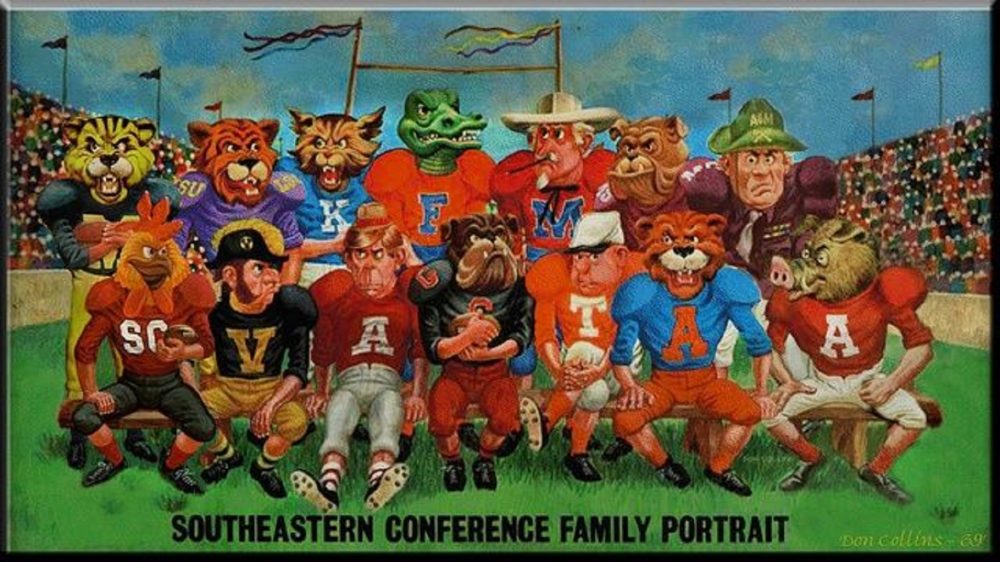 So you think you know how the bowl games will go? Well test your talents against the top picking prognosticator and see who wins.
Larry's Losers in the Bowl Season – 2018 and 2019
By: Larry Burton
Well sports fans, I hope that this glorious holiday season finds your team off the loser's list and that we all celebrate a wonderful ending of a great football season as well as the real reason for the season, the birth of our Lord and Saviour, Jesus Christ.
After a rocking football season that saw upset after upset, a hurricane that damaged everything in my neck of the woods and a great SEC Championship Game, we now have the bowl season for one last hurrah and a big chance to flex some SEC muscle and show some SEC pride.
There are some absolutely great matchups that would make any football forecaster faint in trying to perfectly pick this pack of player's performances. But we're not scared, just mildly mystified over a few, so we will be watching and may be biting our nails on a few of them, so without any further ado, let's get to listing them…
Dec. 27th – Baylor vs Vanderbilt – Academy Sports + Outdoors Texas Bowl – Houston, Texas – Can a high scoring team from the defenseless BIG 12 overwhelm one of the SEC's traditional weak little brothers who can play defense? That'll be the question fans will be watching to see answered.
Now these Bears plan on feasting on these Song City Sailors and going into hibernation will a full stomach and to do so, they think they just run circles around these swabbies and put so many points on them that they raise the white flag and surrender.
But Derek's Deckhands have other plans and they think they can slow that running around from Baylor to a crawl and pour their own points on those Baylor boys and when it's all over, the Sailors make it a long hungry winter for these Bears. Larry's loser – Baylor
Coach said we shouldn't get suckered into playing on their terms, but here we are…
Dec. 28th – Purdue vs Auburn – Franklin American Mortgage Music City Bowl – Nashville, Tennessee – Last season the War Eagle laid a big egg in the post season and this year the SEC is hoping that they'll do a better job of holding up the winning percentage of the group when they try and put out the fire in the Boilermaker's boilers.
But when Brohm's Boilermen travel down to the country crooner capital to take on the Tigers, they won't be scared of an SEC also ran who plummeted from a prime program to the team that has weekly notices if their coach will stay or go, get some money or give back money.
But Malzahn's Meowers have a ton of talent on the Tiger squad and while it might be a close one for a while, talent usually rises to the top and that's how we see Larry's loser being Purdue.
I just hope I can find the Waffle House in Nashville when this is over…
Dec. 29th – Florida vs Michigan – Chick-fil-A Peach Bowl – Atlanta, Georgia – When the Wolverines fly South for the winter with the geese, they'll quickly find out that Southern charm and manners will go out the window as Mullen's Mudpuppies will do anything but make them feel welcome.
Now these fur bearing footballers feel like they have a playoff pack of players and even though they were run out of town on a rail by the Buckeyes in their last game, they don't feel this group of Gators are worthy competitors to conquer them.
But the Gators will give them a game for a while and get their gobbles in, and in a game that could be closer than most think, those rascally Reptiles just fall short making Larry's loser – Florida
This is the one pick I hope I'm wrong with… Go Gators!
Dec. 29th – South Carolina vs Virginia – Belk Bowl – Charlotte, North Carolina – The Cavaliers have spend the last few weeks sharpening their swords and perusing Pullet recipes in hopes of being the winner winner with a Chicken dinner in this bowl game.
Now while it may hurt that the Carolina Cluckers chief WOW maker, Deebow Samuel is literally Chickening out of this game, Muschamp thinks he has enough Pullets with big peckers to paralyze these sword slingers.
This could be a good one, but in the end, muscle makes the difference and there ain't much Chicken tenders on this menu and in a game where most see the offense being the key, the Gamecock defense wins the day. Larry's loser – Virginia
So you Cavaliers think you're the only one who can sling a blade? Bring it on!
Dec. 31st – Missouri vs Oklahoma State – AutoZone Liberty Bowl – Memphis, Tennessee – The Cowpokes ride off into the sunrise and come East to the stadium near Mud Island to mix it up and try and lasso a Tiger and put their brand on it.
But Barry's bad boy Bengals feel like they have all the luck they'll need, or should I say all the Lock they'll need to blow past the Pokes while showing them what it's like to play an SEC defense.
If this one turns into a track meet it could be anybody's game, but we see the Tigers taming the Bull Ropers offense just enough times to come out on top and that'll make Larry's loser – Oklahoma State
Missouri even out Cowboys the guys from Okie State….
Dec. 31st- North Carolina State vs Texas A&M – TaxSlayer Gator Bowl – Jacksonville, Florida – When the Wolfpack wanders into SEC country down in Jacksonville to take on the Aggies from out Texas way, they figure they're going to take on a team in a tailspin since the Aggies have lost their last two games and lots of their luster.
But those were against SEC teams with some mighty stout defenses and Fisher's farmers know that defense this wily Wolves seem to have left at home for this game and they plan on planting these Puppies out in the East 40 and showing them why the SEC simply out mans the ACC this season.
Now this one will be a fine one to watch, but in the end, these Wolves won't see a full moon and won't turn into werewolves with a 2:30 kickoff, so these Farmers won't fail to hold up their end of the SEC stats in this one making Larry's losers – North Carolina State
And the Aggies leave the field littered with Wolves…
Jan. 1st – Mississippi State vs Iowa – Outback Bowl – Tampa, Florida – My old pigskin pickin' pooch pal that passed away just before the season started gave me his last prediction when he said, "Don't sleep on those Dogs from Mississippi this season." and he was right, because look who showed up in a New Year's Day bowl, new coach and all. Now they're taking on the Hawkeyes who flew in from corn country.
Now these Squawkeyes looked good earlier in the year but tail spun down in the late part of the season losing three in a row before finally righting their way with two final victories and they're hoping that they can once again straighten up and fly right for one more contest and conquer these Canines while enjoying a little fun time in the sunshine state.
But Moorehead's Mutts aren't about to waste this opportunity to show the world that they can maul without Mullen and they're gonna do just that when these feathered footballers touchdown in Tampa and then they'll see for themselves that Hawks really do taste like chicken. Larry's loser – Iowa
We're not going to let those Hawkeye hide from us anywhere….
Jan. 1st. – Kentucky vs Penn State – VBRO Citrus Bowl – Orlando, Florida – The Penn State Pussycats take the pullman down to Mickey Mouse land to waylay the Wildcats and prove who's the best feline in this Citrus Bowl Cat show.
Now I don't think there's a handful of coaches better than James Franklin and even the boys from Lost Wages, Nevada to ESPN all see these Lions whipping up on their little brothers in the feline family, the Wildcats.
But this is where the upset but won't bite us, because we know the Lions have trouble against strong defenses and these Kentucky Kitties brought a big one. These Wildcats don't have too many fairy tale seasons in football and they aren't about to let this one end without a happy ending, so that'll make Larry's loser – Penn State
It takes a Cat to skin a cat… But is this the right cat to be skinned?
Jan. 1st – LSU vs UCF – Playstation Fiesta Bowl – Glendale, Arizona – Both these teams travel outside their comfort zone and go to the desert to duel. These Knights hope to slay a Bayou Bengal and claim another falsely fabricated and highly fictional title.
Now last year, the Knights got another big SEC name, to roll over and play dead for them and they figure that this year won't be any different and they'll just add another Tiger rug to the locker room floor when they take on this bunch of Bengals.
But these Tigers don't roll over and play dead for anybody and UCF finally sees what a motivated bunch of Bengals can do when they want to and while some are saying this one could swing the Knight's way, we say it's lights out for the Knights in this one. Larry's loser – UCF
I don't think the Knight's armor will help them in this one…
Jan. 1st – Texas vs Georgia – Allstate Sugar Bowl – New Orleans, Louisiana – These Longhorns take the not so long flight to the Big Easy to try and trample the Bulldogs from red clay country.
Now lately these Grass Eaters ain't done too well against the SEC, but this year they're hoping to catch a Dog that's still dealing with a heartbreaking loss in the SEC Championship Game and hook 'em with their horns while they're still moping Mutts.
But we're going to step out here and predict a Bow Wow blowout here where these Bulldogs bully these Bulls all night long and send them stampeding back to the locker room with bite marks on every butt showing the world that one of the four best teams in football ain't in the playoffs after all. By at least three touchdowns Larry's loser will be Texas.
And the Bulldogs beat them so bad they made a statue for all time…
College Football Playoff Semifinal 
Dec. 29th – Alabama vs Oklahoma – Capital One Orange Bowl – Miami, Florida – The Sooners soiree into the stadium down in Miami town with the notion that they'll beat these Bamers like they always do with a quarterback that beat the Bama quarterback in the big trophy brawl and it'll just be business as usual for the Boomer Sooners.
But this pack of Packyderms plan on not only showing them who has the best quarterback, but who also has the best bunch of ballers and they intend on having this one settled by halftime as they blow out they Boomers in embarrassing style.
While some may think this is going to be a close one, it won't matter which quarterback Alabama uses in this one as the defenseless dust bowl boys once again get blown away by an offense without end. Larry's loser – Oklahoma
Paybacks are hell as the Sooners will soon learn after the trampling….
Well that's it except for the big kahuna in the end. Do we really think the SEC is so powerful they'll win all but one contest in this year's bowl season? Why yes we do. While it was nice to have finally made a perfect week of perfections this season, it was a rough year for us overall. While we still did better than anyone else publicly posting predictions, we weren't up to our usual plentiful predictions. Maybe because this was our first year without my pal and sidekick, Bacardi the Wonder Dog, who I dedicate this season too. We poked some serious fun at every team for 12 years together and were the top talliers for true truths in listing losers for that entire time together.
Whether his following Fido, Rumsley the Wonder Dog can ever get past his puppy-hood and get predicting, we'll just have to wait and see. Even Bacardi didn't come into his own right away, it took a few years until he was full fledged football officiant.
But in a non politically correct chorus from the crowd at the Loser's Lair, we sincerely wish you all a Merry Christmas and a Happy and Prosperous New Year and we'll all get back together if Bama backs my prediction with the Larry's Losers in the SEC Championship Game Prediction. Till then, I'm off for a two month trip to the other side of the world to skip winter and simmer in summer in places like Kuala Lumpur, Singapore, Indonesia and Australia. Our final forecast will come from Aussie country, so with a sip or two of Bundaburg rum from kangaroo country, we hope to talk to you one last time before it's all over.
*Get the BEST Alabama football insider information, message board access, and recruiting coverage today! SIGN UP HERE to unlock our subscriber only content!*
LARRY HAS BEEN PUBLISHED IN ALMOST EVERY MEDIA OUTLET FOR COLLEGE SPORTS AND NOW PRIMARILY WRITES HERE FOR TOUCHDOWN ALABAMA. HE WRITES IN A COLLOQUIAL AND IRREVERENT STYLE FOR THIS SERIES OF ARTICLES. LARRY'S VIEWS AND SENSE OF HUMOR MAY OFFEND, BUT HE AIMS TO OFFEND EVERYONE EQUALLY. IF HE HASN'T INSULTED YOUR FAVORITE TEAM WITH LARRY'S LOSERS, JUST WAIT. FOLLOW LARRY ON TWITTER FOR INSIDE THOUGHTS AND GAME TIME COMMENTS AT HTTPS://TWITTER.COM/LBSPORTSWRITER