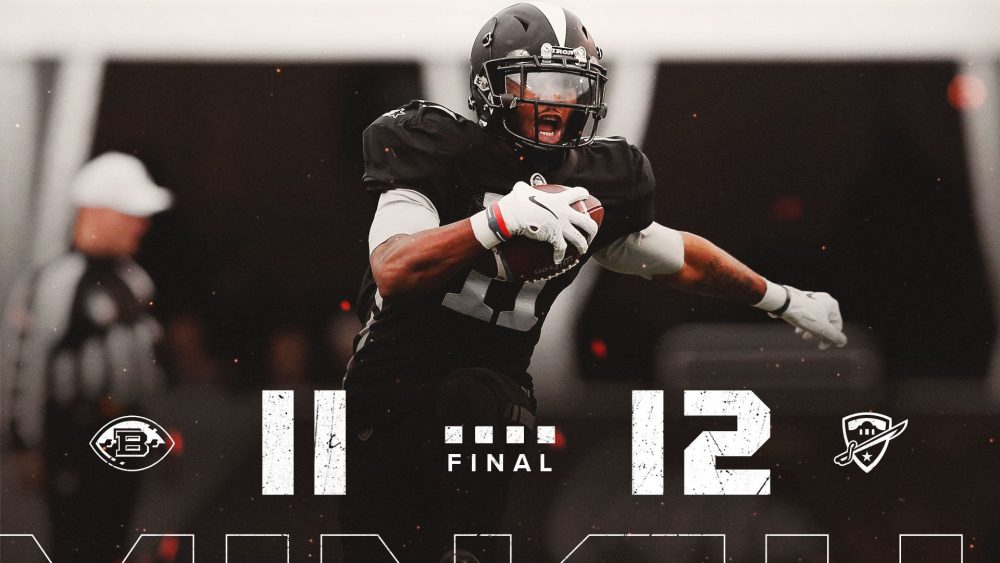 BIRMINGHAM, Ala. – The inaugural season for the newly-formed American Alliance Football league has been a success overall, and a major reason for that success has been the strong start for the Birmingham Iron. Thanks to a stifling defense that had only allowed seven points per game heading into Week 4, the Iron was one of only two teams in the league that was still undefeated.
Unfortunately, that all came to an end on Sunday after a crushing 12-11 loss to the San Antonio Commanders (2-2).
The Iron (3-1), for the most part, continued to get the job done on defense. They did allow the Commanders to convert 7-of-16 (43.4-percent) third-down attempts. But that bend-but-don't-break mentality this season held strong as the Iron defense only allowed one touchdown on the day.
As bad as the Commanders' offense looked trying to finish drives, the Iron looked equally as bad in that regard. They seemed to move the ball well at times — they actually out-gained the Commanders 283 yards to 262 — but could only punch the ball in once.
The good news — if you're an Alabama fan — is that lone touchdown came from former Tide star Trent Richardson, who leads the AAF in touchdowns with seven.
Trent Richardson scores his 7th TD of the season, and Luis Perez delivers a dart on the 2-point conversion.

The @aafiron trail 12-11 with under 2 minutes to go. pic.twitter.com/vZ84mCMJpd

— CBS Sports Network (@CBSSportsNet) March 3, 2019
As fun as that's been to see, Richardson has struggled on the ground outside of those touchdowns. In four games, the 5-foot-10, 229-pound bruiser has only mustered up 160 yards rushing with a 2.4-yard-per-carry average.
Now, can some of that be attributed to the injuries along the offensive line? It's possible. Former Alabama offensive lineman J.C. Hassenauer, the team's best blocker this season, was ruled out prior to the game due to injury. As if that wasn't enough, two other former Tide offensive linemen, left tackle Brandon Greene and right guard Korren Kirven, were forced to leave at various points on Sunday due to knee injuries. Both players were able to return, however.
Either way, Richardson has to figure out a way to create more success on the ground — especially when his backup, Brandon Ross, was able to find some of that success (9 carries, 64 yards).
Ross (5-11, 205) is known as a more explosive rusher than Richardson, which allows him to bounce things outside when there's nothing available between the tackles. Considering how the offensive line has struggled to move defenders off the ball, that doesn't mesh well with Richardson, who relies on his power to churn out yardage. With that said, Richardson's power is absolutely devastating to opposing defenses when he's able to reach the second or third level.
Starting quarterback Luis Perez has been effective at times this season. But without a complementary run game to rely on, his play has slipped since the opening week. On Sunday, the former Harlon Hill Trophy winner, which is the equivalent of the Heisman for Division II, was forced to attempt 39 passes. The problem? Perez only completed 19 of them (48.7-percent) while also tossing two interceptions.
That type of performance simply isn't going to cut it.
There is a silver lining for the Iron, however. If the offense can get Hassenauer back into the lineup before next week's game against the Orlando Apollos (4-0), that should help. It also may help to get Ross more involved as a complementary running back to Richardson. At Alabama, Richardson was use to sharing the workload with players such as Mark Ingram and Eddie Lacy. That distribution, as a result, allowed Richardson to be a lot more effective.
Either way, something's got to give with this Iron offense if the team wants a chance at an AAF championship this season.
Clint Lamb is a college football analyst for Touchdown Alabama Magazine. You can "follow" him  on Twitter @ClintRLamb.