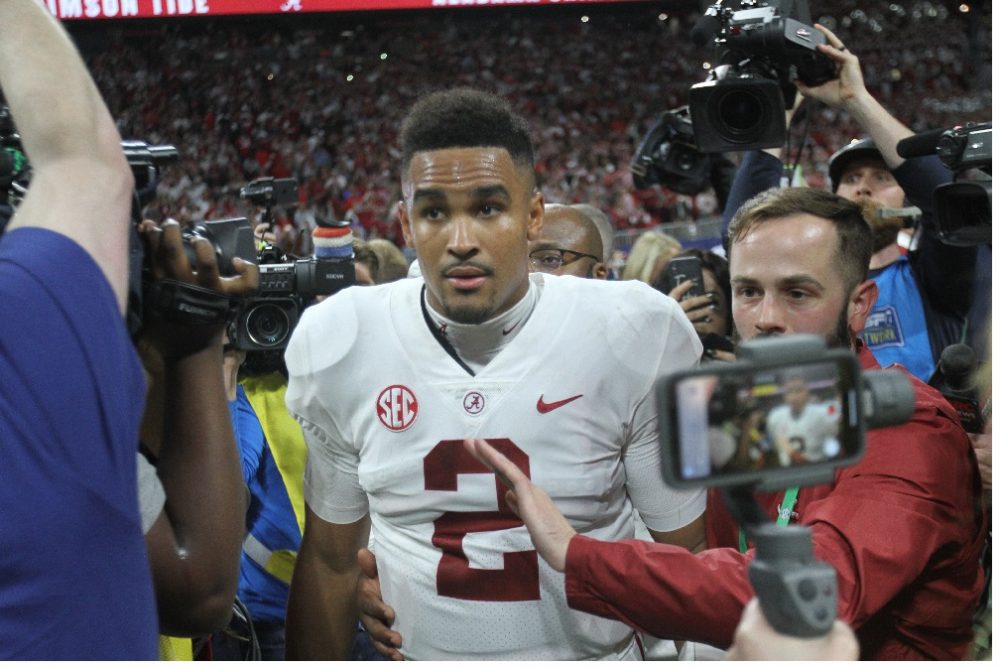 While I'm sure that some will think this is a tacky article that doesn't show appreciation for Jalen Hurts, this is something to consider you may not have.
How Jalen Hurts Being Gone is a Good Thing For Alabama and How He Hurt Them Last Season
By: Larry Burton
Few admire Jalen Hurts more than I do, both as a player and as a man. He did some wonderful things for Alabama in 2017 and 2018, all of which have been highly documented and well deserved.
But what no one has written about is and few have considered is how he hurt Alabama last season and why him leaving Alabama is a good thing for Alabama, not just for Jalen.
First all, Saban had to give Hurts playing time last season, both for Hurts sake as well the debt Saban felt he owed him for his prior great accomplishments. And while Hurts did well with time he was given, especially in the SEC Championship Game, he hurt the team by choosing to stay around one more year and here's why.
First of all, he wasn't needed as badly as some folks might argue. Mac Jones could have matched anything Hurts accomplished last season, yes including the SEC Championship Game. The practice reps that were taken away from Jones in favor of giving them to Hurts, means that the backup quarterback Alabama has this season isn't as ready as he could have been by having all the second team reps in practice and the mop up duty that comes with that job.
Secondly, Hurts may be the biggest reason Tua didn't win the Heisman Trophy. It seems the average Heisman voter was too stupid to realize that Tua's stats were from just 3/4 of the playing time that Murray had. Can you imagine what Tua would have done to tired defenses in the fourth quarter? Can you imagine how that would have padded his stats? Tua's total stats by playing four quarters would have buried Murray's totals.
And to be perfectly honest, Hurts was actually more of a distraction early on in the season than a help. Plus after giving up his redshirt year for Alabama and taking away a year of his eligibility, that really just indebted Saban even more to give him playing time when he could.
Lastly, it's very doubtful that Hurts staying for 2018 really mattered at all to any wins or losses. For those who may want to argue about the SEC championship, Jones beat Hurts stats in spring practice in 2018, beat him badly and Jones has fewer interceptions and a QB rating that shows Alabama would have done no worse with Jones over Hurts and perhaps better.
As admirable as it was that Hurts stayed for the 2018 season, in the end, it helped his charisma and legend more than it helped Alabama as a team.
He saw the writing on the wall in the Championship Game and knew Tua's skill set was at a level he could never reach, so 2018 should have been the time that Hurts took his hopes for redemption and an NFL career and left.
Yes it was valuable for Alabama to have a great backup quarterback and he certainly was one. But most Alabama fans and certainly press writers for other teams discounted Mac Jones, who by the way put up better numbers in this year's spring game than Tua did. Mac Jones is the real deal folks and if you don't realize that, you haven't been watching him as closely as the keen eyes have.
But in the end, Hurts staying added very little to Alabama in totality and may have hurt them more than he helped them.
This year, almost everyone in the Alabama nation may wish Jalen a fantastic senior year with his new team and I will be among them. But when you consider what difference Hurts really made by staying last season, it may become clearer that he did more harm than what he contributed to the team's overall wins and losses and certainly in the preparedness of the backup the Tide has this year and next. This is just something that many have never considered.
*Get the BEST Alabama football insider information, message board access, and recruiting coverage today! SIGN UP HERE to unlock our subscriber only content!*
Larry has been published in almost every media outlet for college sports and now primarily writes here for Touchdown Alabama. Follow Larry on Twitter for inside thoughts and game time comments at https://twitter.com/LBSportswriter
THANKS FOR SHARING THE LINK TO THIS STORY ON YOUR FACEBOOK, TWITTER, SNAPCHAT, INSTAGRAM OR OTHER PAGES OR A FACEBOOK GROUP YOU BELONG TO. PLEASE SHARE!