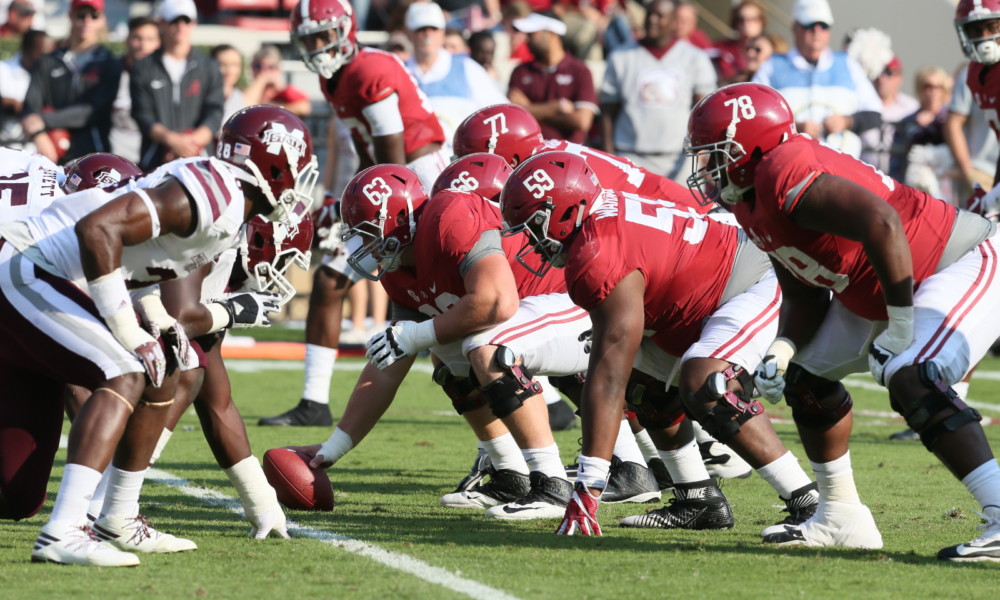 Alabama has tremendous potential for 2019, there's almost an embarrassing amount talent on this team in some areas. Read Part One and see if you agree.
This is the first in a series that will describe this year's embarrassment of riches at certain positions. This article talks about the offensive line and why even though the Tide lost two big cogs in the wheel to the NFL, this year's line might even be better.
Jonah Williams went in the first round to the NFL from Alabama's left tackle spot and while that would be a terrible loss for most teams, Alabama slides in Alex Leatherwood who played guard and backup tackle for the Tide. How could he be better? When he was forced to take over the left tackle spot when Jonah Williams went down in 2017's national championship game, Leatherwood came in and did a better job in the second half than Williams did in the first half.
Take this as you will, but Leatherwood has a much higher upside than Williams. He's bigger, taller has great vision and footwork. And by the way, this isn't just a writers opinion, but coaches saw he graded out in that championship game against the same competition better that Williams too. So while Williams was great, Leatherwood has a great chance to be better.
"Alex played left tackle before in the national championship game and played it his whole freshman year," Nick Saban said about Leatherwood. "We're just trying to get our five best guys there and he made the sacrifice to go play guard for a year."
The other position Alabama refills is Ross Pierschbacher's spot at center. Center is a spot where Saban values experience and when you think back, you remember that he moved Barrett Jones, who had just won the Outland Trophy Award for his work at left tackle to center for his senior season. Pierschbacher was a three year starter at guard before his move last season to center. His work at that spot garnered him a big NFL contract, so obviously, the switch worked well.
At center, Saban wants a guy who knows not just the center position, but how the whole line works as a unit. His center is the offensive line's quarterback, they call the blocking schemes, they motivate, they coach and so much more. Ross Pierschbacher was  6'4" and 306 pounds, his replacement is looking to be 6'3" 312 pound Chris Owens. His lower center of gravity and bigger body means he is going to be able to take on the best incoming rushers for pass protection and to bulldoze folks in the running game.
He has what Saban likes, experience. He was redshirted in his first year while trying various offensive line positions in practice. And in his redshirt freshman year he played guard in three games doing good work.
Last season in his sophomore year, he was the team's backup center and reserve tackle in 13 games. So here is another guy who like Barrett Jones, has played every offensive lineman spot and now gets his shot as the full time starting center as a junior. When you find a winning formula taking guys who have played all the offensive line positions and has the faith and trust of the other guys on the line to go along with size and quickness, you stay with it and Saban was able to do it again this season.
Saban's comments on this subject were, "I think the issue is making sure that the center position is solidified. Chris Owens has done a good job there so far, but that's the thing that we have to make sure to develop, the depth and the consistency, because we've been very fortunate to have some very experienced good players play in that position in the past."
That's the two departing player positions that have been more than adequately filled, now let us mention that the right tackle, junior Jedrick Wills Jr. comes back. Last season Williams and Pierschbacher sucked all the media buzz out of the offensive line and even Alabama fans had a hard time knowing just how good Wills was last season. Few fans know that Wills just allowed one sack all season and allowed just hit on the quarterback all year long. These are facts that Williams didn't match but you wouldn't know it from the press he was given. The only problem here is Wills may be tempted to jump to the NFL after this his junior season.
So that puts the center and both tackles in very good hands. So what about the guards? One of last year's starting guards, Leatherwood, moved to left tackle, so who takes his place?
While he won't start the season because of a rule violation, Deonte Brown seemed to have cemented himself in the job at left guard after the season got going last year. Then he had a foot fracture and missed the College Football Playoff for violating an NCAA rule. While he sits out the first month of games where the Tide won't really need him, his foot injury healed nicely and he did start and look great in the spring game.
So consider that position filled and filled well as a returning starter from last year's offensive line, one of the very best in the country, returns to keep that top rating going.
So that just leaves the other guard position to discuss and Matt Womack may end that discussion. If he sounds familiar, he was Alabama's starter at right tackle at one time. After earning the starting job at right tackle in 2017, his redshirt sophomore season and doing absolutely fantastic work, last season he missed the first four games with foot problems last year. It was mainly a very bad turf toe and that gave time for Wills to secure that job for himself and have his own fantastic year. So really there were two starting quality guys for that spot.
Now Saban says he wants his best five people on the field at one time, so instead of having this player back up one of the tackles he'll plug him into a guard spot like he did with Leatherwood last season so look for a veteran starter to fill that guard position.
Now having five great starters is great, but not exactly an embarrassment of riches, so why call this article that? Because of the backups they have sitting there ready if the need arises or to rotate them in and out on a hot Southern Saturday.
And who might these folks be?
Well the first would have to be redshirt freshman Emil Ekiyor Jr. This is a guy who has played backup center and guard enough to have some good game time experience. With his 6'3" and 327 pound frame, he could work either position well. How well? So well that many who keep up with everything Crimson Tide think that he may even take the battle to one of the starting jobs into the fall. Now that is certainly a quality guy to have on the bench.
A new name getting attention is Landon Dickerson, who went through the transfer portal leaving FSU and winding up in Tuscaloosa. He started at FSU during his freshman year and was then injured. He'll have two more years of playing time at Alabama. At 6'6" he could play either guard or tackle and provides a great backup this season and is someone who will challenge for a starting job next season.
Tommy Brown, is a redshirt freshman from California who was a four star highly sought after recruit and redshirt junior Scott Lashley are both 6'7" and give the Tide a pair of great reserves. Lashay played three games as a redshirt freshman and eight games as a sophomore. Just having this kind of talent on the bench is almost ridiculous, but then you have to talk about the the incoming freshmen.
And as is the case every year with Saban, his recruiting has brought in some prime candidates and looking at Saban's past, he's not afraid to start a freshman on the offensive line if they warrant it. Now while that doesn't seem to be the case this season with so many of the jobs looking nailed down, you never know when injuries can happen and it's next man up.
Saban loves these big 6'7" linemen and someone that was an early enrollee is Evan Neal. Besides being one of the nation's top prospects, Neal is a big reason the Tide is three deep at the critical tackle position. He is versatile enough to play guard too. Another top prospect and early enrollee is Darrian Dalcourt, who could be plugged in to either center or guard. Both have earned some praise from Saban who said, "Some of the young guys, Evan Neal, Dalcourt.. I feel pretty good about that group. They've got to develop probably more consistency in what they're doing, but I feel pretty good about that group and I feel good about the progress they've made."
But there are other great freshmen too. Amari Knight is yet another 6'7" lineman who was a highly rated prospect who protected Taulia Tagovailoa, Tua's brother, at Thompson High School and Pierce Quick, Alabama high school's top rated prospect, who could be plugged in anywhere.
Lastly, the new offensive line coach, Kyle Flood comes in with Steve Sarkisian from the Atlanta Falcons, so he is familiar with the mindset of his offensive coordinator and the plays he's likely to call, so Flood will have the line ready. Flood is also a former college head football coach at Rutgers with years of experience and so far the players are really responding to his coaching style and personality.
The fact that this season Alabama will have so many players on the bench who would be starting at other schools, being coached by a former head coach, show just how embarrassingly deep this offensive line really is and how great their potential is. Not only is Alabama going to be one of the best offensive lines in the nation this season, they appear to be set for the near future as well.
*Get the BEST Alabama football insider information, message board access, and recruiting coverage today! SIGN UP HERE to unlock our subscriber only content!*
Larry Burton has been published in almost every media outlet for college sports and now primarily writes here for Touchdown Alabama. Follow Larry on Twitter for inside thoughts and game time comments at https://twitter.com/LBSportswriter