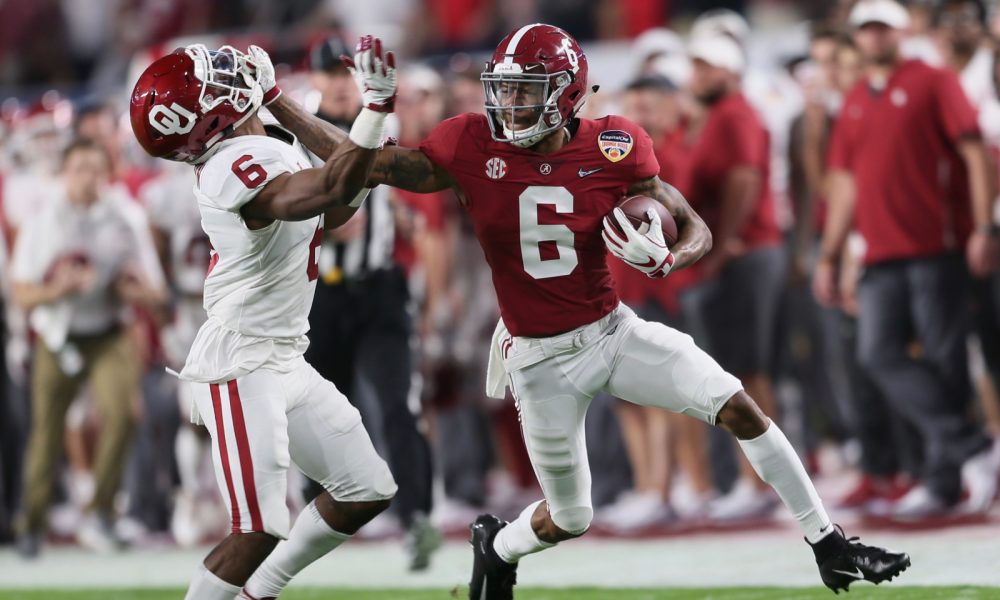 If you think you know the situation with Alabama's receiving corps, you need to read this and see what you didn't know. It's an embarrassment of riches for sure.
In Part One of this series we talked about the linemen Alabama has in excess. In this one we'll go in depth to talk about the receiving corp and the people in it that truly make this a ridiculously well stocked set of young men. It would not be far fetched to see at the end of the season that this year's lineup of receivers could be the best group to ever take the field.  Read the article, learn the new names you don't know now, see the qualifications of the ones you do and see if you agree with the assessment of this being the best group of all time.
If all Alabama had was the the four famous receivers that are returning, that alone would make this group one of the best in the nation. Yes, Jerry Jeudy, Devonta Smith, Henry Ruggs III and Jaylen Waddle alone will cause coaches to cringe should all four be on the field at one time. Jeudy is the leader of this group and led the team in numbers last season,
Of this group, Ruggs and Waddle are almost neck and neck the fastest two men in Crimson. Should a defender fail to jam or at least bump them on the line, they will simply run past 95% of all the defenders in college football and with a quarterback like Tua, when he sees this happen, it's six points almost every time all day long. Now that's dangerous to have one such guy, but Bama has two! Line them both up and who are you going to double cover? It won't matter.
Ruggs is such a threat with that speed. Last season he was 2nd on the team and second in the SEC with 11 touchdown catches. He caught 46 balls and 34 of them went for a first down or touchdown. That's almost 75% of his catches making a chain moving or scoreboard changing result. That's insane and the scary thing is that he is just hitting his stride. Without a doubt Ruggs is going to make even bigger strides in 2019. He's going to make some defenders who may be the one of the fastest guys on their team look slow trying to keep up with him.
And then there's Waddle. He was just a rotational player last season, but even in that role earn freshman All American status for his work as a receiver and a special team player. He snagged 45 passes for 848 yards with seven touchdowns, but that hardly tells the tale. 30 of his 45 catches were huge ones for the Tide, going for either first downs or touchdowns. If that doesn't sound like a go to guy when you need a first down, then you don't know football. With his speed, shiftiness and ball hawking skills Waddle is primed to be superstar in college and play on Sunday some day. Here's a guy that was a rotational player last year that would have been a starter and superstar on most other teams.
Then you have Jerry Jeudy, last year's Biletnikoff Award winner, the best receiver in the nation. What else do you need to say? His 14 touchdowns last season were just two behind Amari Cooper's team leading record of 16 in one season. Quite frankly, with the talent Bama had last year, it's amazing he got that many chances. Once he gets the ball, he knows how to take it to the house, but in just running the routes he can break a defenders ankles if they try to cut with him in his routes. Jeudy won the award not just because of numbers, but the precise routes he runs play after play and the instinctual abilities he has if the quarterback is scrambling. He'll break his route if he needs to and improvise to give the QB more options.
But as good as the others are, if I had to have one guy to throw one ball to in the last seconds of a game to win, I'd look for Devonta Smith. He has less drops than Jeudy and if necessary, can fight defenders and come down with the ball in a 50/50 shot. On the biggest stages, Smith stands up big. As a freshman he caught the game winning catch against Georgia to win the championship. In that game, it was him, not Jeudy who led the team in receptions and of course the game winning catch. In the next championship, he led all receivers again with six catches and while Jeudy had more yards, Jeudy had more drops too, some of which were crucial.
As was said earlier, these guys alone would make this one of the best receiving groups in the nation. But wait till you read what's waiting for their chance to shine.
If you watched the spring game, freshman and early enrollee John Metchie won the most valuable player award on A-Day for a reason. He was absolutely electric showing off great pass catching abilities, runaway speed and ankle breaking cuts. It's going to be next to impossible to keep him off the field this season. Folks, this could be the next great Julio Jones / Amari Cooper type guy. He'd light up the highlight reels on ESPN on another team and yet here, on this team of embarrassing riches, he'll be lucky to get some mop up time.
Most defenders in the nation are small speedy guys, they don't do well when they have to defend a big tall receiver. They find it impossible to cover a receiver that uses the sideline and has a quarterback who can throw a perfect high pass that only a tall receiver can catch and a short defender can't defend. Alabama has had problems like every other team covering those guys, so what does Nick Saban do? He goes out and gets not one, but several of them. Can you say defensive coordinator's nightmare?
Redshirt sophomore Tyrell Shavers and redshirt freshman Xavier Williams are both an outrageous six-foot-six pass snaggers and both showed great skill in spring workouts. Both could present such problems for a defense because of their height and ability to just out muscle most defenders. Here again, most teams in America would love to have just one guy like this and here Alabama is with a bench full of them and they are there because the talent ahead of them is just so ridiculously great. With their muscle and size can you imagine how they could block against a 5-foot-11 corner back? It's really just not fair.
And the great thing about this whole group is that all of them have proven to be good downfield blockers for both the other receivers and the passing game.
Ok, it can't get any better can it? Oh wait, yes it can, there's more, lots more.
Slade Bolden is Alabama's football answer to a utility infielder. As a freshman he helped the Scout team prepare for run/pass quarterbacks last season. He could do that because he was a great high school quarterback who passed for 1,622 yards and 20 touchdowns and also rushed for an additional 1,460 yards and 20 more touchdowns. Now he's a receiver with the instincts to read defenders like a book and barrel over them with his stocky 195 pound frame. He's a guy you toss a screen pass to and teams would find it hard to stop him before he got first down yardage or more. Though they won't need to, they could plug him in a backup quarterback in a pinch, a backup running back and a tight end. Heck with attitude he could even step in at linebacker.
But wait, didn't Alabama lose both their starting tight ends? That has to be a handicap that'll hurt this team and this group of receivers.
You might think so, but you look around and there's Miller Forestall a junior who's just been waiting his turn. The Tide will have no problems with him taking one of those spots. But what's intriguing is that perhaps the guy with the highest upside at the position, Kendrick James, will sit out the first month due to an NCAA rule violation. When he returns the battle for number on tight end will be on. Rumors are James is entering the transfer portal because of being in the doghouse and the talent ahead of him. Will he choose to opt out later? We'll see.
James is an imposing six-foot-five guy with about 262 pounds of muscle to not only run over smaller defenders, but be one heck of a blocker in the running game. So wow, I guess they have that tight end thing filled after all, but wait, there's more or it wouldn't be an embarrassment of riches. Waiting to show what he can do is six-foot-five Carmeon Latu. If James leaves, the Latu, who has been working out well moves up a notch. Losing James isn't a big hit at all with Latu and the following talent behind him all wanting snaps.
Latu came in as one of the top weakside defensive ends in the county, but Saban experimented with him at tight end and everyone but Latu was shocked at how well it went. It's an experiment that may stick. So where does Saban keep coming with all these six-foot-five studs. Recruiting my man, recruiting.
So OK Saban has more options at tight end than we thought, so is it over?
No, not yet, there's two more. Major Tennison, yet another six-foot-five monster who was having a great spring until an injury kept him out the spring game, but he'll be more than ready to fight for playing time this fall. Tennisson was a top ten recruit in the nation at tight end as a high school senior and he's going into his junior season with the experience that goes with it.
And then without having to give up a scholarship, Alabama get's a big six-foot-seven walk on, Richard Hunt. And he's not just tall, he's 250 pounds and just a baby. Now he's a project to be sure. He never played football until his senior year of high school, so nobody knew a lot about him. He only caught nine passes in his life, but almost half of them were for touchdowns. With a comical afro, this white guy looks like Adam Sandberg with a wig on but with Rob Gronkowski's body. He's a huge presence, easy for QB to spot terribly hard for a defender to bring down.
So if you're not past your past any worries at tight end and not impressed with the prospects there, then you don't understand the "embarrassment of riches" part of this article.
Now you see that from the exalted top of this heap to the superstars in waiting at the bottom, this is arguably the absolute best receiving corps in the entire nation and it's not just great, it's embarrassingly great. But what makes it unbelievable is the quarterbacks who will have no problem getting the ball in their hands. Now it's just a miracle if they don't embarrass every team they face.
Other articles with this kind of detail on other embarrassment of riches are:
Alabama Football – Embarrassment of Riches Part One – Published July 6th  The offensive line
*Get the BEST Alabama football insider information, message board access, and recruiting coverage today! SIGN UP HERE to unlock our subscriber only content!*
Larry Burton has been published in almost every media outlet for college sports and now primarily writes here for Touchdown Alabama. Follow Larry on Twitter for inside thoughts and game time comments at https://twitter.com/LBSportswriter