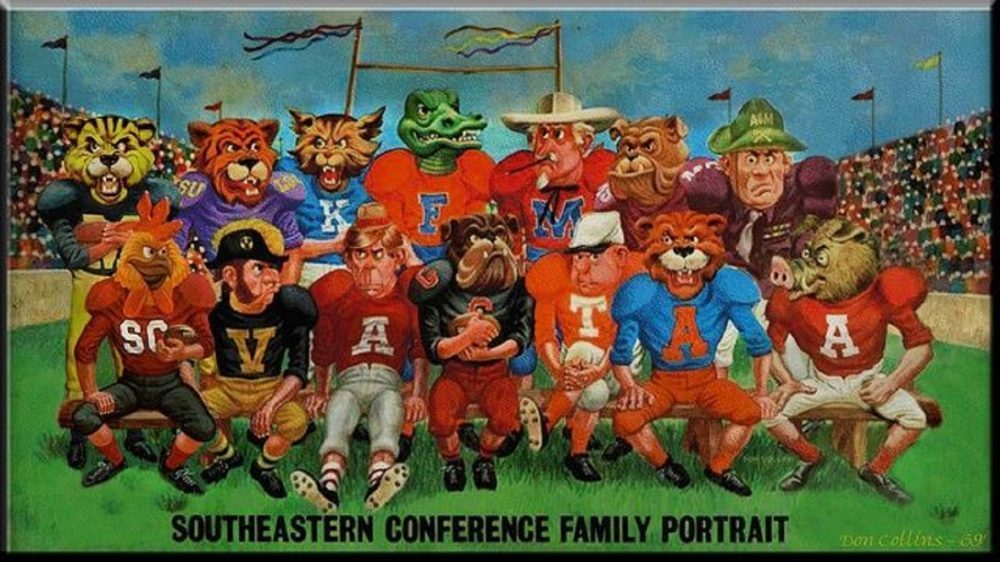 It's already week 10 and games count more now than ever when so many are scrambling for a bowl or maybe the big bowl. See how your team fares this week.
Well folks, we knew the upset bug was gonna bite somewhere this past week and it sure did! Tennessee finally beat Will Muschamp and we didn't pick that one. We forgot which week it was for Missouri who is like a yo-yo up one week and down the next, it was their down week. Boy, what a Jekyll-Hyde team that is! Lastly, we picked Auburn in the upset against LSU and while the score was close, Bo Nix played like Bo Peep and lost his sheep. So like they said in that Indiana Jones movie, we picked poorly missing those three.
This week there's only a few games to pick from, but many of them are going to be toughies to tabulate. Though they tell me it's politically incorrect to call it this, The World's Biggest Cocktail Party is this weekend and that'll be a doosey, you better not call UAB a cupcake if you're a Vol fan and the Hogs are gonna burst somebody's bubble this season, will it be Moorehead's Mutts this weekend?
So even though there's only six contests this week there's plenty of opportunity to step in a pile of poor picks, so with that said, let's get to listing those losers.
The University of Texas at San Antonio at Texas A&M – The UTSA Roadrunners won't actually run the roads to College Station, but when they get to the stadium to take on Fisher's Farmhands they'll have their own hands out for that big check that comes from being a cupcake on an SEC platter.
Now I don't think that the Aggies need to schedule an almost bye week by bringing in these cremepuffs, not with a game against those Carolina Cluckers next week. I could see them doing it before Georgia, but not this week.
So Jimbo earns his bowl trip with this win over these ratty looking Roadrunners no matter what else happens this season and that'll make Larry's loser – UTSA
Georgia vs Florida at Jacksonville, Florida's Gator Bowl – Well folks, this contest between the Red Clay Hounds and and gobbling Gators is gonna be the game that decides the SEC East and it's bound to be a beautiful battle.
Now Mullen's Mudpuppies think that this is the year that start their ascension back to the top of this division and they've got an unscared quarterback and a defense to make it a battle and they hope that the Mutts play like they did when Col. Sanders Clan had them all plucked up.
And while we still haven't figured out how that loss to the Egg Layers happened,  we feel pretty sure it was just a one time whoopsie and that when it's over and clock stops ticking that that it won't be the Bulldogs with the least points and that means that Larry's loser is Florida.
And for us, it's a pleasure to watch y'all hate each other, but a nightmare to pick a loser…
Mississippi State at Arkansas – Moorehead's Mutts muddle up to the Hot Springs state to take on Razorbacks in the Hog pen and only the Mongrels still have a chance of limping into a bowl after a poor season by both.
Now after losing four in a row, these mangy Mississippi Mutts don't look like a winner, but they luck out by playing the winner winner Pork plate dinner crew this weekend. Now if you're going to remind me that I've said all season that these little Piggies are going to upset somebody's apple cart this season, I just don't see it here.
Therefore once all the barking and snapping is over,  well see that indeed every Dog has it's day and this is theirs and that'll make Larry's loser – Arkansas
Ole Miss at Auburn – The ragged Rebels round up and take a trip to tangle with the Tigers of the Wiregrass persuasion in the plains this weekend and these Cats won't be pussyfooting around to show the world that last week's loss is not who they are.
Now the Po Bo from Auburn ain't no sandwich, but he played like baloney last week, but he won't have the same kinda worries from these weak knee warriors from Oxford, so I guess he'll put up enough points to get them by this bunch of Bozos.
So you can place a check mark mark here as Larry's loser is Ole Miss.
UAB at Tennessee – The big bad Blazers come snorting into Hardknoxville and are hoping to breath a little fire onto the Vols and burn up their bowl season plans, but an unexpected win last week was just what the doctor ordered to breath life back into a bowl trip for these Tennessee Trubators.
Now UAB has already got their 6 wins under their belt so it ain't like they're gonna risk a lot of life and limb in this one, so they'll go through the motions, collect that big check and look for another win somewhere else down the schedule to bump them them into a better bowl.
So in a yawner here as the drug down Dragon just goes through the motions and phones one in for the payday, that'll make Larry's loser – UAB
Vanderbilt at South Carolina – Now here's a hair puller when the Country Crooning Capitol Commodores come a calling on the Carolina Cluckers. Both these teams have had more ups and downs than an elevator. The Vandy boys lose like a dead dog to everybody and then jump up and bite a team that was leading the East, a very good, well, most of time, Missouri Tiger team. Meanwhile the Pecker Heads from USC beat a top team like Georgia and then lay down in front of a pitiful Tennessee bunch and get run over like a drunk dog.
So who's to say who's gonna show up in this Jekyll and Hyde affair? With these two you just never know. But we're gonna go with the team that still has an outside shot at the Birmingham Bowl and has some home folks to please.
Therefore, when all all the feathers stop flying and all the pecking is done, we think that we're gonna see that Larry's loser is Vanderbilt.
So who will Carolina bring Saturday, Dr. Jekyll Gamecock or Mr. Hyde Gamecock? Only time will tell….
Well that's it for this week folks. Hard to believe we're done tabulating week 10 already and that three quarters of the season is already over. Where does the time go? I'm not saying this to excuse my misses, but this has been a season full of upsets, surprises and crying for some teams and we expect it to finish with the same flurry.
Go get your tickets or pay your cable bill, 'cuz you're not going to want to miss out the action this week or in the next few weeks to come. I've got a feeling the upset bug is still hungry and that he's gonna take another bite or two before this season is over. So if you want to keep tabs of where it might be biting, be back here next week when I'll formerly introduce you to the future pigskin pickin' pug, Sir Rumsely!
Till then may the good Lord bless and your team finish the year with a bang! See you next week.
*Get the BEST Alabama football insider information, message board access, and recruiting coverage today! SIGN UP HERE to unlock our subscriber only content!*
LARRY BURTON HAS BEEN PUBLISHED IN ALMOST EVERY MEDIA OUTLET FOR COLLEGE SPORTS AND NOW PRIMARILY WRITES HERE FOR TOUCHDOWN ALABAMA. HE WRITES IN A COLLOQUIAL AND IRREVERENT STYLE FOR THIS SERIES OF ARTICLES. LARRY'S VIEWS AND SENSE OF HUMOR MAY OFFEND, BUT HE AIMS TO OFFEND EVERYONE EQUALLY. IF HE HASN'T INSULTED YOUR FAVORITE TEAM WITH LARRY'S LOSERS, JUST WAIT. FOLLOW LARRY ON TWITTER FOR INSIDE THOUGHTS AND FUNNY GAME TIME COMMENTS AT HTTPS://TWITTER.COM/LBSPORTSWRITER