Headline
The big surprise Alabama is going to spring on LSU this Saturday will shock people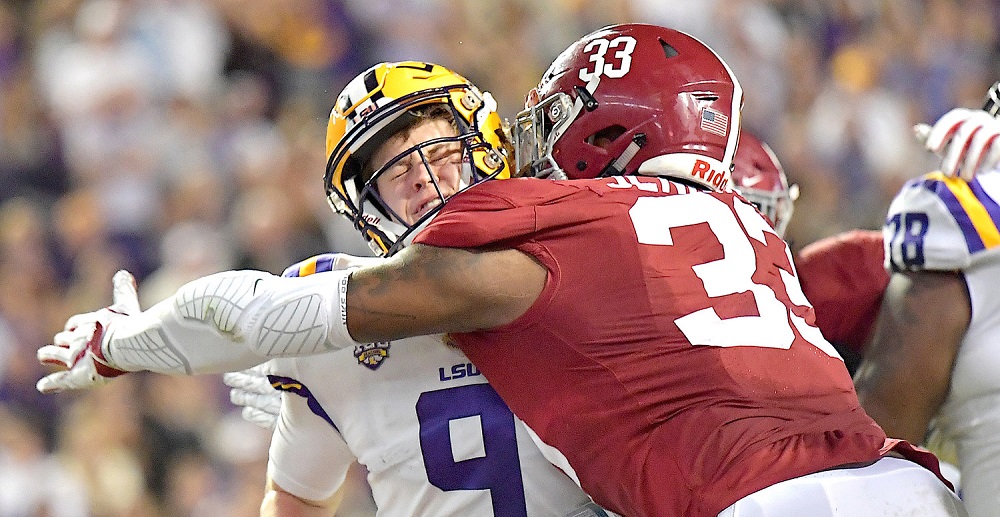 If you think you've seen it all, we're going to show what you haven't. Alabama comes to the LSU game this weekend with surprises you haven't seen yet!
All season long when you listen or read things from the media, they all mention, when talking about Alabama, that the offense is great but the defense just isn't up to their usual standards. To that I counter, you just don't know Nick.
Alabama hasn't been tested this whole season. They've run up the score, taken Tua out, took their foot off the gas and coasted to easy victories. That means the opposing offenses may have the ball more in the second half and may run up some yardage after the game is all but settled, but that isn't the whole story, not by a mile.
There's an old joke about men in a bar, when once pretty lit start bragging about their manly organs and a bet was ensued. When one man got home and showed his wife the wad of cash she was upset. She asked he could pull that thing out in a public bar in front of everybody. He replied he didn't, he merely pulled out enough to win without showing it all.
Well in a sense, that's exactly what the Alabama defense has shown this year, just enough to win. They've gone the whole season without pulling out any stunt blitzes, any new defensive formations or showing anything that shows what this defense can do in an absolute must stop this drive scenario. But if the game is close this Saturday, you can expect to be surprised by what this defense can pull out and just how dominate they can be when they have to.
Plus, the youngsters that are plentiful in this defensive unit are no longer babies after having gone through more than a dozen weeks of gameplay and starting reps. There's one other thing too, the big chip on their shoulder. Since hearing all season that this just isn't a great defense like Alabama usually has, these players have something to prove and who else better to prove it on that one of the nation's top offenses, in a marquee matchup that most of the country will be watching.
Right now Alabama ranks tied at 55th place in sacks. That's not where Alabama usually ranks. They average two sacks and a decimal point and some change a game. They should put up good sack numbers against LSU this weekend and it will come as a surprise to the bean counter folks who live and die by statistics. They're going to harass and hurry Burrow all game long and that should result in his quarterback ranking and scoring average being way below average and his interception rate increasing. Burrow will be shell shocked in this one and it will truly show.
The thoroughness that Alabama whips LSU on both sides of the ball will surprise many. It may not be another 29-0 beat down like last season, but it will be decisive.
If Burrows that this was embarrassing, wait till he see's what Alabama will do to him.
*Get the BEST Alabama football insider information, message board access, and recruiting coverage today! SIGN UP HERE to unlock our subscriber only content!*
Larry Burton has been published in almost every media outlet for college sports and now primarily writes here for Touchdown Alabama. Follow Larry on Twitter for inside thoughts and game time comments at https://twitter.com/LBSportswriter