Headline
Seven scenarios why Alabama or LSU win the West on Saturday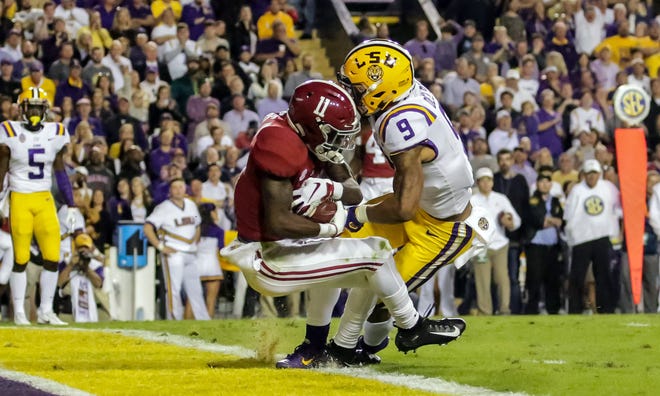 In big games, sometimes small things makes the biggest difference. So what are the seven things that could make either a winner? Read and see for yourself.
This is a game that could go either way and in this article we're going to list the seven reasons why Alabama could win the big game and seven reasons LSU could walk out of Bryant Denny Stadium victorious.  They are in no particular order of importance and we'll start with LSU.
HOW LSU WINS
LSU can win this game on Saturday if Joe Burrows is able to make key third down conversions with this legs to keep drives alive. Alabama has always seemed to struggle with mobile quarterbacks and so far in his career, Burrows has not be particularly known for his running, but if he can keep drives alive with his feet by alluding the rush or when receivers are covered, it could make a difference.
If LSU is able to effectively run the ball on this Alabama defense, it could be disastrous for the Tide. In almost all recent games in memory, even during the Leonard Fournette years Alabama was able to make LSU a one dimensional team and made them pay for it. Should the Tigers get the running game going, then play action passes won't be scoffed at by the Tide and safeties won't be so far back to control the passing game. The Tide is counting on shutting down the run once again, having this part of their game plan go bad may make them question the whole plan.
If it's close, LSU wins a special team battle. LSU is 42nd in the country in punting, Bama is incredibly ranked in at 126. It's easy to see who wins a flip the field scenario. And in placekicking, LSU is ranked 26th while Bama comes in at 92nd. If a field goal decides it Alabama is in trouble.
If it's close penalties could be a big factor. LSU comes in 97th out of the 130 teams, but Bama comes in at 113. Edge, LSU.
IF LSU wins the sack contest in a close game, it could be crucial. So far, LSU in terms of national ranking comes in at 47th best in sacks while Bama comes in at 56th. Plus, Alabama doesn't need to have Tua taken to ground in his condition.
Alabama has won so many games against LSU they may not be as driven and focused as LSU is right now. LSU is playing the role of the upstart, despite their ranking they have a big chip on their shoulder from years of Alabama wins and dominance over them. They may just want it more and try harder than Alabama.
Tua re-injures his ankle, comes out and Mac Jones just can't do quite enough to get Bama the victory.
HOW ALABAMA WINS
Time of possession is key when two great offenses meet. Alabama is nationally ranked as the 43rd best in keeping the ball, LSU is 84th. Paul "Bear" Bryant once said, "You can't score if you don't have the ball." Yes, that's common sense, but this difference could mean one or two less LSU possessions and in a close game, that could be the difference.
Turnovers are always key in a big game, not just to swing momentum, but to kill opposing drives. In this category Alabama seems to have distinct edge coming in at #1 in turnover margin while LSU comes in at 33rd. In close games whoever wins the turnover battle usually wins the war and it would appear that Alabama has a big edge here.
Bama bursts more big plays than LSU and big plays demoralize an opponent. In big plays of 70 yards or more, Alabama has five while LSU has none. Alabama has four starting receivers that will play in the NFL and none of them can be consistently covered with one on one coverage. The trouble is, if you double team one, they'll just go to another. This is actually a big edge for Alabama.
Alabama seems to have an advantage with a better defense than LSU. In scoring defense, Alabama allows just 15.3 points per game while LSU has given up an average of 20. In close games, these things make a huge difference. This is actually a big edge for Alabama.
But not only does Alabama allow less scoring than LSU, they also best them in the scoring column. Alabama averages 48.6 points per game while LSU averages 46.8. Yes it's a small thing, but in close games small things make the difference, especially when the Tide has a better rated defense and allows less points.
To maintain drives, you have to convert third downs. Only one team in college football does it better than Alabama who comes in a #2 averaging converting 55.21% of their third downs. LSU comes in at #7 converting just 50.51 or their third downs. Again, it's close but when Alabama shows an edge in such an important category, it could be a game winning difference.
In a big game, nothing beats confidence. Is Bama's confidence bigger than the chip LSU carries on their shoulder? Maybe so. LSU's players have never played in such a big game as this and the stage might be a little intimidating for them while most of the Bama players have played in game far bigger than this one. Plus if Bama jumps on them early, as is the motus opprandi of the Tide, then LSU might fall into a "Uh oh, here we go again." mentality. This same scenario could play out not just for the players, but the coaches as Ed Orgeron has never been head coach in a game this big.
*Get the BEST Alabama football insider information, message board access, and recruiting coverage today! SIGN UP HERE to unlock our subscriber only content!*
Larry Burton has been published in almost every media outlet for college sports and now primarily writes here for Touchdown Alabama. Follow Larry on Twitter for inside thoughts and game time comments at https://twitter.com/LBSportswriter