Well folks, for a lot teams this is the 10th game of a 12 game season. Yes there are some that will play that big 13th game in a bowl and maybe one will play in that biggest of big 14th game of the season and two of the teams that may be doing that are hitting helmets this weekend. Last week we think the East was settled and this week the West should be. It's not often, but we have a two vs three and they're both in the SEC and what a tussle that will be. The only trick is picking it perfectly.
And speaking of perfect, that's just what we were last week, we were perfect once again this season with all our picks and we are gonna ride that hot streak as long as there's gas in the tank!
But perfection is always tough, much tougher than getting a snicker with this column, but we've been working overtime, watching and rewatching all the SEC contests until we know these boys better than their mama does. So with all that build up, let's just jump into the Revelation River head first and get to passing out those prognostications.
Vanderbilt at Florida – The sad sack Sailor from Song City, Tennessee sail on down to the Swamp to try and blow the Gainesville Gators from the water and earn an upset win from an SEC upstart.
But Mullen's Mudpuppies aren't gonna be taken by no one win in the conference Commodore in their home waters and instead are going to holes in the Sailors sailboat and see how many choose to go down with the ship.
It won't be pretty when the Captain Crunch Bunch try and swim for shore as these Gators make sure that Larry's loser is Vanderbilt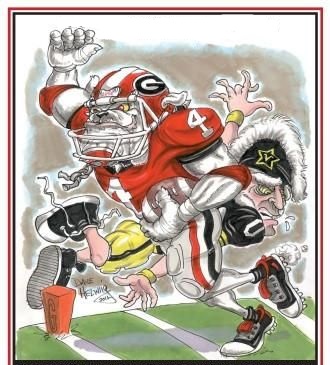 There's gonna be a butt whippin' in this one!
Western Kentucky at Arkansas – The Hilltoppers are aiming for Arkansas and they're hoping to hop on a Hog while he's down and sneak out with an SEC win in their resume and get themselves to a brighter bowl for it with win number six if they can get it.
But this pack of Pigs knows the only bowl they'll see this holiday season will be the ones they watch from the comfort of the houses that didn't get huffed and puffed and all blown down this season.
But that ain't no reason to try and go out with a bang anyway, so we think they'll charge these Hilltoppers and make them Hogfloppers this weekend and make Larry's loser – Western Kentucky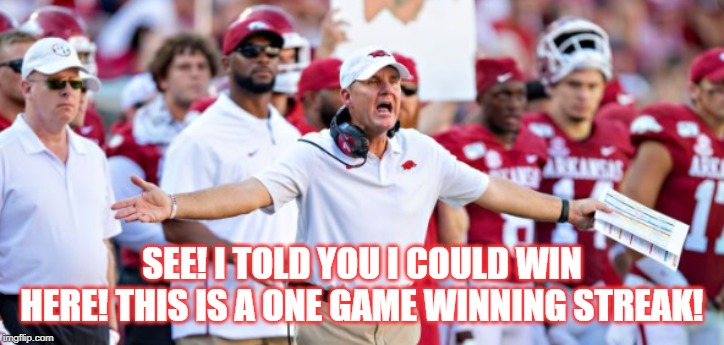 LSU at Alabama – When LSU comes to Titletown this weekend, they aren't 100% sure of who'll be flinging the football for the foes and for how long, but they're hoping it won't matter if they can get their own offense into gear and pile up more than a few dozen points of their own.
But this bunch of Bamers aren't too concerned over who passes the pigskin, they got faith in all their flingers and this pack of pachyderms plan on purposely planting these Pussycats where they snap the ball and show them there's a reason why not one person in Las Vegas favors the team ranked #1 from the Bayou.
Now while we don't expect another 29-0 drubbing like last season, we see the Tide rolling on offense and keeping the Tiger offense troubled enough to not keep pace and that'll make Larry's loser – LSU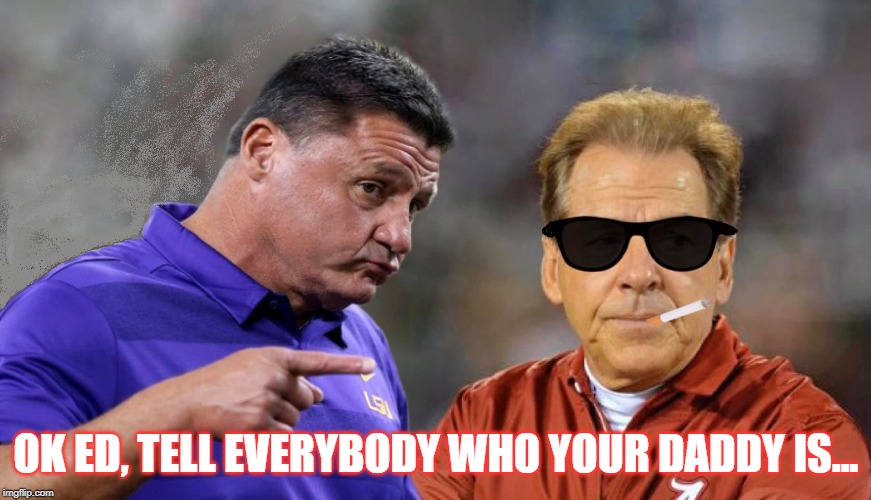 New Mexico State at Ole Miss – The Aggies from down desert way travel up to the green grass state of Mississippi to wrestle with the Rebels and try to take a win home from SEC country. However that's gonna happen just after these desert diggers start using cactus as toilet paper.
Now it's highly unlikely that these Johnny Rebs will wind up in a bowl this season, but that don't mean that they're gonna give up and roll over without putting their best shots downrange so you can expect this one to be a battle the home field fans are gonna like.
So win number four will be a blowout, but there may not be anymore in the near future in Oxford, so let's just celebrate this one and make Larry's loser – New Mexico State
Missouri at Georgia – These Midwest Meeyowers that have been so up and down this season sander into the Dog pen between the hedges and it really won't matter if the Dr. Jekyll or Mr. Hyde team shows up from Missouri, because these Dogs are planning on beating either one of them.
But if the Tigers play their best and the Bulldogs repeat the game they played against South Carolina it might not work out how Mullen's Mutts have this thing planned. This could be a good one, the Cats have claws and teeth, but the Bully's have a bigger bite.
It's a perfect spot for a letdown game after the big win against the Gators last week, but we don't think the upset bug will bite the Dogs in this one and that'll make Larry's loser – Missouri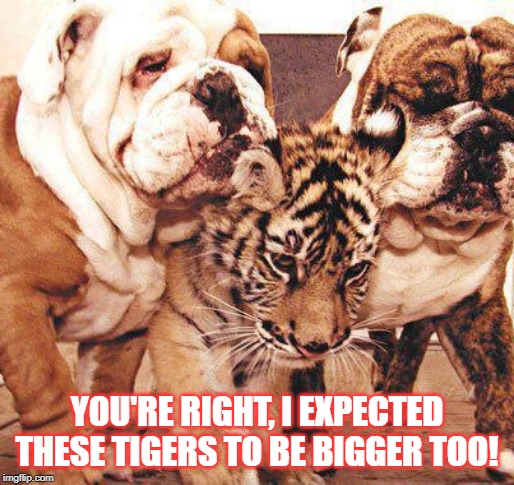 Appalachian State at South Carolina – The Mountaineers mosey on down to the big Chicken coop in Carolina and hope to pull of another upset of a group of five member and revive their status as king of the upset bugs.
But the ballers with the big peckers plan on using them on these Hillbillies and maybe get their spurs going too in this one and we think that this one could be a bigger win than the boys from Lost Wages think it will be.
If that's the case, this would only get them to win number five with the SEC's Aggies and Clemson the only two teams left get that all important sixth game, so with this one being a must win, they will do it and make Larry's loser – Appalachian State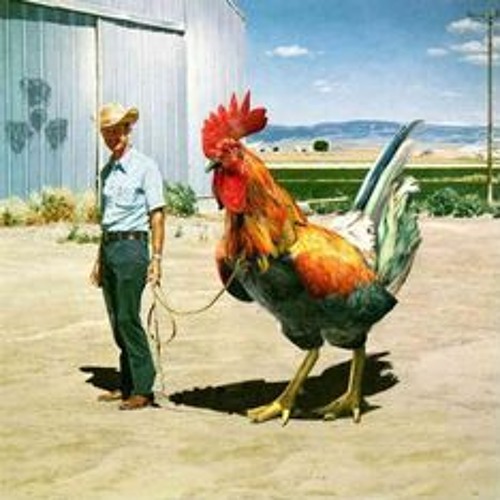 This is how big the Peckers look to the Mountaineers this weekend.
Tennessee at Kentucky – Boy oh boy, both these teams need a big fifth win this week to try and bring home a bowl season. The winner of this game may make it and loser may not. So when the volatile Vols take on the cardiac Cats from Kentucky in the nice Cat House up in blue grass country, there's lots to play for in a game that could be nip and scratch all day. We think it will be close and this is the most likely game get bit in.
Now my buddies at ESPN are taking the Tabbies and the boys from Lose Wages, Nevada have it even, but we're gonna go with our gut and history and we usually see a hot team stay hot and tumbling team take another tumble. The Vols have sharpened their aim with those rifles and if they just keep the powder dry, we think things will go their way.
And since the Vols have beaten the Mississippi Mutts and the Carolina Cluckers and the Kentucky Kitty Cats lost to both of them, we think it's a no brainer to make Larry's loser – Kentucky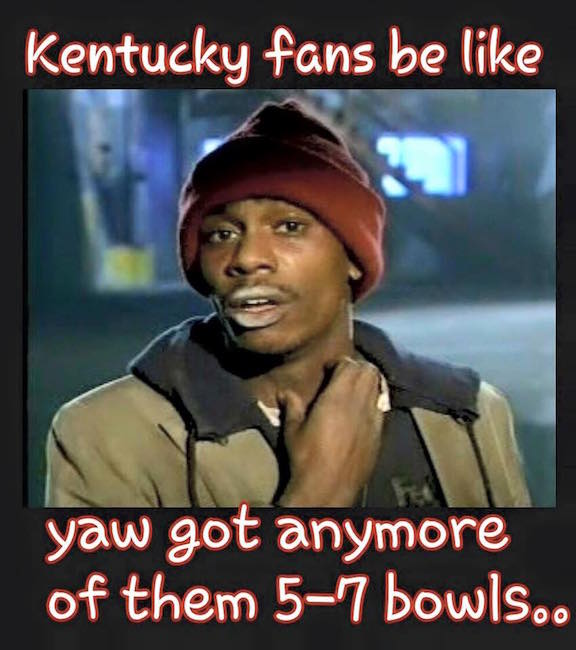 Well that's it for this week sports fans. Here's hoping you have a great supply of gametime grub to gobble and speaking of gobbling, with Thanksgiving coming, don't forget to thank God for this great country, the fun of football and the folks who bring it to us.
Now we'll see you back here next week to list more likely losers than you can laugh at and we sincerely thank you for supporting Touchdown Alabama Magazine, it's staff and our wonderful advertisers. That's something we'll be thankful for too, as well as you, the fans who make it not just possible, but fun and worthwhile to do. Speaking of worthwhile, my worthless sidekick was supposed to help me with these picks but he's much more interested in chasing a darn squirrel around the back yard. Such are the plights of prognosticating with a puppy, but we still think he can grown into the job. But it's like the picks we choose each week, we'll just have to wait and see.
*Get the BEST Alabama football insider information, message board access, and recruiting coverage today! SIGN UP HERE to unlock our subscriber only content!*
LARRY BURTON HAS BEEN PUBLISHED IN ALMOST EVERY MEDIA OUTLET FOR COLLEGE SPORTS AND NOW PRIMARILY WRITES HERE FOR TOUCHDOWN ALABAMA. HE WRITES IN A COLLOQUIAL AND IRREVERENT STYLE FOR THIS SERIES OF ARTICLES. LARRY'S VIEWS AND SENSE OF HUMOR MAY OFFEND, BUT HE AIMS TO OFFEND EVERYONE EQUALLY. IF HE HASN'T INSULTED YOUR FAVORITE TEAM WITH LARRY'S LOSERS, JUST WAIT. FOLLOW LARRY ON TWITTER FOR INSIDE THOUGHTS AND FUNNY GAME TIME COMMENTS AT HTTPS://TWITTER.COM/LBSPORTSWRITER