Headline
Even with the loss to LSU, for Alabama it's not over till it's over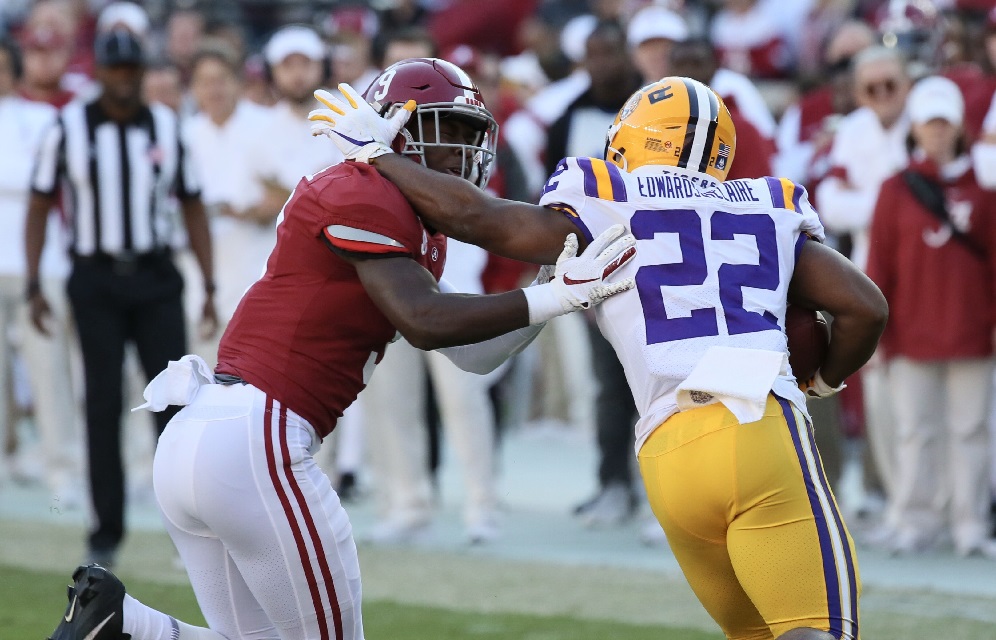 If you thought Saturdays loss meant the end of the trail for Alabama's quest to make this season's playoffs, you need to read this and see that it isn't over yet.
For Alabama fans, Saturday night's loss to LSU was heartbreaking. Alabama will not go to Atlanta, will not play for the SEC Championship and most fans feel they won't play for a national championship this year either.
But as Lee Corso so famously says, "Not so fast my friend."
Keep in mind that Alabama has won five national championships with Nick Saban at the helm, yet only one of them sported an undefeated team. So that means Nick Saban has won four national championships with one loss.
That cache won't be lost on the committee when they go to pick teams for the final four. After all, Alabama's only misstep was to the number one team in the nation and only by five points.
But when Alabama made it into the playoffs with one loss and won it all, they had help, lots of help to get there and they'll need it again if they are to defend their record of playing in every college football playoff.
An undefeated Clemson is in, no question about it. An undefeated Big Ten champion is in, no question about it. An undefeated LSU is also in, no question about it. The only spot remaining is that all important fourth spot and the question will be who is more deserving.
An impressive win over Auburn could take out Oregon, the likely PAC 10 champion. Alabama would have a better loss than Oregon and would have beaten the team that defeated Oregon. So while conference championships may matter, they won't matter enough in this case. And Oregon must still take out an undefeated Utah to finish taking that whole conference out of the picture.
Now that leaves us with Oklahoma, the probable Big 12 champion. Alabama may have a good argument over Oklahoma, who has a much worse loss to a lowly rated team, but it would sure be nice for OU to lose another game and clear that up for everyone.  Yes Baylor is still undefeated and if they run the table, they're in and Bama's out, but Baylor has to play Oklahoma next, and may lose. But even if they win, they have to play Oklahoma again in the conference championship again and may lose there. Plus they still have to play Texas who has a good chance to beat them.
In any case, a one loss Big 12 champion may not have the panache and eye test to overcome a one loss Alabama.
Other factors that the committee will take into effect is that Alabama played with a gimpy quarterback, clearly still not close to being himself just a few weeks after surgery on his ankle as well as Alabama's reputation for being a championship contender. Is Alabama's past deeds cause to give them consideration for this season? Well yes and no. While it may not be fair, it is something that the committee will hard pressed to forget.
So is the second best team in the SEC better than the best team with one loss also from the Big 12 or PAC 10? Well, quite frankly yes.
So it's not really all over for Alabama at this point. Let LSU take a beating in the SEC Championship Game against Georgia's tough defense and then come and play Alabama again. That would be a rested Alabama team with a healed quarterback. It would be the same scenario as just a few years ago when Auburn defeated Alabama and then had a hard fight with Georgia in the SEC Championship and then had to take on a rested Tide.
That game didn't go well for the Bulldogs and if it plays this way out again, it may not go well for LSU to face the Tide twice.
So with just a little bit of help, the Tide may live to fight again in yet another national championship playoff. But there's a lot of football to play first and as we've already seen, anything can happen.
*Get the BEST Alabama football insider information, message board access, and recruiting coverage today! SIGN UP HERE to unlock our subscriber only content!*
Larry Burton has been published in almost every media outlet for college sports and now primarily writes here for Touchdown Alabama. Follow Larry on Twitter for inside thoughts and game time comments at https://twitter.com/LBSportswriter