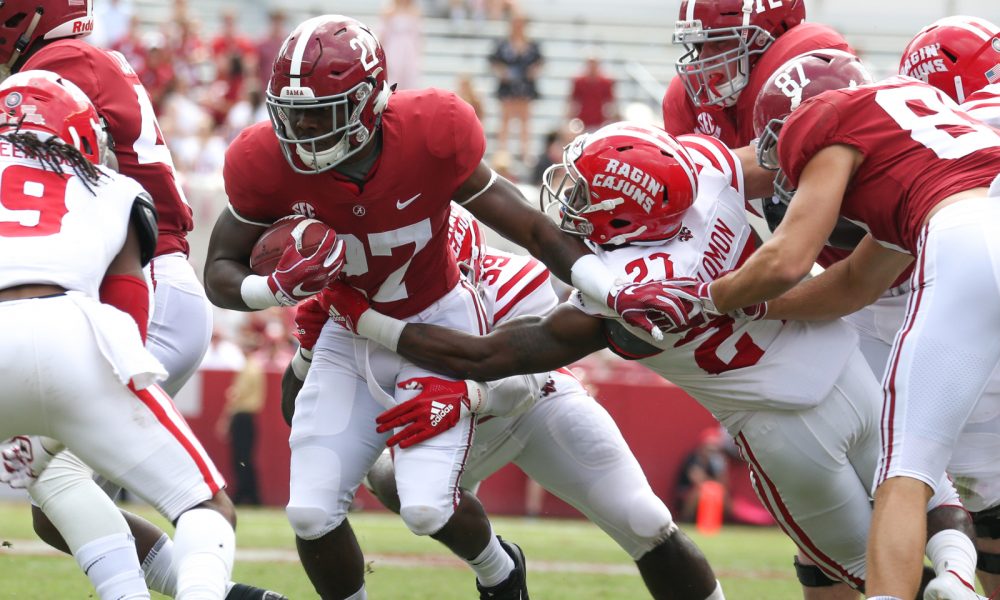 After watching these videos, it's really hard to argue two points. One, that Alabama has the deepest pool of running backs in the nation, and may for a while.
See the videos of Alabama's stunning depth at running back
Let's not even preface the headline or story with the word "may". To say Alabama's running back depth may be the nation's best and deepest unit is like saying the sun "may" come up tomorrow, because barring some unforeseen act of God, it will and Alabama's running back depth just is the nation's best.
While other schools may have a running back on the level of Najee Harris and some may even have a back that good and a great backup, how do they look, three, four, five, six or more deep? That's how far you can go down in the Crimson Tide depth chart and find running backs that would start at many big time schools.
So take a look at these videos and see if you agree that Saban has filled the shelves at this position better than anyone else in the country.
Najee Harris – Coming back as a real team player because of "unfinished business", he is fantastic. What can I tell you about him you don't already know? So just marvel at some of these highlights. And don't just marvel at the running plays, but watch his hands as a receiver.
Najee Harris Highlights 2019
Brian Robinson – Brian "The Battering Ram" Robinson also came back for his senior season. He's a great blocker and as a running back hits the line like a fullback but has a downhill burst you can count on in third or goal and short. Last season he averaged over 4.5 yards a carry and will do more this season. They say you can make millions in the NFL as a running back averaging 4.5 yard per carry, well so for in his career at Alabama, Robinson averages 4.8.
Sadly, I couldn't find a highlight reel of Robinson's career here so far, but take a look at this video of his freshman year and just think how much better he is now.
Freak Brian Robinson Bama's next star RB?
Trey Sanders – Hurt his entire 2019 freshman season last year, but he's healthy and ready to show that he's capable of doing what he did in high school. By the way, he was one of the nation's top talents at running back coming out of high school with the size and speed similar to Najee's. Enjoy some of his high school video and just imagine what this will look like with him in Crimson and those big boys in Tuscaloosa opening holes for him.
Trey Sanders | IMG Academy Football | Ultimate Highlights
Keilan Robinson – I love to give players nicknames and my nickname for Keilan is "Popcorn", because when a kernel of popcorn has that moment of popping, you just don't know where it's going to pop, left, right, straight up, forward, backward, you just don't know. When Keilan gets the ball and the first defender comes toward him, that poor defender won't know if he's going right, left, up, or right into your chest. He can plant that foot and just pop anywhere making tacklers look foolish.
In very limited play last season, Keilan ran for just 254 yards in just 39 carries for an amazing 6.51 yards a carry. Since there wasn't a highlight reel of his short work at Alabama, let me show you why Saban wanted him so badly in Tuscaloosa from his high school reels.
Keilan Robinson Highlights - Alabama Football Commitment
Jase McClellan – It was interesting that Saban got this recruit to flip from Oklahoma, where they could have surely used him early and often, to Alabama where he knew going in it would take a while to get serious playing time. But when Alabama puts running backs in the NFL who never even cracked the starting lineup, like all pro Josh Jacobs, it's easy to see why waiting for your chance can pay off and you go into the NFL with fresh legs and not all hobbled up.
McClellan is happy grinding out short yardage TD's or first downs or turning on the jets for long runs. He can do it all much like a Mark Ingram style. Take a look at these high school highlights and marvel.
Jase McClellan | Aledo Football | Ultimate Junior Highlights
Roydell Williams
– Yet another member of 2020 class, can we just stop here and marvel not only how good this group of running back are this year, but for the foreseeable future as well. Williams is just a boss athlete. In high school he played quarterback, running back, receiver, defense, special teams and just about everything but the first trumpet in the halftime show's marching band.
It's getting repetitive, but he can and likes to put the shoulder into defenders in short yard situations, but can also plant the right foot and bolt away, leaving defenders with an angle on him wondering how they never got close enough to touch him. He's all Alabama too, living the dream of wearing the Crimson and White, so he'll be here for his senior season helping the Tide for years.
Kyle Edwards
– Though he wasn't as as nationally ranked as other running backs here in Tuscaloosa, Saban saw another Josh Jacobs who also wasn't wanted by many other programs. Saban wanted him because he's a gritty downhill runner who can move a pile, get yards after contact and maybe never turn the ball over. That's something that always gets Saban's attention.
He's the last of this year's sensational signing class. How good is he? He reminds me of an Eddie Lacy in his prime, good moves including the spin, great ball control, great hands for screen passes and more. He was a workhorse on his team and thrived carrying the ball all night long.
https://varsitysportsnow.com/zype-video/destrehan-rb-alabama-commit-kyle-edwards-junior-highlights/
Cooper Bishop – In his second year in the program, he didn't see any playing time last season, but he's a home grown product from Vestavia Hills. He played both ways as you'll see on the highlights and while he doesn't have the eyes to find the holes, he may lack the breakaway speed for the SEC.
Still with his hard hitting skills, he'd make a good H back and with his 6-0" and over 200 pound frame, he could grind out some third and shorts. Once you look at his highlights you'd be shocked he may be on the bottom of anybody's depth chart.
https://www.maxpreps.com/athlete/cooper-bishop/MWSApGrBEea-8KA2nzwbTA/videos.htm?videoid=e648775d-0979-4448-8424-cb8ebab12495
Now if all these guys don't get you excited, call 911 and ask them for a defibrillator. your heart has stopped. And if you don't think this is the deepest pool of great talent in the NCAA, please tell us in comment section who is better.
*Get the BEST Alabama football insider information, message board access, and recruiting coverage today! SIGN UP HERE to unlock our subscriber only content!*
Larry Burton has been published in almost every media outlet for college sports and now primarily writes here for Touchdown Alabama. Follow Larry on Twitter for inside thoughts and game time comments at https://twitter.com/LBSportswriter