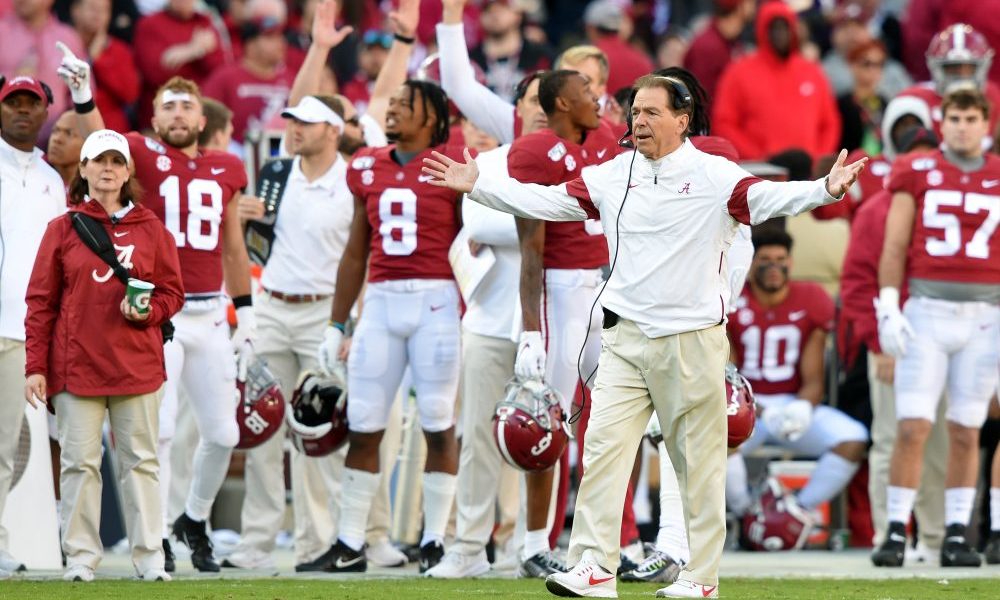 Do you know what are the vital pieces of the puzzle that Alabama so desperately needs to find in 2020? Read this and I'm sure you will agree we've found them all.
The missing pieces Alabama football needs to find in 2020
Last season was one one of those could have / should have seasons where the Tide fell short in two games, the first with the eventual national champion that simply had the season of a lifetime and the second in their big rivalry game with Auburn. Both losses were close proving Alabama to be one of the top teams in the nations, but still short of being number one.
So where did Alabama fall short and what are the missing pieces that Alabama needs to find to return to the top? Let's examine the subject and see.
Slow down opponent scoring – Let's look at what Alabama has done over the last 11 years and where their allowed scoring was and the result of that on the season's outcome.
2009 – Allowed 11.7 points per game – Won a national championship
2010 – Allowed 13.5 points per game – Finished at #10 with three losses
2011 – Allowed 8.2 points per game – Won a national championship
2012 – Allowed 10.9 points per game – Won a national championship
2013 – Allowed 13.9 points per game – Finished at #7 with two losses
2014 – Allowed 18.4 points per game – Finished at #4 with two losses
2015 – Allowed 15.1 points per game – Won a national championship
2016 – Allowed 13 points per game – Finished at #2 with one loss
2017 – Allowed 11.9 points per game – Won a national championship
2018 – Allowed 18.1 points per game – Finished at #2 with one loss
2019 – Allowed 18.6 points per game – Finished at #8 with two losses
11 year averages – Allowed 13.94 points per game – Average finish – #3
Average points allowed when winning a national championship –  11.56 points per game
Average points allowed when not winning a national championship – 15.91 points per game
So what does all this data tell you? Let's start with defense wins championships. Let's throw in the Tide misses Kirby Smart on the defensive side of the ball and now you can really appreciate more what he did for the Tide. You can see a distinct downward slide in what the defense was able to accomplish since Smart's departure.
Now to silence the critics of this article who may point that the roughly 4.5 point difference between the championship years and the non championship years are not much, consider the following statements. Last season Alabama lost to Auburn by 3 points and LSU by 5, an average of four points. So don't say 4.5 points doesn't matter. Also consider that Alabama lost a national championship to Clemson by just 4 points also, so again, please don't say 4.5 points isn't much. It's the difference between winning a national championship in just those two seasons and losing them as they did.
Yes, you could make the excuse that last season had a lot of players on defense hurt. But that's all it is, an excuse. All team's have injured players, it's called a contact sport for a reason.
Last season Alabama proved that while it could score a lot of points, it didn't do well in track meets. Though they finished the year only allowing 18.6 points per game, (worst in the hot Nick Saban era), they gave up 46 to LSU and 48 to Auburn.
So it doesn't matter that the defensive line does this or the linebackers do that or that the defensive backfield do whatever, the whole unit has to combine it's efforts and stop the bleeding on defense that allows the better teams on our schedule to hang 40 something points on them.
The recent hire of Charley Strong can only help this situation as he was one of the best defensive coordinators in the business and his input can really be of benefit here.
Now I'm not telling you or the Tide how to slow the scoring down by personnel changes, different defensive schemes or such. If I could do that, I'd be making millions as a coach instead of being just another sports writer.
Missing piece number two – Using the offense as a defensive weapon – 
Has anyone else tied the Tua Tagovailoa years to the worst years of defensive points allowed? Well let me make this point. Prior to Tua, Alabama still scored almost as many points per game, but opponents had a lot less drives per game. Tua scoring in 2 minutes and 11 seconds instead of Jake Coker dinking and dunking passes to move the chains and running backs dragging guys for first downs for those eight minute scoring drives surely makes a huge difference. Teams playing against Bama in the Tua years had up to 6 more possessions to score points. Now can you see why the quick strike boom boom boom offense has a drawback?
In the past, Saban allowed his offense to be one of the biggest weapons in his defensive arsenal. Take last season for example, opposing teams ran 35 more plays on offense than Bama did. Take into context Bama's 2011 national championship season where it was a balanced ball control offense, Alabama ran 145 more plays than their opponents with about 5.5 more minutes of possession. That team still managed about 35 points a game. Yes that's less than last season's 47 points a game, but then both teams had so many less possessions that it was expected.
It reminds me of an old "Bear" Bryant axiom, "You can't score if you don't have the ball." With Tua gone, Saban is going to look to slow the offense down a little and give opponents two or three less chances to score each game.
With Najee Harris, Brian Robinson and perhaps the deepest pool of running backs in the nation, it would not be shocking to see Saban try and turn down the speed of the offense a notch or two with this great running game and use the "quick strike" that Mac Jones proved he has in his bag of tricks only as shock value only as he did on the first play from scrimmage against Michigan in this past bowl game.
Penalties are point number three –
Undisciplined teams are just something that used to be unheard of for a Nick Saban coached team. Over the last couple of untypical Bama seasons however, penalties have become a real sore spot and many of the losses could have been different without them.
Last season Alabama committed 95 penalties for 855 yards for an average of 65.8 yards per game. Now compare that to say the 49 penalties for just 29.4 yards per game for the 2011 Alabama championship team. Nick talked, yelled and berated players all last season all to seemingly no avail.
It's really sickening to see the slide. 95 penalties last season, 87 the year before, 70 in 2017, 86 in 2016, 89 in 2015 and all the way back to 2011 it's been a downward slide.
Let me repeat one important fact, many of penalties either ended drives for Alabama that could have won a game or continued a drive for an opponent that allowed them to score and win a game. You can point to way too many Alabama losses and see where penalties could be said to have been a deciding cause for that loss.
Missing piece number four – Getting back to showing the "Alabama Factor" –
Nick Saban has told anyone who will listen that perhaps the problems just discussed show his team drifting farther from the team it used to be. He wants that team to return to the type of team that dominated teams not just by running the score up on them, but throttling their efforts to sustain drives and put points on the board and not giving up any dumb penalties.
Last spring he told all the reporters at a press conference, "The No. 1 goal and objective for the spring is we have to reestablish the Alabama factor, to me. We've always been a team that's played with tremendous amount of discipline, had a lot responsible and accountable guys that could go out there, do their job and be dependable. Everybody's always put the team first." 
So what is the Alabama factor? That means having a defense that teams are simply scared to face. That means having a defense that just won't allow a team to come close to scoring enough points to make a game out of it and teams full of men who know their jobs, don't blow plays and don't make stupid penalties.
I forget which one, but several years ago one SEC coach said at media days in Birmingham I was covering, was asked about finally getting over the hurdle that is Alabama and he said,"It's hard to beat them. Before the game is even started they have a 10 point advantage on us just by wearing those damn Crimson jerseys. That comes from their belief in themselves, their coaches and their game plan. They expect to win every game just because they're Alabama and our team's just not there yet. We have to build that kind of faith in our players toward our program."
I guess in his own words, that too is the Alabama factor at least from the eyes of an opponent.
But Nick Saban is the greatest of all time and he knows all these things. Now it's just a simple but then again not so simple plan to implement a program that addresses all this and Alabama fans pray it will happen.
So yes, in talking about things Alabama needs to do to improve, you could certainly nit pic all day long or just look at these four big things and end it there. And we will.
*Get the BEST Alabama football insider information, message board access, and recruiting coverage today! SIGN UP HERE to unlock our subscriber only content!*
Larry Burton has been published in almost every media outlet for college sports and now primarily writes here for Touchdown Alabama. Follow Larry on Twitter for inside thoughts and game time comments at https://twitter.com/LBSportswriter