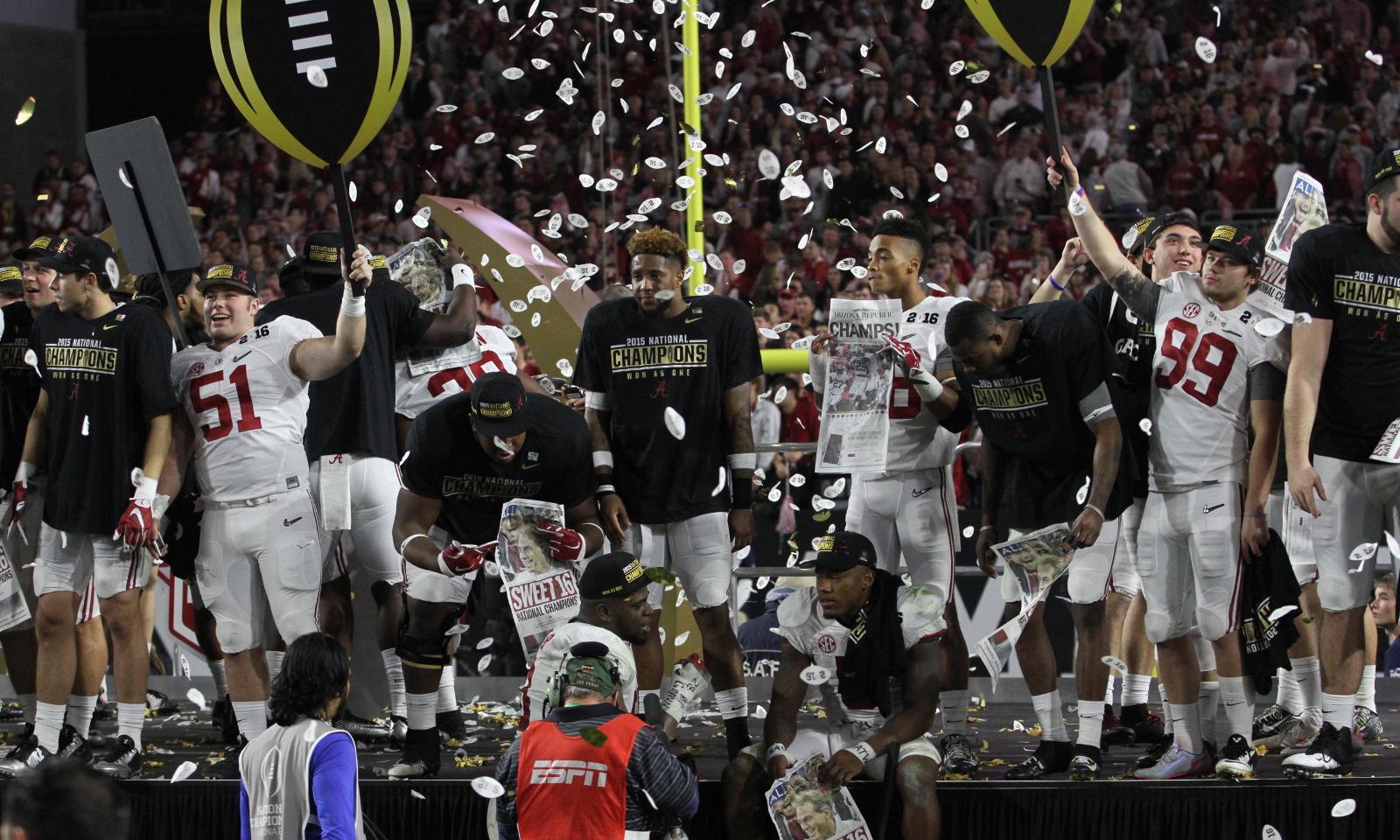 This is a subject that the NCAA doesn't like writers to write about. Read this and you'll see why. Parity in the NCAA is not just dead, it's a joke.
Parity is dead in Division One College Football despite NCAA
For over 113 years now, since its founding, the NCAA has sought to make college sports fair. Over that time frame they've set forward a lot of rules for all sports, but for now, let's talk about college football.
In football, the NCAA has worked harder on creating a fair and level playing field for all schools in each  division. This meant limiting the number of players a school could have on a team, how many scholarships they could give to players, all kinds of rules.
And the whole bunch of rules always had one big thing they wanted to do and that was keep some teams from having an unfair advantage over others.
That was the intent of the NCAA, but it didn't work that way. Let's look at Alabama as an example.
Coach Bryant at Alabama would sign a ton of boys up, sometimes just to keep them away from his competitors, so in 1973, the NCAA limited schools to 105 football players, then lowered it a few years later to 95 and now to 85.
But in those days, parity was never in place because only a few teams were ever on television, so those were the powerful teams that stayed powerful in those days in the 70's and 80's.
The NCAA hoped the onset of cable TV and cable sports networks would break that up and give more teams airtime. Well it certainly has given teams more television exposure, but still, the "Blue Blood" teams dominate the airwaves. Take how many more times Alabama is on national TV than say Ole Miss, another SEC school. Alabama can be seen nation wide every week, not so with Ole Miss.
Instead of greater television coverage evening the field, it actually did the opposite. Television money to own the rights to broadcast games got bigger and bigger and that money evolved teams like Notre Dame and Conferences like the SEC the "Haves" and teams like BYU and the MAC conference "Have Nots". That television money created more division than parity.
Another thing that creates a big division is the greatness of the coach. "Rock Star" coaches have always been a drawing card for schools lucky enough to have them. Go back a while and "Bear" Bryant, Woody Hayes, Tom Osborn and Bobby Bowden just to name a few, always had great recruits who wanted to play for them.
Yes they wanted to play for a coach who could guide them to a championship, but also get the eye of an NFL professional scout or coach. Teams that put a lot of players in the NFL year after year will always grab the eye of the nation's top recruits.
Not much has changed. Nick Saban has utterly dominated the recruiting wars for the last decade, nobody else comes close. He is the modern "Rock Star" coach, not just because he wins championships, but because he places such a high number of players in professional contracts.
How important is recruiting to creating a huge divide in the haves and have nots?
Well here are the top recruiting schools over the last ten years – Alabama, Ohio State , Georgia, Florida State, LSU, Texas, USC, Florida, Michigan and Auburn. Of those 10 teams, 7 of them played for a national title, Alabama has played for the most. Notably Clemson is not in the top 10 they averaged being about the 16th best during this period. Clemson is not a traditional "Blue Blood" but are trying to become one and be another Miami, who had a nice run for a decade and then fell back into obscurity. No one outside the the 16 in recruiting has played for a national title in that period.
Now, let's talk about spending money on coaches, of the schools who have been in the playoffs in recent years, Alabama, Clemson, Georgia, Ohio State, Auburn, Texas, Oklahoma and Florida, all teams that have played for championships.
So clearly, the schools who invest in facilities to attract  the top athletes, who spend the most money in their recruiting efforts, getting the top coaches and who understand the old axiom that to make money, (or win titles), you have to spend money.
The schools that don't get that will always be the folks on the outside looking in.
Looking at the schools of the past that were teams among the top, they are all still there. Only Clemson is a new addition that seems to maybe be one that can stick around. Why is that you ask? Those were teams who took football seriously then, by hiring and keeping the best coaches, spending the money to attract top recruits and building or playing in top rated facilities. In other words, they are the smart schools who used their cash in a way to assure that they would stay at the top and that parity would remain a joke no matter what rules the NCAA passed.
To say that parity is dead is not really accurate, it's been dead for years, decades and now almost a lifetime and it will remain dead for the foreseeable future.
*Get the BEST Alabama football insider information, message board access, and recruiting coverage today! SIGN UP HERE to unlock our subscriber only content!*
Larry Burton has been published in almost every media outlet for college sports, was Bleacher Report's #1 college football writer in reads and comments and now primarily writes here for Touchdown Alabama. Follow Larry on Twitter for inside thoughts and game time comments at https://twitter.com/LBSportswriter