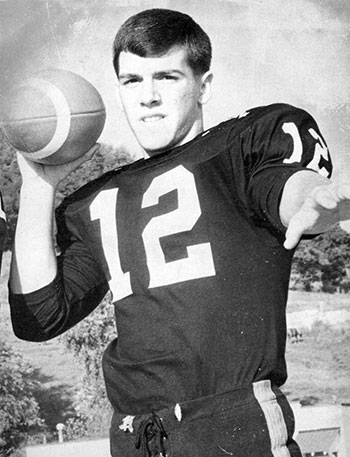 Here as a high school star at quarterback till now, do you know Nick?
Think You Know Saban? You Don't Know Nick!
By: Larry Burton
Most people think that Nick Saban is a perfectionist, an overbearing task master, a bully to the press and someone who doesn't care about what the public or press thinks about him.
Make no mistake about the intent or conclusion of this article. He is the cool and confident man he appears to be today. Today Nick Saban is today's reigning football badass. He's the highest paid coach for a reason.
But if you think that's all there is to Nick Saban, then you don't know Nick.
When Saban entered football, he was the little kid that had to play at 100% of his ability 100% of he time to keep up with his peers. He was the coach's kid who worked his butt off more than any other player, not for football glory, but to earn his Dad's praise. Growing up, he was a shy, small almost nerdy kid who used sports as a way to better fit in with his friends, catch the eye of the girls but mostly, to make his dad proud.
Even as a kid, maybe from being the coach's son or maybe from just a sharp mind, but he was always the player with the keenest insight and the ability to use that intellect to play different positions that mainly required smarts and not size. In high school he was the quarterback who could also play special teams and defensive back. He soon saw that he could use the football smarts he had developed to do something not many kids from his part of West Virginia could do, go to college.
Nick got a scholarship to Kent State and while he didn't set the world on fire with his football play, he did learn a lot about the sport and studied all the facets of football as much as his classwork. Following his degree and time as a player, there were few options open to Saban. His first thoughts were taking his young wife Terry back to Fairmont, West Virginia and going back to work for his father and maybe one day taking over the family businesses of a gas station and hamburger shop. He might also coach the pee wee team as his father had done. It was a world he would comfortable in.
But even at this early age, wrapped inside this young and still somewhat insecure man was a desire for greatness, to do something more and make his did proud.
Nick had used up his college time and was ready to start undertaking a career, but his wife Terry still had some time to do before she could earn her degree and leave, so when his college coach, Don James, offered young Saban a job as a graduate assistant on his staff, he took it. Saban wasn't sure at this point to really start that as a vocation, but just to fill the time till Terry could graduate. But he impressed James enough to then offer him a salary as a regular coach in 1975. His time with James was short as a coach, but counting his time as a player too, James had a huge impact on the young Saban.
And a funny thing happened. Saban saw he was not only good at this job, but that he enjoyed it. He told his dad that he thought this was something he wanted to do as a career and his dad gave his blessing as did Terry. Saban knew it would be a rough life. Money was little and life was tough. Terry would have to help out to make ends meet but both agreed to give it a shot and see how it would play out.
Nick left Kent State and like most young coaches, bounced around a lot. He went to Syracuse for one year, West Virginia for two years and then Ohio State for two years, where he saw his first huge stadiums and million dollar facilities up close. He didn't just use his own skills as a coach, but incorporated things he learned from every coach he ever worked with, assistants as well as of course the head coaches. At Ohio State, he was finally making "decent" money for a coach but was ready to continue climbing upward.
His last year at Ohio State, the Buckeyes played Navy in a bowl game and he caught the eye of the Navy staff who offered him a job with them. He took it. Saban only spent one year at Navy moving up to a defensive assistant from his role as defensive backs coach for the Buckeyes. His work there as well as his previous work for Ohio State got him his biggest break so far, an offer of a coordinators job at Michigan State.
Saban did really good work at Michigan State, the defense did better under his guidance and his last year there they were Big Ten Champions and won the Rose Bowl and Saban was snapped up by the NFL and the Houston Oilers for the 1988 season. Then Toledo came calling and need a head coach and Saban jumped at the chance to start being the man in charge of an entire program.
Saban's look at Michigan State is a far cry from the Saban we know now.
At Toledo he took over a 6-5 team and guided them to a 9-2-0 record and a share of the MAC conference championship. That got Bill Belichick's attention and he wanted Saban to leave and come to the Cleveland Browns, but Saban delayed announcing his resignation from Toledo until after nation signing day out of respect for his former employer and his sense of obligation to do the right thing. This is something that would haunt him later as doing the right thing doesn't always sit well with the press in all it's different forms.
Under Belichick, Saban blossomed as a defensive minded coach. He was the defensive coordinator, a role Belichick had just left with the Giants after the Super Bowl. He wanted a coach he saw was a lot like like him and the two had long and lengthy discussions about defenses and coaching techniques. Though Saban was ultimately desiring to be a head coach himself of a better program, he knew that this time in the NFL with a mind like Belichick could only help him get there and he spent those years soaking up much information.
After three years with Cleveland, Michigan State came calling and played the "Coming Home" card to him and he jumped at it. This was a team that knew his abilities and drive and also his short comings and for Saban to be asked to "Come Home" to people who knew him well, it meant much to him. He flourished as a head coach at Michigan State, but still had problems with his public image and public persona. As an assistant there, he was a greying nerdy looking guy with glasses that were far too big for his face and seemed a little shy and nervous when the limelight focused on him. All that had to change now.
But professionally, things were now going well for Saban, he was now head coach of a major program in a premier conference and doing well in both wins and losses and money. His record from 1995 to 1999 was not overly impressive until his final season, but he took a team used to not winning to three bowls in four years including his final season where the Spartans posted a 10-2 record and back to back wins over powerhouses Ohio State and Notre Dame.
He knew he could be the coach and it was time to get the image up the speed. The grey hair  was kept away and glasses also disappeared. The awkwardness in front of the media was pushed away. Saban would transform his public image from the "Rick Moranis" nerd to the cool and collected "James Bondish" image you see today.
The only comment I've ever seen on the subject of his physical transformation was, "Terry liked it, so that was that." But the change in image certainly helped in other ways. People perceived him as both younger and more fit, things it would help him in recruiting as well his media image on television. It also helped is image as looking more CEO than computer nerd.
Then LSU came calling. They offered more money and a fertile recruiting ground. It was a move up and at first Saban seemed to jump at the chance. In his recent book, "Saban: The Making of a Coach", Monte Burke wrote that according to Michigan State officials, Saban called the school, sobbing, asking them to take him back before the official announcement was made of the LSU hire.
This shows a sentimental side that few understand or recognize in the man today, but it's there. The second thoughts Saban had were of losing his "home" and the team and family of coaches and friends he had developed there. He was losing a school that had seen him in the slightly awkward years, but still wanted him back. Had the athletic director of Michigan State himself been present to have taken Saban's crying phone call, history may have been different. But instead, LSU officials came to Saban's hotel and took him to the press conference where he was announced as the new head coach.
That was the beginning of the Saban that we all know today. No media in the South would ever see him with the grey hair and oversized glasses, they saw the suave and confident Saban that we all see today, although inside, Saban was still second guessing his decision to leave Michigan State.
But there was work to do, a lot of it.  Saban inherited a team that had gone 4-7 and 2-8 in the previous two seasons. In the South, Saban was seen as just another lightweight hire who would put in a few years and be fired like his successors at LSU. This was a school who really hadn't had much success since 1989. But the doubters were wrong. Saban proved to be a determined recruiter and got the attention of the other SEC coaches before the first football was ever kicked off at the start of the season. They knew they'd have their hands full with this coach in their stomping grounds.
In his first season, Saban went a respectable 8-4 which included a Peach Bowl win. But there were some ugly losses to UAB and two lopsided losses to Auburn and Florida in there that still had some people doubting.
Season two saw him saw him go 10-3 including an SEC championship and a Sugar Bowl win. But Saban learned a lesson after this season that helped him later at Alabama. LSU went from great team to mediocre in one season because they failed to keep working as hard to stay on top as they did to get on top and the the next season the Tigers were just an 8 win team aain.
Saban learned that his players didn't have his relentless drive for perfection, instilled in him by his father. There was a natural reaction to relax once you had achieved your goal and Saban had to teach his players not just to learn his process, but learn to live it every day. He pounded this into his players the following year in 2003 and his Tigers finished the season with the BCS National Championship crystal at LSU.
His complete turnaround of the Tigers, his NFL experience and his reputation as a driven man and coach once again got the attention of the NFL and especially billionaire H. Wayne Huizenga, owner of the Miami Dolphins.
Saban wrestled with the decision to leave the comfy confines of LSU. He knew he had a job for the rest of his career if he stayed, he had developed close friends gotten a huge salary and was in all effects, at the top of his game except for one thing. The desire to be the best meant he had to try and conquer what at least Saban considered the top coaching job, the NFL. This would show that he was not just good, but the best coach in all of football. Saban wanted to win a Super Bowl and follow one of his mentors Bill Belichick into building an NFL dynasty of his own. So he finished one more season at LSU and then left to take the job with the Dolphins.
However, Saban soon learned being happy was more important that proving anything to himself or the world. Almost right away, Saban discovered being a head coach in the NFL did not make both he and Terry happy. He began to second guess his decision much as he had when he left Michigan State for LSU, but there was no going back to LSU. They had hired hired Les Miles and he had taken Saban's team and recruits and had great success. Miles was entrenched at LSU and there was nowhere for Saban to go even if he wanted to. Or so he thought until Alabama athletic director Mal Moore came along.
But Saban's sense of obligation was something ingrained in him by his father as strongly as any other lesson that Nick Sr. had driven into his son's psyche. Though fascinated with the offer, he was under contract and he had given his word and he was not going to walk way and leave his employer and his team hanging in the wind. So his initial comments were that he was not leaving and not taking any offer to be the head coach at Alabama. There was also part of him that didn't want to leave without "finishing" what he had started in the NFL.
Fortunately for Saban, Huizenga was a wise man who placed an individual he cared about above business and he did care about Saban. On hearing that Alabama wanted Saban badly, Huizenga and Saban talked and Saban was told if he wanted the Alabama job to take it, that Miami could find another coach and they would still be friends. But Saban didn't want his players to think he was deserting them before the end of the season. He wanted to give his all until the final whistle of the final game so he again told the press that he was not going to accept the job at Alabama, that he was the coach of the Miami Dolphins. He wanted to stay as focused on his job as he wanted his players to be.
Saban may have stayed at Miami despite Mal Moore's best sales job had it not been for Terry. Saban knew Terry missed the campus life, helping him recruit, being of some value herself to him in his job and so forth. And it was Terry's urging that in the end, made him pull the trigger and go to Alabama.
Moore's version of this story he told me is much the same. "I couldn't tell if I was getting any traction from Nick early on, but I knew I Terry was in my camp and I put my efforts there. Terry made it all happen. Of that, I'm sure."
In retrospect, Saban wishes he could have handled all that differently and he told me so in an interview a few years back. He told me that he, his wife and daughter and a friend of his daughter piled in with Moore in a car and tried to sneak past reporters who were watching his house to get to the Alabama jet that would take them all to Tuscaloosa and the announcement that Saban would be the next head coach. He didn't really have a chance to say goodbye to Miami the way he would have wanted.
Immediately he was pegged as a liar and the folks in Miami simply hated him as did most of the LSU faithful for going to a hated rival. All this kind of talk hurt Saban deeply. He was simply trying to do the right thing and was put in an almost impossible PR position to explain it all. He would in the end, simply let it run it's course and die out.
His career at Alabama really needs no telling here. It's all well known. What may not be so known is the personal angst that Saban feels when a player goes afoul of the rules and has to be sent away from the team or possibly to jail. It bothers him much more than most people know, though Saban can hide it well from the press.
"When you go in a recruit's home and sit with their parents and tell them that you're going to do your best to make their sons better students, better players and better men, there's like an obligation you've taken to watch out for them. And when something happens and they have to leave the program it's more than you didn't keep that player from failing, but you've failed his parents too and the promise you made them. That's as hard on us as it is for the player and the parents." Saban said on the subject to the press once. And he still sometimes reflects on those failures and broods over what he may could have done differently to have effected a better outcome.
He does relish his time with the players, some more than others. He develops some special relationships with his players that few outside the inner circles will ever know. I asked AJ McCarron after Greg McElroy's last game in a bowl in the Capital One Bowl in Orlando about his relationship with Saban. I told him I had heard rumors of how close they were and was shocked at his answers.
If you remember, he was headed for a big battle with Phillip Sims in the spring for the starting job, a duel that wasn't really decided until after the second game. McCarron said, "God, I love Coach Saban. He's like another father to me, like a good friend and everything. We talk about everything including school, football, girlfriends and just life. I spend every Sunday afternoon with him and it's the best time I have each week. We watch film, talk and just hang out. I love the man."
Now I just couldn't picture Saban "hanging out" with just one player like that and I asked, "Just you? Does Phillip Sims or anyone go with you?" And McCarron said, "No this is our time, just he and I. It's really like father and son time, best friend time or whatever, but it's the best time for me. I swear." And I cautioned McCarron that he should not tell this story to anyone else in the press as people would think if he wins the job, he got it because he was teacher's pet and McCarron told me, "I'm going to win the job because I'll work harder, I came in here with an attitude that I was ready then, but then had to learn to play in his system, go through his process and play calmer and smarter. Greg's been the greatest guy too, man I'm going to miss him big time, he really taught me a lot about things I hadn't considered, like talking to the press and so forth. He's made me a better quarterback and taught me a lot, but coach and I just have that special bond and I wouldn't take anything in the world for it."
Barrett Jones, an Alabama standout offensive lineman for Alabama now in the NFL told me later in an interview that some of the players were a little bit jealous of the relationship between Saban and McCarron. "They like they have their own language sometimes!" Jones told me with a smile. "They'll get to talking and none of the rest of us really understand what they're saying but it's obvious those two have a relationship at a different level than the rest of us."
The last time I ever interviewed McCarron, he was a confident senior, a champion and destined for the NFL, exhibiting the cool public persona he had learned to portray from Saban himself. I reminded him of that interview after the Capitol One Bowl and asked him if he was still that close to Saban or did he grow out of it and what will their relationship be once he leaves. He had tears well up in his eyes almost instantly and said, "Man, I'm going to miss being around him all the time, we'll always be close, but it'll never be same. God I'm going to miss that man. It's going to be so hard not to see him all the time. I love that man."
But there are times when Saban can be the badass most of press sees him being. In Miami, Saban got in the face of a six foot nine, 290 pound defensive lineman and had him in tears. When Saban was done with him, that big NFL player walked away sobbing wiping the tears from his face. But Saban's side of the story was that the player, rookie Manuel Wright needed to toughen up and this was Saban's way of helping him get there. Wright never did mentally or physically toughen up and was soon gone from the Dolphins, then quickly cut by the Bills and after a short stay with the Giants, finally washed out with an arena football team in less that one season. Some people not even Saban could help.
Perhaps that is why he relishes in the successes of his players, big and small. When Saban said in past week that he was almost brought to tears seeing walk on tight end and H back Micheal Nysewander score a touchdown with a reception during the Louisiana – Monroe game, he wasn't just kidding. Those weren't empty words. In seeing Nysewander, a guy maybe a step too slow and a bit too small for SEC stardom make a play that gets his team all emotional and happy reminds Saban of himself, a kid from nowhere that really not many people wanted, certainly no big name team, that plays a little over his head to make it, it gets to Saban. Maybe he sees a little of himself in guys like that, people who over achieve.
He freely admitted to getting misty eyed on that play and told the press later, "There's a special place in your heart sometimes for some of the players that you have on the team. Here's a guy that's been in the program for four or five years. Walk-on. Hard worker, I mean works hard every day. Overachiever. Does everything that any coach would ever want a player to do. And you can never be happier or feel better for someone when something good like that happens for them and they get an opportunity to score a touchdown."
And those aren't the only things that brings emotion out in Saban today. There's Terry, who's not just his wife, but his partner and still his girlfriend. I've witnessed first hand how he would be in a gruff mood in a post game press conference and she would slip into the press room and stand with her back on the side wall and his mood and expression would just change after he sees her smiling at him. His whole demeanor would just change. The two are genuinely and obviously still in love with one another and nothing makes the gooey in Saban come out faster than talking about or sitting next to Terry.
When they sit together, they can't resist making small gestures to one another, touching hands, exchanging smiles or laughter with one another. As silly as it sounds, their eyes just sparkle when they meet. Yes, despite the suave stern almost James Bond persona that Saban now presents to the world, nothing strips it away faster than Terry. Inside this confident millionaire mastermind is a young boy who's still amazed that he could land a girl like that and she could love him back. But the truth is, in talking to Terry, they're two peas in a pod as she still feels lucky to have landed the high school football star, (albeit from a rival high school) who turned out to be the premier coach in all of college football and such a successful man.
Like every man, Saban can does put up a good front. But the front is not really all front anymore. Finally at Alabama, he knows he is where he's supposed to be and is happy. There are no more ladders to climb and he's enjoying the comfort of knowing he is finally at the top. The confidence and sternness he exhibits are no longer an act, he now is that man, comfortable in his own skin and not as worried about what the press and fans may think. He's his own man now in almost every way.
And though Saban would credit his father first and many of the coaches he's been around second with helping him become the man he is now, his modesty would deny the real truth. And that truth is Nick Saban pulled himself up from that tiny spot in West Virginia himself, that he drove himself, changed himself and became who he is today mainly with his own dogged determination and grit. We all have guidance and help, but Saban is truly a self made man.
Nick Saban is an ever changing man, evolving as we all do, but just more private about it than most. Bobby Williams, who has been with Saban the longest of any coach, the two were both assistants at Michigan State together, has seen Saban evolve the most and once shared with me his observation on the subject.  "Coach is a little more relaxed than in the past, but you wouldn't see it just watching him on the sideline during a game." he said with a grin. "He's letting coaches run things a little more and maybe not trying to be everywhere at once like he had been." Williams concluded.
That would certainly go hand in hand with something Rashad Johnson, a defensive back at Alabama during Saban's first years once told me. "When I was first was around Coach, he could be two fields away working with a group and see me break wrong on coverage during practice and start hollerin'." he said with a laugh, "And I'd be wondering, how the hell can he see everything from that far away! And he'd come running over to me and start coaching me on how to do it better. He was everywhere! The man has eyes in the back of his head!"
And now today, Saban is content to let Kiffin run the offense, Smart run the defense and he hired a guy who he albeit reluctantly has turned over the defensive backs to. But Saban still sets the tone of the team and the direction he wants to go and has now learned to become the consummate CEO over being the guy who triesto do everything himself.
He was fortunate to have a wife like Terry, who when he did have moments of doubt, helped push him toward the right decision, who always believed him and always had his back. Saban is the kind of guy who would say, he could have never been a loser as long as he had Terry, because in the end, that's all he really needed.
I asked him who he valued as his best recruit and he said without hesitation or delay, "That would be Miss Terry and it wasn't an easy one to land, but it was sure worth it." he said with a grin.
And therein lies the Nick Saban that people don't know, a man that can smile, laugh and cry, who can have his feelings hurt just like the rest of us and can be a real "mushy" guy in the right circumstances just like the rest of us. He's a little vain with his looks these days as he doesn't want to show his age, he keeps himself fit and healthy, tries to keep his hair colored and combed in a way that hides the thin places coming in. Yes, like all of us, he has a little insecurity from time to time on different things and some will find all this hard to believe. It's easier to think he's more machine than man, a guy who'll work 16 hours a day at times and take far too little time off, doesn't care what people think and expects everyone to work just as hard and be just as perfect as he is.
But if you think that way, you don't know Nick. Remember the "Wizard of Oz"? Go ahead, look behind the curtain at the all powerful and mighty Oz, or in this case Saban. He is just a man like you and I, with all the frailties, with all the hopes and aspirations, with all the love and emotions we all have. He just hides them a little better these days.
Larry has been published in almost every media outlet for college sports and now primarily writes here for Touchdown Alabama. Follow Larry on Twitter for inside thoughts and game time comments at  https://twitter.com/LBSportswriter
Thanks for sharing the link to this story on your Facebook page
Come to the "Points After" Forum on the Touchdown Alabama site and discuss your feelings on this article