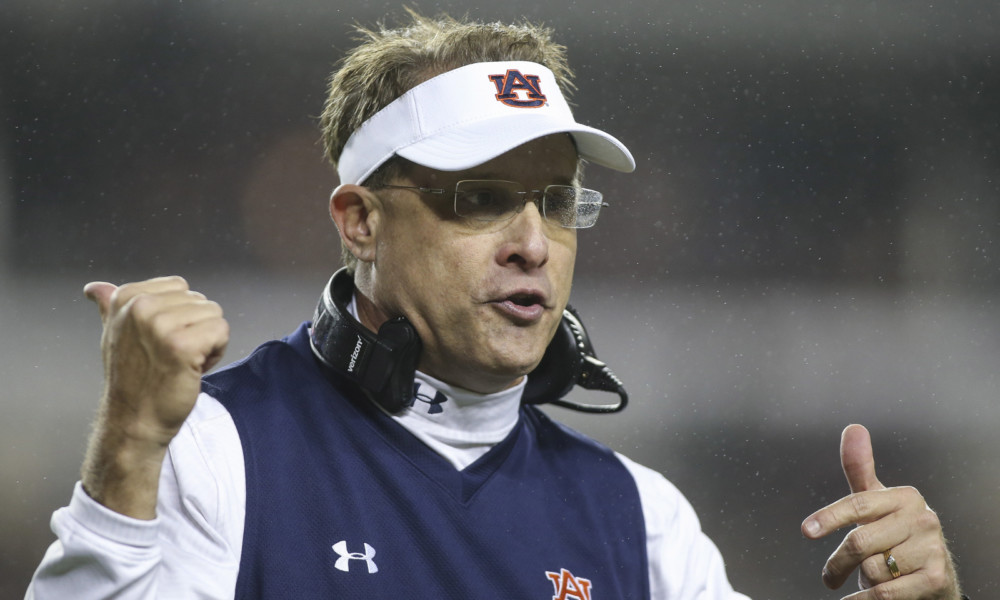 Auburn head coach Gus Malzahn spoke to the media on Tuesday afternoon to preview the Iron Bowl and discuss how his team will prepare for the nation's number two team. The Tigers are coming off a win against Idaho that clinched bowl eligibility but this game may be more important than the other 11-plus games combined.
"We were happy to get that win and now we do know we are going to a bowl," Malzahn said. "But this is the Iron Bowl. All that stuff is great and all that but you focus into this game. It's an important game and our players and coaches understand that."
Everyone knows the strength of Alabama is the depth and talent of the defensive front seven and Malzahn put a major focus on that throughout the press conference. He called them the most talented group in the country on multiple occasions. The Auburn head coach went as far to say that the Tigers will be playing "the most talented team in the country this week."
There was, of course, plenty of questions about what Malzahn and the offense will do at the starting quarterback position. The coaching staff has yet to make a decision but Malzahn said he hopes the team will have the started named before Friday.
Jeremy Johnson and Sean White have both been full participants in practice but White may still not be 100 percent healthy, which could make the decision much easier for Malzahn and offensive coordinator Rhett Lashlee. Malzahn said that the quarterback situation was not a problem but called it a positive.
"We have two guys that we feel good about," Malzahn said. "Both have experience, both have won games on the road in our league. So I'm looking at it as a positive at this point in the season."
You can see the press conference in its entirety here. Below is a list of other things the coach mentioned on Tuesday.
Said Derrick Henry was one of the best running backs in the country; called him "fast and tough to tackle one-on-one"
Said the message of the week is to stay focused, it's the only way to beat a rival
Said playing at home was very critical to this rivalry
Said Iron Bowl is different than other games, it is hard to predict
Said offense needs explosive plays; said teams have not had consistent drives on Alabama's defense
Said the Alabama front seven is the best in the country; said the backups "are like most people's ones or maybe even better"
In order to win, the offense cannot become one dimensional, they need to be able to run the football
The return of Carl Lawson has led to the team playing much better defense
Called Lawson the defensive leader and an impact player
When asked if the team would take shots down the field early in the game, Malzahn said "I won't tell you."
The team was focused on Cyrus Jones in the punting game, called him "strong and fast"
In response the comments made by Cyrus Jones, Malzahn said "we got a lot of respect for their players and their program."
Coach Lance Thompson has been a very good coach, but has no kind of inside information