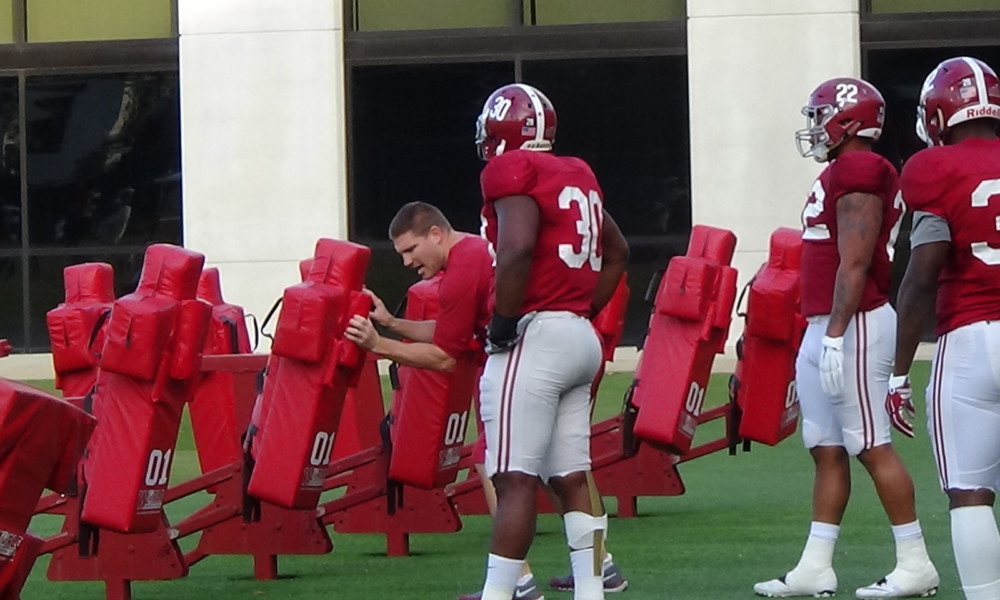 Alabama was at Thomas-Drew Field Tuesday, after practicing indoors Monday. The Crimson Tide worked in sunny, 57-degree weather conditions. It was day two of Alabama's game week prep for Auburn.
Yours truly of Touchdown Alabama Magazine with all updates.
Notes from Tuesday's practice
Running back Kenyan Drake (arm) participated fully in position drills for a second straight day; however, he was limited during hand-off drills in the second viewing period. Depending upon how well he progresses this week will tell if he can go against Auburn.
Dominick Jackson went through footwork drills at right tackle, but stood off to the side in run blocking drills (second viewing period). Offensive lineman Korren Kirven filled his role. Kirven started last week against CSU.
Tight ends O.J. Howard and Michael Nysewander both lined up with the first team offense in run blocking drills. Freshman tight end Hale Hentges, who started last week, replaced Howard during the second viewing period.
Freshman cornerback Minkah Fitzpatrick continues to wear a brace on his left knee, but it is not slowing him down. He lined up at his usual "Star" position in Alabama's first-team nickel package.
Freshmen outside linebackers Anfernee Jennings and Joshua McMillon both wore No. 55 scout team jerseys, representing Auburn's star defensive end Carl Lawson. Lawson has 12 tackles, two tackles for loss and a sack this year.
Stephen M. Smith is a senior analyst and columnist for Touchdown Alabama Magazine. You can "like" him on Facebook or "follow" him on Twitter, via @ESPN_Future.