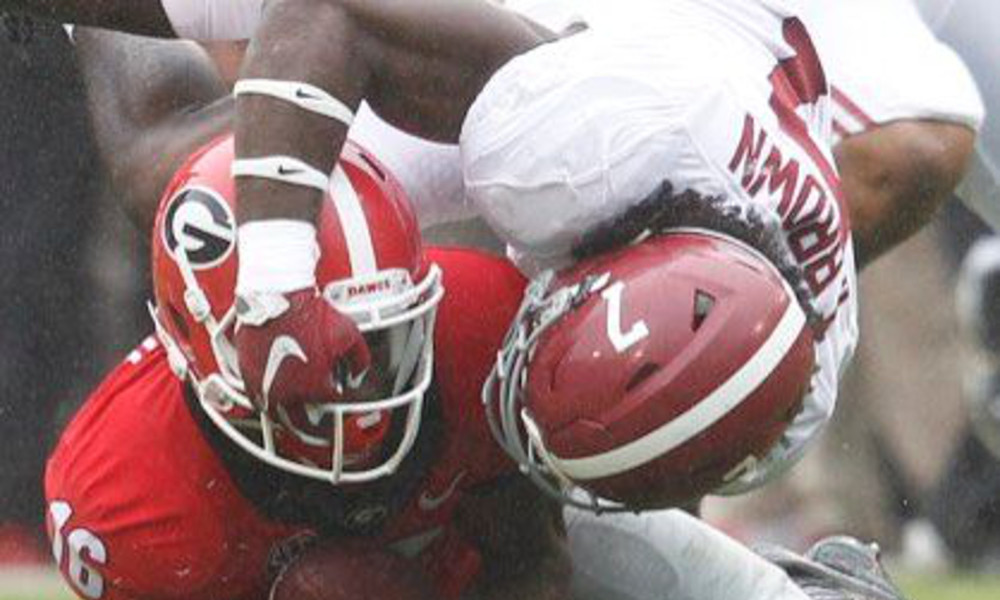 Pain was all LSU running back Derrius Guice felt when he got whacked by Alabama sophomore cornerback Tony Brown on a kick return in the second quarter. The play provided Alabama with energy and momentum, and for Brown, his efforts delivered him a renewed sense of confidence.
Brown's act of reckless abandonment on Guice was planned a couple of days before Alabama took on the Tigers.
This season was initially thought to be one for Brown and redshirt freshman corner Marlon Humphrey to emerge together. Both enrolled at Alabama in 2014 as five-star athletes, but while Humphrey has emerged another freshman took the glow away from Brown.
Minkah Fitzpatrick hails from Old Bridge, N.J. He, like Brown and Humphrey, came to Alabama as a five-star prospect.
Brown and Humphrey came early, while Fitzpatrick was a May addition. Fitzpatrick's calm demeanor and playmaking abilities earned him a role at "Star" in Alabama's nickel package.
He stands sixth on the team in tackles (41) and has three tackles for loss, two sacks, eight pass breakups, two interceptions, a blocked punt and three total touchdowns.
Advanced processing from Fitzpatrick has limited Brown from see much field time, unless it is on special teams. Brown was aggravated a few days before the LSU match-up. He was not giving a full effort in practice, which led to a hot-tempered Nick Saban. The Crimson Tide head coach had enough of shenanigans, getting Brown's attention with one statement.
"If you don't want to be here Tony, then go home," Saban said to Brown. Sometimes, it takes having recognize your presence to get motivated. Alabama had a 13-10 edge over LSU when Brown nailed Guice on the return. Bryant-Denny Stadium erupted with cheers and Brown's teammates were elated as they entered the locker room. The sophomore's attitude started to change at that point. He began to buy more into "The Process" and was rewarded in the following week against Mississippi State. Brown replaced Fitzpatrick after he sustained a knee injury in the second half. The Texas native had two pass breakup and helped Alabama secure a 31-6 win.
He would put in three tackles in the Crimson Tide's 56-6 victory Charleston Southern, filling in for Fitzpatrick at Star.
A few block in the back fouls have gotten under Saban's skin, but the majority of Brown's 16 tackles have come on special teams. This year's Cotton Bowl can do wonders for his confidence going into the offseason, if he has strong outing against Michigan State. He is solid in bump 'n' run/press coverage, which is beneficial against the Spartans wide outs.
The Tide loses Cyrus Jones and Geno Matias-Smith after this season. It is imperative for Brown to be productive against Michigan State, whether he is covering kick and punts or in the secondary. Depth in Alabama's defensive backfield is another cause for Brown's lack of playing time. It returns Fitzpatrick, Humphrey, Ronnie Harrison, Eddie Jackson and others next season. Brown has seen reps at safety with secondary coach Mel Tucker during the last couple of months in practice.
He will vie for both corner and safety positions in 2016, but for now, Brown's shot at a starting job begins on Dec. 31 in Dallas.
Stephen M. Smith is a senior analyst and columnist for Touchdown Alabama Magazine. You can "like" him on Facebook or "follow" him on Twitter, via @ESPN_Future.