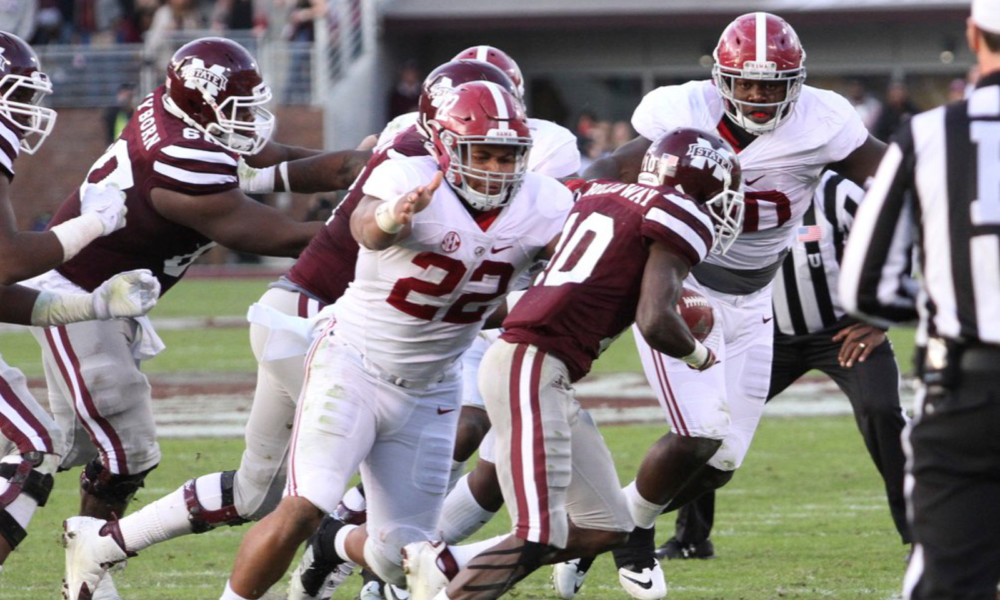 You can find the full 2015 College Football Playoff Preview schedule here.
1. Alabama Crimson Tide – 74.0 ypg, 6 rushing touchdowns allowed
It was an easy choice to put the Tide first in this category. Alabama's rush defense is first in the nation in opponent's rushing yards per game, rushing yards per attempt and rushing touchdowns. The team's front seven is loaded with NFL-ready talent and has the depth to shut down any rushing game. The Crimson Tide has faced five top-50 rushing offenses this year. Nick Chubb and the Georgia rushing attack was the only team to average more than 3.5 yards per carry, thanks to an 83-yard touchdown run with 10 seconds left in the game. The other four top rushing teams combined for just two touchdowns on the ground and averaged 2.5 yards per carry.
Alabama's defensive line is led by junior defensive tackle A'Shawn Robinson. The Outland Trophy finalist already has 42 tackles in the front of the defense and has four non-sack tackles for a loss. The linebacking core is led by senior Reggie Ragland, who was up for a handful of awards this year that included the Bednarik Award and the Nagurski Award. Ragland leads the team with 90 tackles, including 2.5 tackles for a loss and two forced fumbles. Beside him is junior linebacker Reuben Foster who has 60 total tackles and leads the team with six non-sack tackles for a loss.
2. Michigan State Spartans – 113.1 ypg, 14 rushing touchdowns allowed
It's amazing that the Spartans can fall to second on this list by such a large margin because their rush defense is still great. Michigan State sits in the top ten in both opponents' rushing yards per game and rushing yards per attempt. Coach Mark Dantonio's team has faced six top-40 rushing offenses, including Air Force and Oregon in non-conference matchups. In those six games, the Spartans allowed an average of 112 yards and one touchdown on the ground per game. They averaged a combined 3.7 yards per carry, which was below all of their season averages.
The Spartans front seven may be the only other team in the country that can match the depth of Alabama's unit. They have 21 different players that have recorded at least one tackle for a loss this season, while eight of them have at least five. Senior linebacker Darien Harris leads the team with 82 total tackles and has seven non-sack tackles for a loss. Harris is joined by a strong defensive line that is led by Shilique Calhoun and Malik McDowell. While Calhoun's biggest strength comes against the passing game, he still has four non-sack tackles for a loss. McDowell, who plays in the middle of the Spartans' front four, has recorded 7.5 non-sack tackles for a loss along with two forced fumbles this season.
3. Clemson Tigers – 128.8 ypg, 14 rushing touchdowns allowed
The Tigers may not have the depth that the two teams above them have but the defense's ability to quickly get to opposing running backs has helped them be one of the best units in college football. Clemson has allowed just 3.7 yards per carry to their opponents this season, while facing three of the nation's top 25 rushing teams. In those games – Appalachian State, Georgia Tech, Notre Dame – the opponents managed to run for just 130 yards per game and all fell short of their season average. The Tigers gave up five rushing touchdowns in those games but recovered four fumbles. As a team, Clemson is second in the country in tackles for a loss, which ranks first among the teams in the playoff.
Defensive ends Shaq Lawson and Kevin Dodd are the leaders on the defensive line and it's no different for the pressure against opposing running backs. The two have combined for 19 non-sack tackles for a loss this season and both are among the top six tacklers on the team. The linebacking core, led by the team's leading tackler B.J. Goodson, is not too bad either. As a senior, Goodson has 91 total tackles, 14 tackles for a loss and two fumble recoveries. Beside him are linebackers Ben Boulware and Doran O'Daniel, who have combined for 10 non-sack tackles for a loss. Even the secondary gets in on the action. The four starters in the back have combined for 16.5 tackles for a loss this season.
4. Oklahoma Sooners – 149.2 ypg, 12 rushing touchdowns allowed
The Sooners have faced big challenges against Big XII offenses this season, facing six of the nation's top-30 rushing offenses. In those six games though, the Sooners allowed 188 rushing yards per game to their opponents and gave up 11 touchdowns on the ground. In their other six games combined, Oklahoma only allowed one rushing touchdown. They have been able to consistently shut down weaker offenses but have yet to prove themselves against a strong rushing attack. Against Texas, the Big XII champion allowed more than 300 yards rushing and 5.8 yards per carry.
Even with the problems they have seen on the defensive side of the ball, the Sooners are loaded with talent that can help stop the rushing games of the other three teams. Eric Striker is the leader of the defense but has been most effective against the pass. He still leads the team with 7.5 non-sack tackles for a loss. Just behind Striker is the team's leading tackler, Dominique Alexander. The junior linebacker has 92 total tackles this season and has 6.5 tackles for a loss.
Caleb Turrentine is a contributor at Touchdown Alabama Magazine. Follow him on Twitter,@CalebTurrentine.