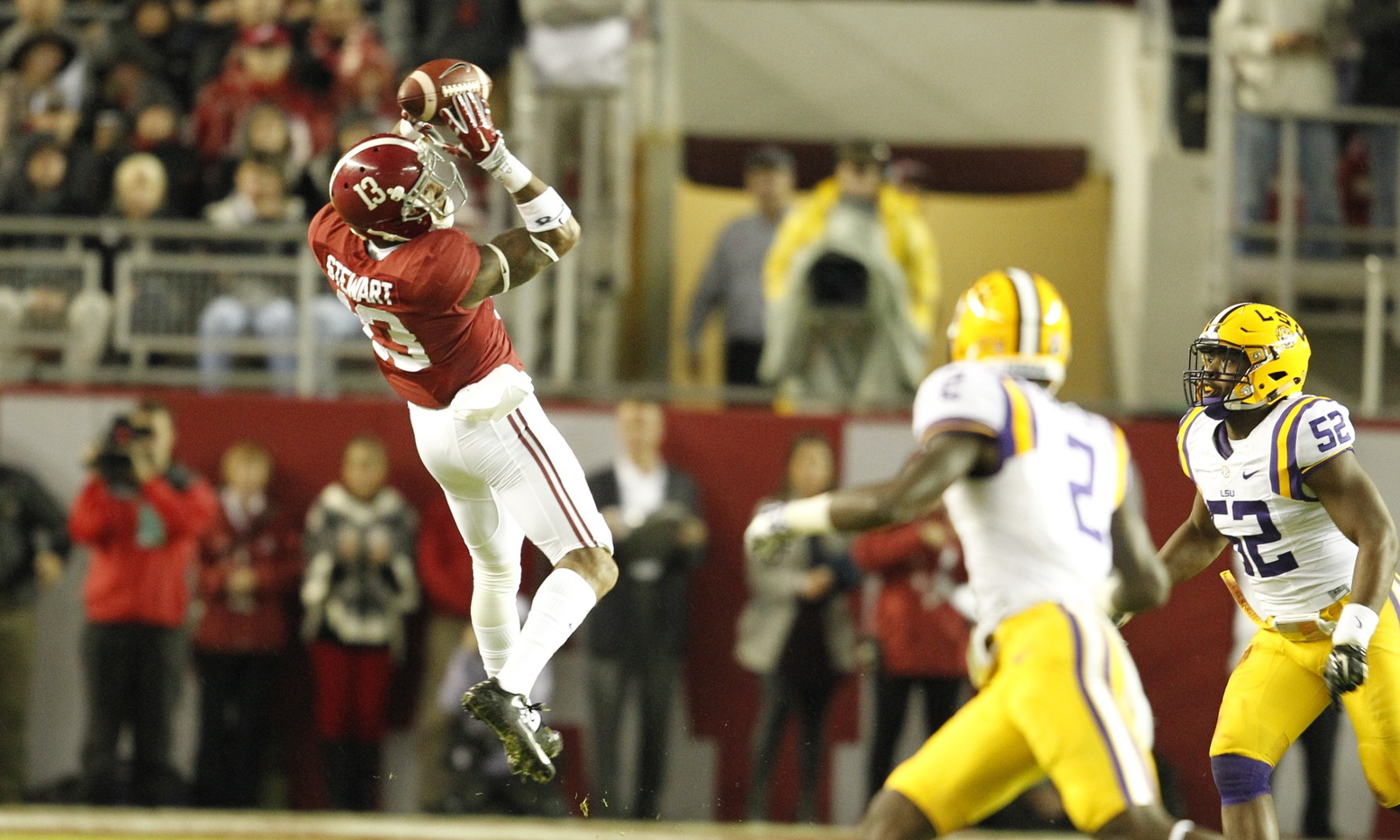 You can find the full 2015 College Football Playoff Preview schedule here.
1. Clemson Tigers: DL Kevin Dodd
The junior defensive end has been one of the major impact players on the Clemson defense but most of his season was played in two three-game stretches. From week three to week five, Dodd had six tackles for a loss, 4.5 sacks and one forced fumble. He stepped up in those games (at Louisville, Notre Dame and Georgia Tech) and helped Clemson hold their opponents to just 21.0 points per game. Over the last three weeks, Dodd has added 6.5 tackles for a loss, four sacks and a fumble recovery. He has stepped it up this season but will need to continue his current form of play to have an impact against the offenses in this playoff.
2. Alabama Crimson Tide: WR ArDarius Stewart
The sophomore receiver was supposed to be the go-to-guy in the passing game but was overshadowed by Calvin Ridley throughout the season. However, Stewart has had big moments this season, including touchdown catches against Auburn and Florida over the last two weeks. Unfortunately for Jake Coker and the Tide, Stewart has also had a habit of dropping passes this season. Alabama will need for Stewart to show up against the tough defenses in the playoffs and be a threat in the passing game. His plays in those two games, along with big catches down the stretch against Tennessee, helped get the Tide to this spot. He will need to be at his best for them to keep winning.
3. Michigan State Spartans: RB L.J Scott
You just have to look to the box scores to figure out how much this freshman running back means to the success of the Spartans. In the only loss of the season, Scott was held to just 5 rushing yards and was held scoreless for the first time in five weeks. Scott has been able to show up in the games he was needed most, including two-touchdown performances in one-possession games against Oregon, Purdue, Rutgers and Michigan. His touchdown in the Big Ten Championship Game gave the Spartans a late lead after a 22-play drive.
4. Oklahoma Sooners: RB Joe Mixon
This freshman has been the key to success in many games this season for the Sooners. Just take a look at some of their biggest wins this season. In the 41-3 victory against Akron, Mixon had 142 yards of total offense and a touchdown. In the 36-point win over Texas Tech, Mixon averaged 10 yards per touch and scored twice. In the season finale against Oklahoma State, the Sooners used the freshman on the ground and he went for 136 yards and two more touchdowns. Oklahoma won 58-23. In the loss to Texas, Mixon was held to a season-low 4.0 yards per touch. The offense is at its best when Mixon is playing well and the Sooners will need that to continue in the playoff.
Caleb Turrentine is a contributor at Touchdown Alabama Magazine. Follow him on Twitter,@CalebTurrentine.