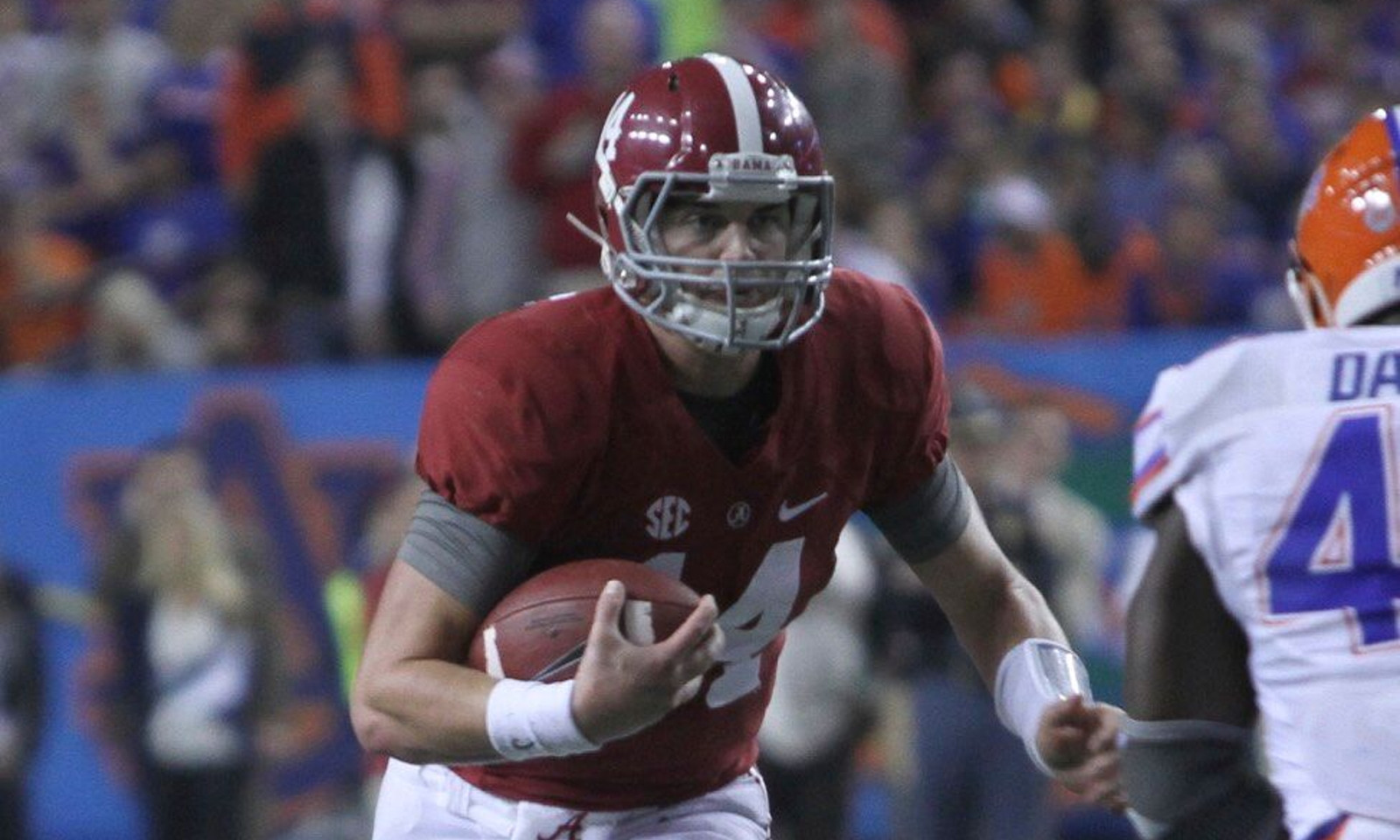 In-game experience is all that matter for analytics, but what about late bloomers?
Media personnel will give Michigan State quarterback Connor Cook an edge over Alabama's Jacob Coker because of more game experience. Cook is 36-4 as a starter, guiding Michigan State to two Big Ten Conference championships, a Rose Bowl title (2013) and a Cotton Bowl Classic title (2014).
What Coker lacks in game experience, he makes up for in confidence and mental preparation. When he was not "the man" at Florida State, the 6-foot-6, 232-pound senior studied EJ Manuel and Jameis Winston. He took notes on how both guys conducted the offense and demonstrated playmaking abilities on the field.
The Seminoles owned the Atlantic Coast Conference from 2012-14, winning championships in all three seasons. Even in mop up duty, Coker never shied away from learning. He focused on Winston in 2013 as he lead Florida State to a national title.
Transitioning from Florida State to Alabama was not easy, but having Blake Sims as a teammate and friend proved to be helpful for Coker. He watched Sims battle "naysayers" from all over, whether it was college football analysts or Crimson Tide fans that over exaggerated on every mishap. Ironically, Sims and Coker faced the same team that opened Alabama's eyes to both of them as leaders, the Mississippi Rebels.
Four turnovers have happened to Coker since the lost to Ole Miss.
He has been instrumental in crucial wins over Georgia, Tennessee, Texas A&M, LSU, Auburn and Florida. He, unlike Cook, is 12-0 as a starter this year. His consistent production has won everyone over to him, including offensive coordinator Lane Kiffin.
Coker threw for 204 yards with two touchdowns and no turnovers against Florida in the Southeastern Conference title game. He emerged as a 29-15 winner on the conference's biggest stage at the Georgia Dome in Atlanta. He has taken each game one step at a time, in attempts to prove that he could lead Alabama's offense.
A non-diva attitude coupled with pure toughness has Coker starting in the College Football Playoff, despite being benched in his first four seasons.
Crimson Tide head coach Nick Saban, his staff and Coker's teammates have taken notice to his winning mindset. The notes that Coker has kept before his face, combined with being on a traditional winning program, has him in the driver's seat for a national championship. Twelve regular season games may be all the proof Coker needs to show that he is more so ready than what others anticipated. His drive to a national title starts Thursday night against Michigan State at the Goodyear Cotton Bowl in Dallas.
Stephen M. Smith is a senior analyst and columnist for Touchdown Alabama Magazine. You can "like" him on Facebook or "follow" him on Twitter, via @ESPN_Future.