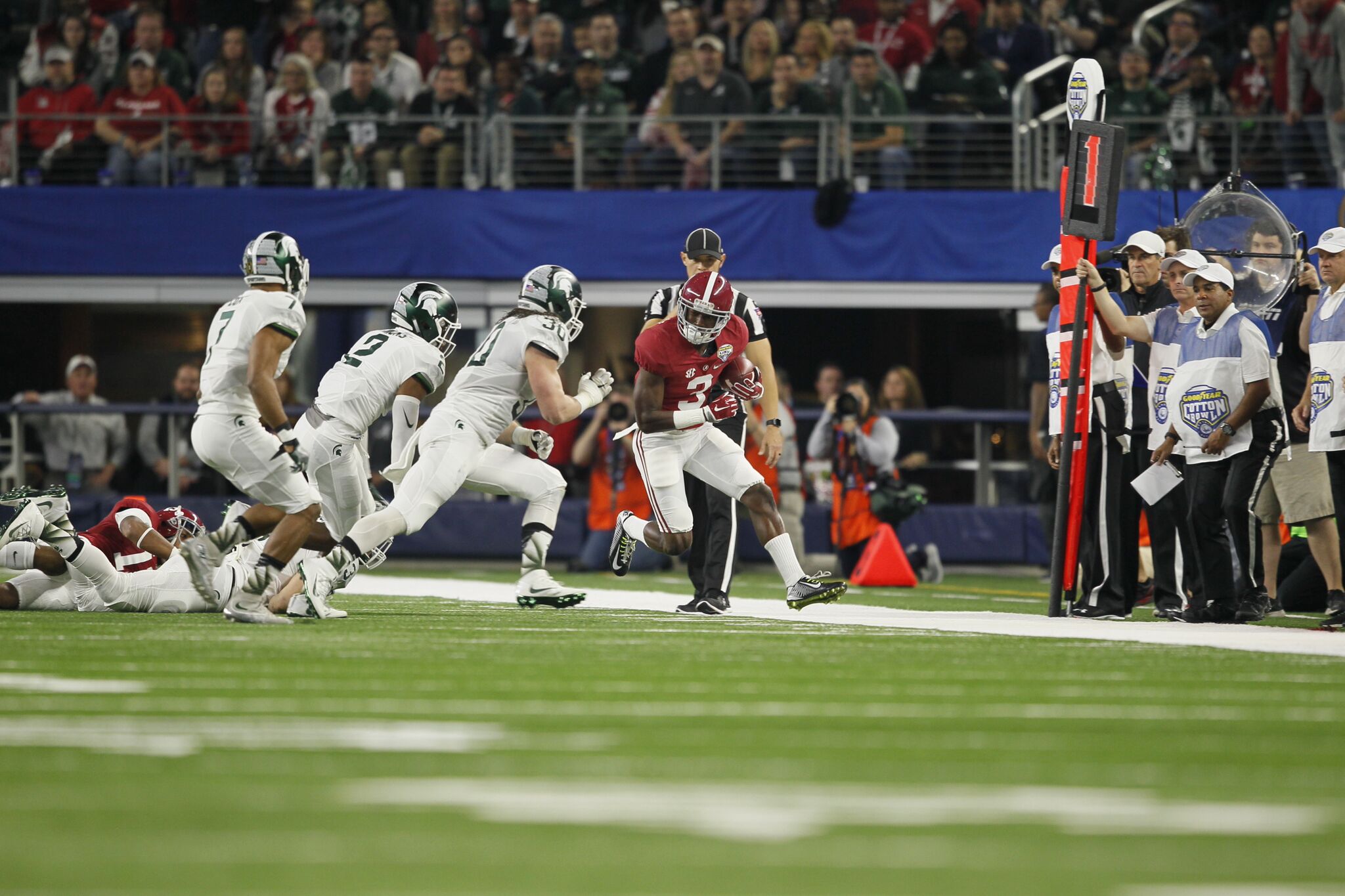 Cotton Bowl Boxing Match – A Knockout and Clear Winner
By: Larry Burton
This was the physical war that everyone anticipated and it was a hard fought fight that resembled two heavyweights slugging it out. While there was a clear winner in the game, one could argue there was a knockout in this fight as well.
Michigan State's defense clearly lived up to their run stopping defensive reputation by thoroughly containing Heisman Trophy winner Derrick Henry. They absorbed run after run and blow after blow and Henry and Drake both just couldn't get the running game going.
What had to happen for the Tide to win this game was the thing that made most Alabama fans a bit nervous. Jacob Coker had to beat Michigan State with his arm and that's just what happened.
Both teams started slow as if in a boxing match, feeling each other out and even though the Tide scored 10 points in the first half, hardly a fan or man in crimson felt comfortable with that lead, especially after watch the Spartans drive the field and almost score just before the half. That 10-0 halftime score was like leading on the scorecard of a fight, but knowing that the opponent was still in the fight.
But in the second half Alabama came out and drove the field and delivered a crippling blow to the Spartans. That score made it 17-0 and it had them wobbling and appearing a bit desperate to do something to get back into the fight. But when Cyrus Jones ran a punt back for a touchdown, the first knockdown of the fight occurred and it was clear that a knockout punch would soon be delivered.
It didn't take long for that to happen as Jacob Coker found Calvin Ridley yet again, this time for a one play 50 yard scoring drive. Now if this had been a boxing match, Dantonio would have been obliged to throw in the towel and stop the fight with the score at 31-0, but instead, Michigan State had to endure more offensive ineptitude and more scoring from Alabama to make it an embarrassing 38-0 mauling.
Larry has been published in almost every media outlet for college sports and now primarily writes here for Touchdown Alabama. Follow Larry on Twitter for inside thoughts and game time comments at https://twitter.com/LBSportswriter
THANKS FOR SHARING THE LINK TO THIS STORY ON YOUR FACEBOOK PAGE