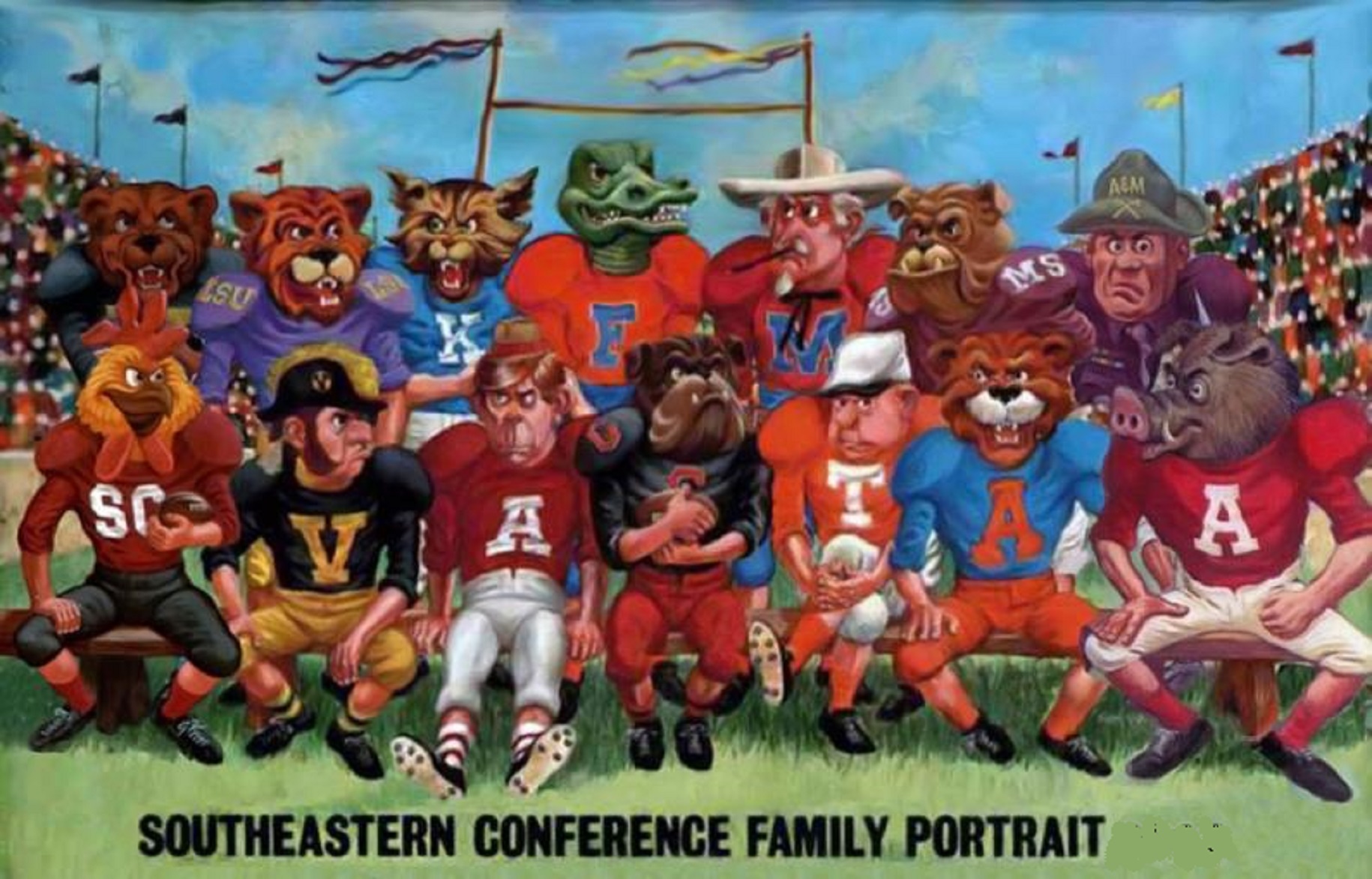 Larry's Losers in the SEC – Bowl Season 2015 – Part Two
By: Larry Burton
Well sports fans, now it's time to get down to the final bowl games of the 2015 season. My oh my how time does fly. It just seems like yesterday the season started and hopes were high for so many teams and now most teams are struggling for a little late season glory while only to are left to fight for the top. Looks like we were 4-1 with the first five bowl picks as Auburn did something we weren't expecting. They actually played good football.
The SEC is also 4-1 so far with only  Texas A&M not being able to hold up the conference title and we were able to see that one coming. While this next set of five games have a few that could either way, we feel pretty confident with the contests we've concluded would have the likely losers. But only time will tell, so let's just jump into picks and see if you agree or disagree.
January 1, 2016
Outback Bowl – Tampa, Fl. – Raymond James Stadium – 11am (Central) – Tennessee vs Northwestern 
Butch Jones brings the band of Volunteers down the soft sands of Tampa but they won't be enjoying the sun and beach the whole time. They are coming to take the wild out of the Wildcats of Northwestern and turn them into mild Cats and start rebuilding the status of the SEC over the Big 10.
But on the other side of the coin, Pat Fitzgerald knows how hard it is to win 10 games and feels like ringing up 11 isn't so tough and he plans on turning his Tabbies loose on the Tennessee tribe and showing that a ten win team should beat an eight win team every day and that this bowl game won't be the exception.
But fans of the Big Team will see in disbelief that a ten win team up that that part of the country may not be much of a match for a six win SEC team. And as the game goes on and the Wildcats go to wilting, reality will set in and the SEC claims another one. Larry's loser – Northwestern
Citrus Bowl – Orlando, Fl. – Citrus Bowl Stadium – 12pm – Florida vs Michigan
Jim McElwain's mud puppies meander down the turnpike to Orlando and hope that this short little drive will give them some home field advantage and a stadium full of screamers that'll garner the Gators the extra edge they'll need to beat big blue.
Meanwhile, James Joseph Harbaugh wooly little Wolverines aims to head South for the winter to wind up a winner by gobbling up those Gators one little bite at a time. Now while they worry about the Gator defense, they figure they can have their way with the long tailed snappers on offense.
This is one fairy tale season for a new head coach and a recovering SEC team that we'd like to see end with a happy ending, but we just don't see it happening despite the home cooking and all the other advantages of playing so close to home. The Big 10 claims a little glory in this one. Larry's loser – Florida
Sugar Bowl – New Orleans, La. – New Orleans Superdome – 7:30pm – Ole Miss vs Oklahoma State
Mike Gundy brings his chuckhouse of Cowboys over to the Big Easy to take on the SEC's Rebel Bears, which is not to be confused with bare Rebels. He aims to bring his fast riding, fast striking Cowboys to this rodeo and pile up the points in such numbers, no lumbering SEC team can match.
But the Ole Miss coach figures he can put the Freeze on that offense, or at least enough keep it under the total his own team will tally with a big old burly bunch of SEC boys. And even without two Nkemdiche's, this is still a defense that figures to put the bite on an opposing offense.
This game could score like a pinball machine, but we suspect that when all the lights stop flashing and balls quit bouncing that the Rebels rusty muskets will still outshoot the Cowboy's six shooter and when the final whistle blows it'll be a Rebel yell that will signal a win. Larry's loser – Oklahoma State.
January 2nd, 2016
Taxslayer Bowl – Jacksonville, Fl. – EverBank Field – 11am – Georgia vs Penn State
This season didn't exactly go the way the Bulldogs saw it going at the start of the season and as a result, the come into bowl season playing musical coaches. Gone is the head coach, Mark Richt, defensive coordinator Jeremy Pruitt, offensive coordinator and offensive coordinator Brian Schottenheimer, so there are a bunch of assistants running the show in Jacksonville. Now temporary head Bulldog Bryan McClendon, the receivers coach, is scratching his head for more reasons than fleas in trying to figure out a way for this pack of pooches to not only win, but the shuffle the duties of the remaining coaches.
On the other side of the ball, the head Lion James Franklin brings the pride from Penn State down to the sunny seashores of Jacksonville, Florida with hopes of finally securing his signature win since becoming the lead Lion. He's hoping to delight in the the distractions going on in Athens and catch these Bulldogs in disastrous disarray and dodge another check mark in the losing column.
But that's not what's going to happen as somewhere in Miami, Mark Richt will be smiling that his Bulldog's had yet another 10 win season and it still cost him his job. Larry's loser – Penn State
Liberty Bowl – Memphis, Tn. – Liberty Bowl Memorial Stadium – 2:20pm – Arkansas vs Kansas State 
In the last bowl game of the year, yes I know there's a championship game left, but this is the last real bowl, the long tooth Pigs from Arkansas take a short trip over to Memphis and plan on listening to a little jazz, eating a little barbeque, snagging some swag and whipping the Wildcats in front of what they hope will be a stadium stacked with Swine fans. Head coach Brett Bielema knows that while his team didn't get off the the hottest start, that continuing this hot streak at the end will only help them start hot next season.
But across the manicured Memphis lawn, head Wildcat Bill Snyder sees things a little differently. He's been coaching in bowl games since they've had laces on footballs and he thinks he can find a way to weasel his Wildcats into the win column with his wily wisdom.
If it were left up to the knowledge the head coaches have in their heads, surely old Snyder could pull it out. But there's just no denying Pig power in this party. These Hogs will leave the Wildcats howling once they get their tusks to tearing the flesh on these felines and it could be a long day at the Liberty Bowl for the clan from Kansas. Larry's loser – Kansas State
Well folks that's all the bowls and we just have one more loser to list for this season and that's the one for all the marbles! Don't worry, though my booze loving buddy and pigskin prognosticating pug is sure to have a very merry New Year's Eve night, I'll have him sober by the time we get to tallying up the talents of the two contenders in that championship game. Alabama should be the early favorite, but until we do all the study and prognosticating, we won't know who's on the losers list just yet, but it's coming soon.
So till next week, safe travels, Happy New Year and good news! Only one team will lose next week and it may not be your team!
LARRY HAS BEEN PUBLISHED IN ALMOST EVERY MEDIA OUTLET FOR COLLEGE SPORTS AND NOW PRIMARILY WRITES HERE FOR TOUCHDOWN ALABAMA. HE WRITES IS A COLLOQUIAL AND IRREVERENT STYLE FOR THIS SERIES OF ARTICLES. LARRY'S VIEWS AND SENSE OF HUMOR MAY OFFEND, BUT HE AIMS TO OFFEND EVERYONE EQUALLY. IF HE HASN'T INSULTED YOUR FAVORITE TEAM WITH LARRY'S LOSERS, JUST WAIT. FOLLOW LARRY ON TWITTER FOR INSIDE THOUGHTS AND GAME TIME COMMENTS AT

 HTTPS://TWITTER.COM/LBSPORTSWRITER
THANKS FOR SHARING THE LINK TO THIS STORY ON YOUR FACEBOOK PAGE