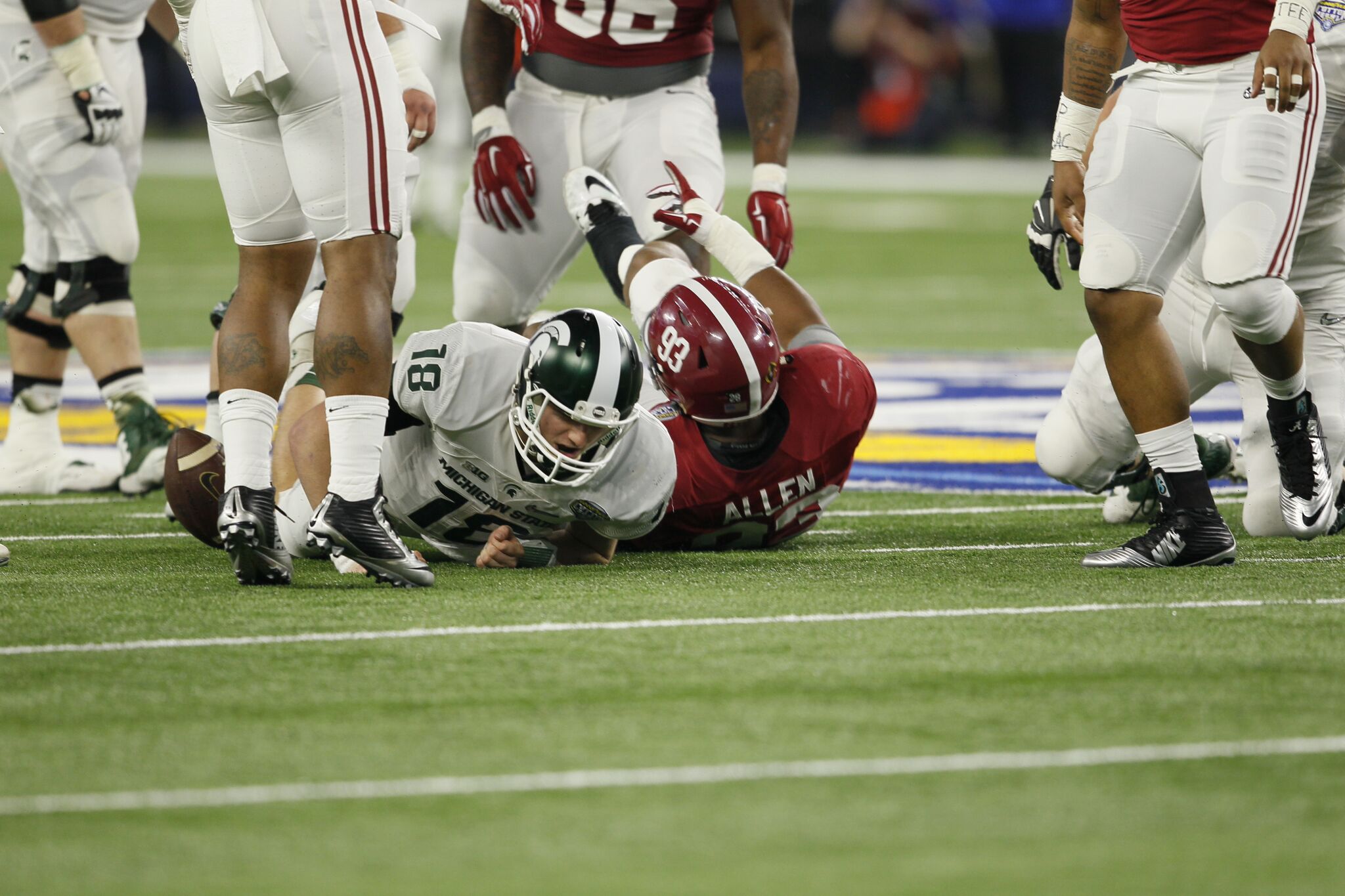 Why the Shut Out Against Mich. St. Was so Important
By: Larry Burton
It wasn't enough to win in convincing fashion against the Big 10's best team, though that may have exercised the demons from last year's bad game by the Tide.
It wasn't enough to score 38 points against a defense that was said to be "Alabama's equal" in the game.
The shut out was important to the players, fans and especially to Nick Saban, who clearly wanted the shut out, despite having second and third stringers in the game to preserve it. But why? Wan't a win good enough?
No, Alabama wanted to show the world what makes Alabama tick, why the SEC is so dominate and why so much end of the year hardware resides in the SEC and mainly Tuscaloosa than in any other conference.
While the PAC 10, Big 12 and in some cases the Big 10 win games 51-48, the Alabama Crimson Tide wanted to remind the world how you win championships, not just games against other do defense teams.
The old adage "You win with defense" never gets old, they haven't come up with something new to make that obsolete. It hits you in the mouth and simply shuts you up leaving you to wonder why a promising game plan now looks so useless. It's what football is really all about, line up and give me your best shot, because you're sure as hell going to get mine. It comes down to not to a game plan, not to an offensive philosophy, not to team speed or a great quarterback, all of which Michigan State is blessed with.
It comes down to something primal and physical, it comes down to 11 men looking across the line at their counterpart and saying, I'm bigger, better and stronger than you and I'm going to whip your ass all game long. It's Saban football at its best. Last night Saban's mantra of "Just make their ass quit!" was on display in it's finest.
On the other side of the ball, Lane Kiffin proved he truly is one of the best offensive coordinators in the country. Kiffin knew that Michigan State would sell out at all costs to stop the run and simply replied, "Ok, you want to see Coker beat you with his arm? Well take a seat sweetheart and enjoy the show!"
While the offense certainly proved that they too could have their way with the best the Big 10 could offer, it was the defense that was clearly the most dominating aspect of the game that made the biggest and most emphatic statement over who could do what the best. It was if the Alabama defense said, "You think YOU can stop the run? Let me show you how to do it right." While Alabama rushed for 154 yards and a 4.4 yard per carry average, Michigan State, a team that was said to have four running backs with superb ability, rushed for a total of 29 yards all night long for a 1.1 yard per carry average.
And they quarterback who almost all the media pundits said would be the best quarterback Alabama would face all season long? He could muster just 210 total yards that resulted in no touchdowns, two interceptions and a quarterback rating of 19.6. In all Alabama made him look like one of the worst quarterbacks they had faced all season long. In his post game press conference Big 10 media reporters were still in denial and looking for excuses and asked the Spartan quarterback if his prior injuries were afflicting him during the game?
His response was honest and told the whole story, "I had no pain, no motion problems, I was 100%."
Make no mistake about it, Alabama didn't just want this win, they wanted to make a statement, a big bold nasty "in your face" kind of statement and nothing does that like a shut out. If you don't think this shut out was important, look at the last interception of the closing minutes of the game and the excitement of the Alabama bench, but mainly that of Nick Saban.
Now they head to Arizona where they hope to put the final exclamation mark on this season. If I were the Clemson Tigers, I wouldn't be looking forward to it.
Larry has been published in almost every media outlet for college sports and now primarily writes here for Touchdown Alabama. Follow Larry on Twitter for inside thoughts and game time comments at https://twitter.com/LBSportswriter
THANKS FOR SHARING THE LINK TO THIS STORY ON YOUR FACEBOOK PAGE