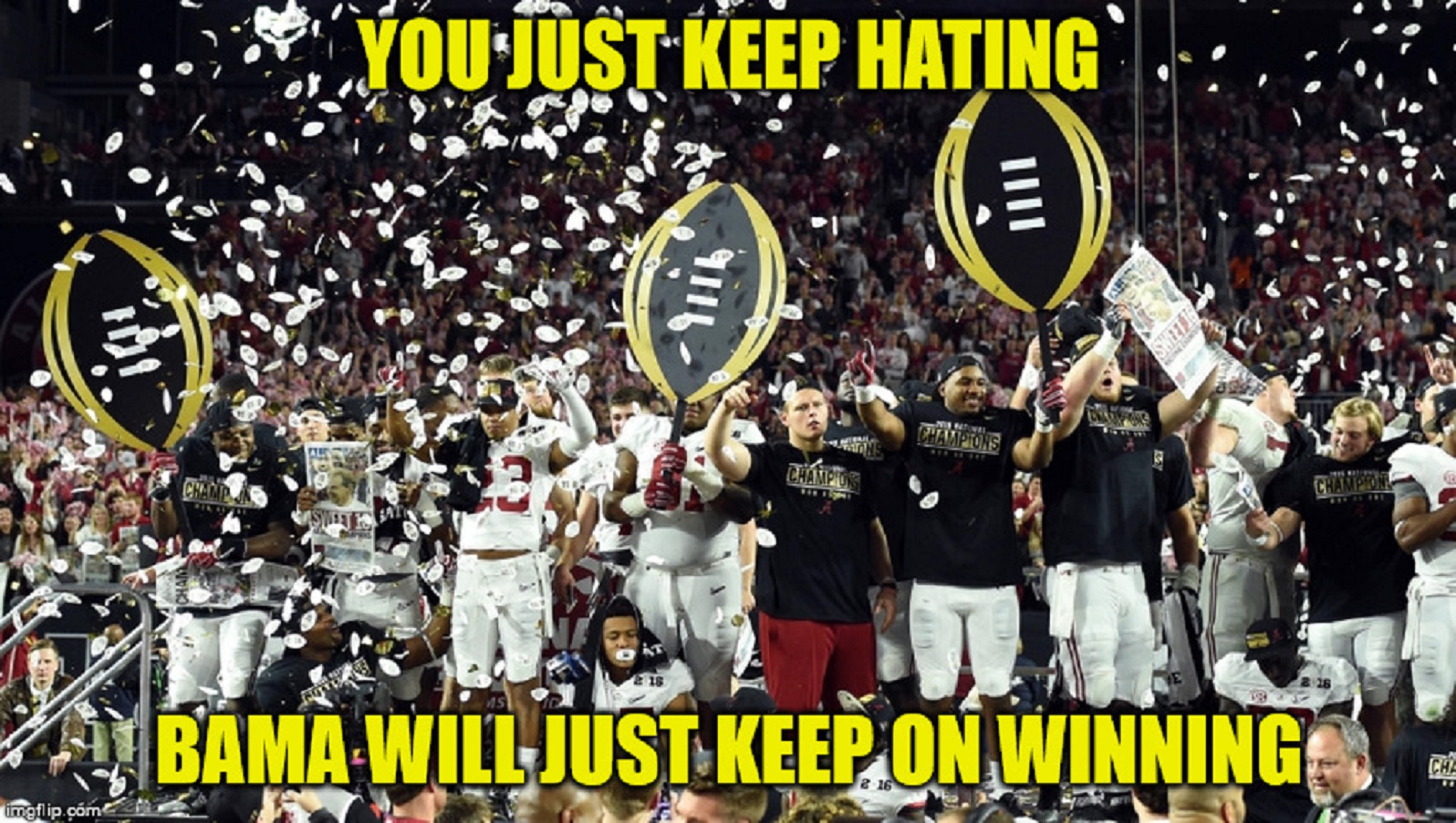 The Alabama Hater's Worst Nightmare is Coming
By: Larry Burton
For the folks that just downright hate the University of Alabama and there's quite a lot of them now with the list growing each time Alabama wins another national championship, their most worst nightmare is coming.
The Alabama pundits are just drooling over the prospect of proclaiming the end of the Saban era. They looked stupid doing it last season following the loss to Ole Miss for the second year in a row as we all know now and they're waiting for the next slip up to start at it again.
But again, their worst nightmare is coming.
You see, in pulling in another number one recruiting class, Saban simply continues to build yet another championship machine. In fact the nation's number one recruit for 2017 has already committed to Alabama. But it's not just recruiting, Saban rotates coaches in to build upon past success and knowledge with new ideas and energies. Then there are the players.
Focusing on the players and the Alabama hater's worst nightmare is easy to see. You can still hear them saying, with Julio Jones gone, Alabama won't have that deep threat, then there was Amari Cooper. And as they breathed a sigh of relief of his early exit to the NFL, now comes Calvin Ridley. It just never ends, the running backs, linebackers, defensive backs, offensive linemen and more just keep coming. But now the real nightmare is coming.
Since AJ McCarron, at least the haters could find some comfort in knowing that Alabama was struggling at quarterback. First there was the converted running back who took a great supporting cast to the first college football playoffs, but fell short of having the ability to keep pace with the Buckeye's third string quarterback. Then there was the guy who couldn't beat him out the year before despite being the guy who was supposed to be the new Alabama savior. He did however, have enough talent to work with the great cast of characters around him to get them over the hurdle to another championship. Still, the quarterback play for the last two years has given the Alabama haters reason for hope.
But now their worst nightmare is coming.
Not only does Alabama bring back all the other positions with talent laden excess, this year they'll have a championship caliber quarterback and to make it worse, one that will be at Alabama and have a chance to play for more than just a season or two.
There just is no weak link at Alabama anymore and no I'm not downplaying the great success that Alabama's last two years. They worked hard and played with hearts as big as Bryant Denny Stadium and I admired them both for the grit and determination they exhibited. But now Alabama will field a quarterback with those same features plus a ton of God given talent. Instead of having a game manager, Alabama will field a game changer.
The Alabama haters worst nightmare is coming and it's going to be led by Blake Barnett.
With a now experienced secondary corp on defense, another monster defensive front that is sure to be another national leader, a super receiving corp, a standout offensive line and special teams that are now truly special, all they needed for continued dominance was a great quarterback and now he's finally ready to take control.
The worst nightmare for the Alabama haters is that far from being on the decline, Alabama may just be hitting their peak and primed to make another two to three year run on more national championships. Now all the pieces are all in place and it's a team without a soft spot.
If you think this is a Polyanna piece then you're not looking at the cold hard facts. Bama returns to a pounding one-two punch at running back as Bo Scarbrough and Damien Harris get their turn to shine. Calvin Ridley leads what may be the best receiving corp in the nation and Alabama's offensive line is deep and may be better than last year's unit.
On the defense front, Tim Williams was second on the team in sacks while playing a small percentage of plays as a backup. Imagine what he'll do now as a starter especially since Johnathan Allen, Ryan Anderson and Reuben Foster all decided against going to the NFL early for another national championship ring. This is not an opinion, but a fact that this defensive front is in line to contend for the best defensive front in all of college football and yes, they'll still be rotating in backups that would be starters anywhere else. It's simply ridiculous how deep the talent is at Alabama with defensive linemen and linebackers.
Lastly, while Alabama routinely places defensive backs in the NFL, it's been a while since they've had lock down cornerbacks and a complete unit filled with experience and talent. Teams looking to beat the Tide even last season looked to do so by burning the defensive backs. Last season Alabama played two true freshmen. Minkah Fitzpatrick and Marlon Humphrey were baptized by fire early on, but by season's end, these freshmen proved to be solid defenders. Eddie Jackson will be the vocal and on field leader of this group and the senior strong safety is exited to return for his senior year and lead this group. With Alabama signing a good crop of defensive backs this spring, names like four star Nigel Knott, four star Jared Mayden and four star Shyheim Carter could see the field this season giving Alabama more depth with this unit than ever before.
Yes, Alabama lost a ton of talent of this past championship team, 30 players from that team won't return, but the nightmare for Alabama haters is that the 30 who take their place may be better or at least just as good. So all these haters can just keep on hating and they may have to do it for a long time to come.
Larry has been published in almost every media outlet for college sports and now primarily writes here for Touchdown Alabama. Follow Larry on Twitter for inside thoughts and game time comments at https://twitter.com/LBSportswriter
THANKS FOR SHARING THE LINK TO THIS STORY ON YOUR FACEBOOK PAGE