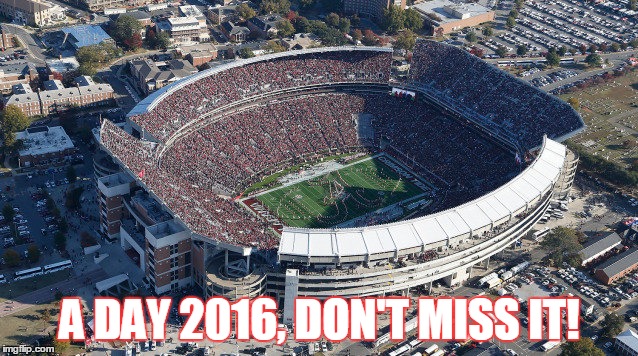 Alabama's A Day Game Will Answer No Question This Year
By: Larry Burton
Last season there were questions that needed answers, would a quarterback emerge from A Day? Would leaders emerge to help this team stay focused and adhere to the process? Would someone step up in the receiving corp to take up some of the void left by Amari Cooper? Would the running game be the same without the one two punch of Yeldon and Henry? Could the offensive line rebuild with key pieces leaving? Who would lead the defensive backs with Landon Collins leaving? Could this team recover after finally losing a round one  championship game?
There were even more questions too. This was a team with a lot of talent, but a lot of question marks.
While this year's A Day Game will be entertaining to watch, the questions just aren't there. Yes, Alabama fans are still wondering about the quarterback position, but there really isn't a question. Why? Because Alabama doesn't have to wonder if they'll have a quarterback capable of leading them to another championship run, they seem to have three in camp with lots of skill and leadership ability and one they'll red shirt who could step up if he had to. So the question of quarterback was already answered, not by who, but by how many.
Life without Derrick Henry? No question there. Alabama has an incredible one two punch with lots of talent on the bench. No question about leaders stepping up either, they're already in place and leading. There's just no position group that the coaching staff is worried about. The team is full of talent at every position thanks to simply unbelievable recruiting for many years.
There's simply nowhere to point and see a problem area or an area to worry about.
Though there are questions to answered as the season goes on, none of them will be answered on A Day Game except one. That question is how many folks will show up to watch the game, well that and will the team escape A Day without injuries.
We will finally get some quarterback stats, see how fantastic this receiving corp is, marvel of the speed of the defense and see how the new center does against the number one defense. They'll be lots to watch for and fun things to see, but we won't see anything we don't already know.
The questions that need to be answered can only be answered as the season plays out. Questions such as How serious will this team take walking the straight and narrow and doing all the little things they need to do to win another championship after already wearing championship rings?
Other questions are, how improved are the other teams they'll be playing? Will they limit the kinds of mistakes they made last year against Ole Miss?  Can they go a whole season without a defeat? Only one team has done that and that was Greg McElroy's first season as a starter. This team always seem to stub their toe and then have to rely on help to get into the playoffs. Can this team pull of Saban's second undefeated season at Alabama?
Now those are the questions that Alabama fans would like to know the answers to, but they won't find them in this A Day Game and those will only come in time.
Larry has been published in almost every media outlet for college sports and now primarily writes here for Touchdown Alabama. Follow Larry on Twitter for inside thoughts and game time comments at https://twitter.com/LBSportswriter
THANKS FOR SHARING THE LINK TO THIS STORY ON YOUR FACEBOOK PAGE