Stephen's Report
Former Alabama quarterback Blake Sims mentors youth at football camp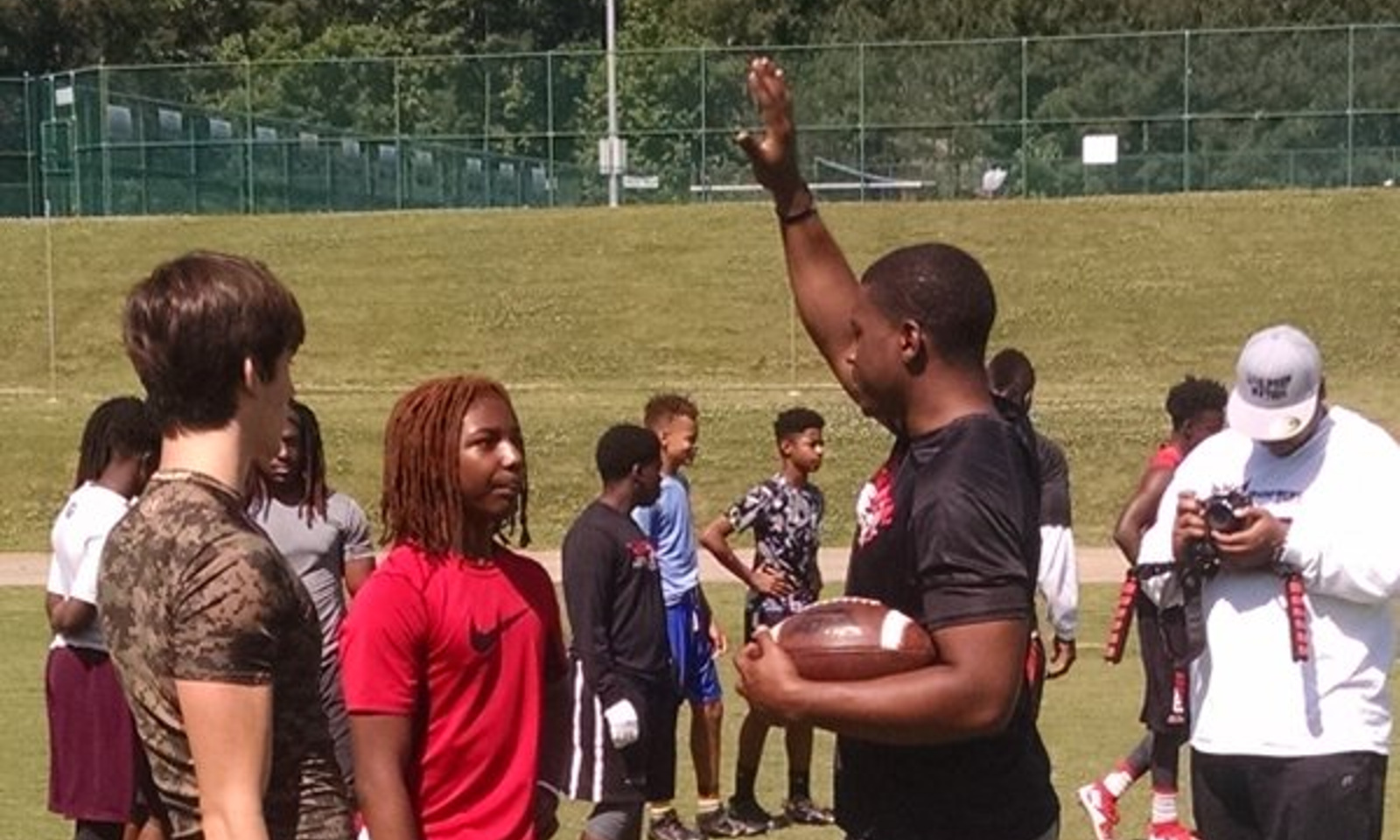 TUSCALOOSA, Ala.| No team took a chance on Blake Sims through seven rounds of the 2015 NFL Draft, nevertheless, the former Alabama signal-caller remains with a smile on his face.
Sims, a native of Gainesville, Ga., was one of few coordinators on staff for Mike McCoy's youth football camp at Brocks Gap Intermediate School (Hoover, Ala.) last week. He worked with both elementary school and high school children that aspire to be quarterbacks at the next level.
The 2014 Southeastern Conference champion had the young ones practicing three-step drops, while the high schoolers focused on footwork, scanning the field and accuracy.
Regardless of mechanics, Sims' lesson to the youth was on the importance of self-confidence and hard work. He brought a smile to each face, even after mistakes were made on the field.
"Don't let the day beat you, you beat the day," Sims said to a quarterback prospect."When you do something bad, think of something that makes you smile. I have a daughter so when I do something bad, I think of my daughter and she brings that smile back on my face and I'm ready for the next play."
Kyla Sims, 5, was the daughter in question. She watched her father go from being untested to a fan favorite among Crimson Tide quarterbacks during the 2014 season. After a rough A-Day performance, Sims was able to fend off graduate transfer Jacob Coker for the starting job. He bought into Nick Saban's process and Lane Kiffin's offensive system, guiding the team to 12 wins, a SEC title and an appearance in the first-ever College Football Playoff.
Alabama's meeting with Florida was a testament to Sims' arm talent (445 yards, four touchdowns), but it was games against LSU and Auburn that won fans over to him.
An overtime victory at Tiger Stadium and overcoming three interceptions to win the Iron Bowl, showcased Sims' toughness and passion as a leader.
He ended the year as the Tide's single season passing holder, totaling 3,487 with 35 touchdowns. Despite not having things pan out in the Canadian Football League, Sims continues to push toward a professional career.
"The tongue is the most powerful thing," Sims said to youth and their families.
"If you say something, you are going to do it. One thing that Mike [McCoy] teaches us is to speak things into existence. I tell myself everyday that I am going to be great. I tell myself that will be better than Cam Newton, I will be better than Russell Wilson. I tell myself this because I believe it."
Biblical references are to be read and applied as life principles. As iron sharpens iron, so one person sharpens another (Proverbs 27:17).
Finding positive influences was a topic Sims discussed in detail.
"I have to surround myself with people who want to see me better than where I've been," he said. "Always respect your teachers and have a purpose for why you what you do."
Sims ended his speech with "it's all about getting better" and "keep God first."
He would later take pictures and sign autographs for children.
Stephen M. Smith is a senior analyst and columnist for Touchdown Alabama Magazine. You can "like" him on Facebook or "follow" him on Twitter, via @ESPN_Future.