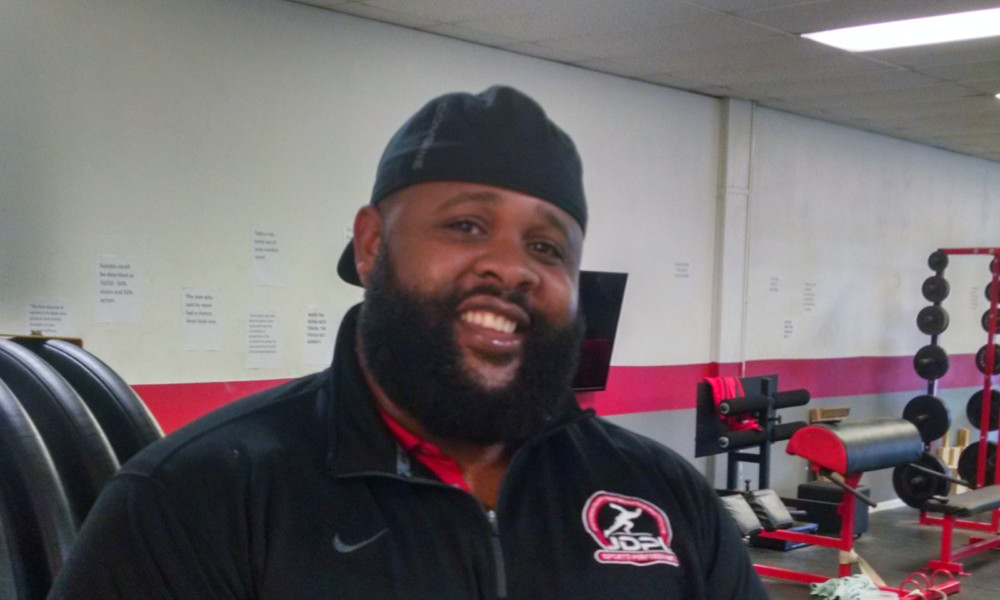 TUSCALOOSA, Ala.| Nick Saban, Scott Cochran and Lane Kiffin. These are names to reflect on when Alabama football is brought up in a conversation. Saban and Cochran laid the foundation, a disciplined system that has produced four national championships in a nine-year span.
Kiffin became the latest beneficiary of "The Process" in 2015, coaching the Tide's offense to a national championship. He mentored Jacob Coker to a 3,000-yard passing season, earning him an opportunity in the National Football League with Bruce Arians and the Arizona Cardinals.
Despite not playing at Alabama, there is another name linked to Saban's success, Johnny Jackson. Jackson, a three-year starter at West Alabama, earned a bachelor's degree in exercise science from the University of Alabama in 2008. The Wewahitchka, Florida native returned to Tuscaloosa later that year after a getting a chance to play professionally in the Arena Football League. He became a part of the Crimson Tide's strength and conditioning staff, learning under Cochran and former strength coach Rocky Colburn.
With Jackson on staff, Alabama had a huge season in 2008. It notched 12 regular season wins for the first time since 1992 and gained a spot in the Southeastern Conference title game against Florida.
A 31-20 loss stung for a while, but Jackson said it was the best thing to happen for Alabama.
"It is all about mindset," Jackson said.
"The Florida loss was tough and I even though I thought we could have won that game, the best thing to happen was losing that game because it added fuel to the fire. The team was able to taste a little bit of the cake and then it was pulled from them. When those guys got a little taste of it and they started taking on the mindset that the coaches had, it was a beautiful work of art."
The state of euphoria that Jackson eluded to was Alabama's 2009 season; a year in which the Crimson Tide went 14-0 and defeated both Florida (SEC title game) and Texas (BCS national title game) in postseason to win its first national championship under Saban.
A passion that started from working under Cochran gave Jackson the motivation to develop his own business. The Jackson-Duffy Performance Institute was birthed prior to obtaining a building in August of 2012. JDPI Sports Performance, which is located in Northport, is the home for training professional athletes, current Alabama players and youth of all ages. Jackson and his business partner, Tyler Duffy, build this program on one aspect… A positive mindset.
"What Tyler and I want to do is come in and be humble," Jackson said. "We're not better than anyone else and we want to teach these kids life skills. We train on every sport. I keep going back to the mindset thing, because some of these kids don't have a lot of faith in themselves."
Self-confidence is one few traits that Jackson and Duffy keen in on with children. Jackson said it's important for all youth to have a good opinion about themselves as individuals.
"If you start letting other people's opinions become what you think of yourself, then you will have a tough life ahead of you," he said. "Expect high quality from yourself and then no one else can disrespect you."
Word of mouth is good; however, written material stands as the best form of motivation. Quotes from well-established coaches and businessmen flood the walls, upon entering the JDPI facility.
A statement from Lou Holtz, former South Carolina coach, appears on the wall seven times. It reads "If what you did yesterday seems big, you haven't done anything today."
Glenn Coffee, Roy Upchurch, Brandon Deaderick, Eryk Anders, Ed Stinson and Michael Nysewander were a few marquee names that Jackson trained, as each one prepared for an NFL career.
Regardless of his love for Alabama, Jackson has a heart for players that come from lower-level institutions.
Malcolm Butler, a West Alabama alumnus, was one of those guys. He went undrafted in 2014, but training with Jackson helped him sign a free agent deal with the New England Patriots.
Butler would total 15 tackles in the regular season and four tackles in the playoffs, nevertheless, his finest moment came in Super Bowl XLIX (49) against the Seattle Seahawks.
He intercepted a pass off Russell Wilson at the goal line. The throw was intended for wide receiver Ricardo Lockette, but Butler broke in front of him and made a play on the ball. His effort preserved a 28-24 win, giving the Patriots its fourth Super Bowl title in franchise history.
"We took a chance on Malcolm when nobody else did," Jackson said. "And we are grateful for that. He made that play and before he did, I told my wife that Malcolm is about to intercept this ball. I had no idea that they were going to throw the ball, but he intercepted that ball and has been with us ever since. He comes back every summer and trains with us."
The vision that Jackson and Duffy have for JDPI Sports is to plant more of them, but they want the endeavor to occur in the right manner.
"We want to have more gyms and touch more lives, but the goal for now is to be the best that we possibly can be," Jackson said. "We want to create a legacy."
During his time on Saban's staff, Jackson developed a strong respect for Scott Cochran.
Cochran, who is the booming voice over the PA system in football games, is Alabama's director of strength and conditioning. He is the one every player sees when they come inside the practice facility.
"Scott Cochran does a great job of keeping guys motivated and focused on the prize," Jackson said. "During my time there, we had a chain of command and Scott was our general. He is one of those guys that whether you have a good day or a bad day, he is going to be Scott."
Jackson added with "each day Cochran is going to bring it" and expects his players to "improve every day." He will enter his 10th season with the Crimson Tide in the fall.
Sophomore running back Bo Scarbrough is a current player working under Jackson.
Tide fans anticipate a monster year from the 6-foot-2, 230-pound Tuscaloosa native. He finished last season with 104 rushing yards on 18 carries, including a one-yard touchdown against Charleston Southern. Scarbrough will share the backfield with sophomore Damien Harris.
Writing his thoughts on strength and conditioning, came before Jackson put JDPI Sports in motion. He had an encounter with Mike Lacy—former editor-in-chief of Touchdown Alabama Magazine in 2011. The two happened to live in the same apartment complex, Mountainview Apartments, when Lacy approached Jackson about writing an article for the publication.
With his words and an idea, Jackson's story made into the magazine. He said it a humbling experience and still keeps in contact with multiple members of its personnel, including chief operating officer Brandon Williams.
"Brandon remembers me from when I used to push a little weight around at the Rec Center," Jackson said. "He used to work out there too, so it's kind of a very small world."
Along with training pro athletes and children, Jackson also helps other trainers get their businesses started. Mike McCoy, a UA player and graduate, worked under Jackson for a while prior to obtainaing his own place. McCoy now has the Warehouse Performance Institute in Bessemer, Ala.
Stephen M. Smith is a senior analyst and columnist for Touchdown Alabama Magazine. You can "like" him on Facebook or "follow" him on Twitter, via @ESPN_Future.