SEC News
Best return specialists for the SEC heading into 2016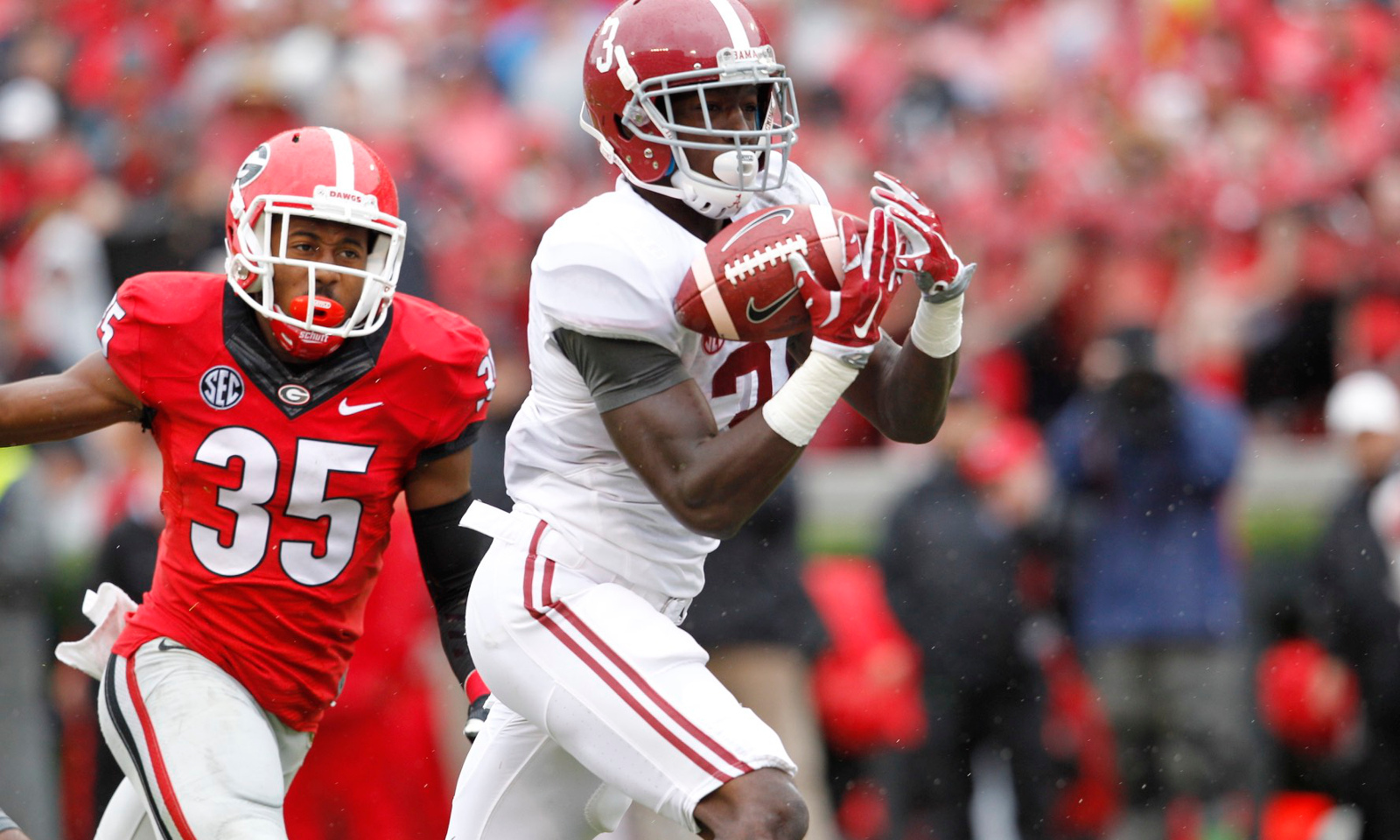 Teams that manage to sustain success happen to excel on offense, defense and special teams.
Alabama coach Nick Saban is a proponent of the last one. "Any possession that ends on a punt, field goal or extra point is a good thing." This is the message he relates each year to every quarterback.
Establishing positive field position goes a long way toward winning games. The ability to field a kickoff or punt cleanly looks simple, but it causes a lot of problems for even the best athletes.
The Southeastern Conference will not only return players that can field the ball, but ones who can also create field position with their vision, footwork, elusiveness and acceleration.
Listed below is a breakdown of some of the best return men for the SEC next season.
Antonio Callaway, Wide receiver—Florida Gators
Callaway is in for a huge sophomore year, depending on if he is reinstated to the team.
He was the catalyst for an offense that averaged 23.2 points/game last season.
Callaway finished third on the team in scoring (36 points), with one of his touchdowns coming against Alabama in the SEC Championship Game. He returned a punt 81 yards for a score, giving Florida a 7-2 lead in the second quarter. Callaway ended his freshman season with 435 punt return yards and two touchdowns on 28 attempts.
Christian Kirk, Wide receiver—Texas A&M Aggies
Kirk was an elite wide receiver prospect upon enrolling at Texas A&M in 2015. He was a top-notch target in 12 games (70 catches, 925 yards, six touchdowns), but his work on special teams is second to none. Kirk was one of few players to record at least 300 yards on kick returns and punt returns.
He combined for 726 yards between the two and two touchdowns on 34 attempts.
The 5-foot-11, 200-pound wide out averaged 24.4 yards on kick returns and 19.3 yards on punt returns. He accounted for one of the better plays for Texas A&M in its game against Alabama.
Kirk took a boot from JK Scott and returned it for a 68-yard touchdown. Kirk's effort would be one of only two touchdowns for the Aggies, as it fell 41-23 at newly-renovated Kyle Field.
Isaiah McKenzie, Wide receiver—Georgia Bulldogs
Jayson Stanley and Cavin "Riley" Ridley are two skill players that Georgia fans will be high on in the fall, nevertheless, its offensive firepower starts with McKenzie. The rising junior has recorded 447 punt return yards and four touchdowns on 36 attempts in two seasons (2014-15).
As a freshman, McKenzie was exceptional as a kick returner. He posted 309 yards and a touchdown on 11 tries. He's averaged 12.4 yards on punt returns in the last two years.
Evan Berry, Defensive back—Tennessee Volunteers
Berry returns as one of the leaders in Tennessee's secondary and a stalwart on special teams.
The 5-foot-11, 207-pound safety was a big play waiting to happen on kick returns last season. He averaged 38.3 yards per return, while posting 804 total yards and two scores on 21 attempts.
Berry's teammate, Cameron Sutton, adds the punt return dynamic for the Volunteers. He amassed 467 yards and two touchdowns on 25 returns in 13 games, netting a 18.7 average.
Possible impact stars in the return game for 2016
Calvin Ridley, Wide receiver—Alabama Crimson Tide
Ridley showed Alabama fans how special he is as a receiver in 2015, totaling 1,045 yards and seven touchdowns on 89 catches. Coach Saban has worked both he and Xavian Marks on kick returns during spring practice. He's tried other players in this role, but continues to tell reporters that it's Ridley and Marks that perform the job the best. A lot of programs don't like using its primary skill players on special teams (injury reasons), nevertheless, any opportunity to Ridley get moving in space bodes well for the Crimson Tide.
Tre'Davious White, Cornerback—LSU Tigers
Special teams may be crucial for the Tigers next season, if the quality of play at quarterback does not improve. White has compiled an average of 11.2 yards per punt return in two seasons combined.
He returned 20 punts in 2015 for 229 yards and a touchdown, while securing 45 punts for 502 yards and two scores in his career. LSU tends to recruit substantial athletes at punter and kicker.
Having White as an experience return man gives the Tigers another option at creating points.
Stephen M. Smith is a senior analyst and columnist for Touchdown Alabama Magazine. You can "like" him on Facebook or "follow" him on Twitter, via @Smsmith_TDALMag.