Stephen's Report
Four reasons why Alabama should start Jalen Hurts at quarterback in 2016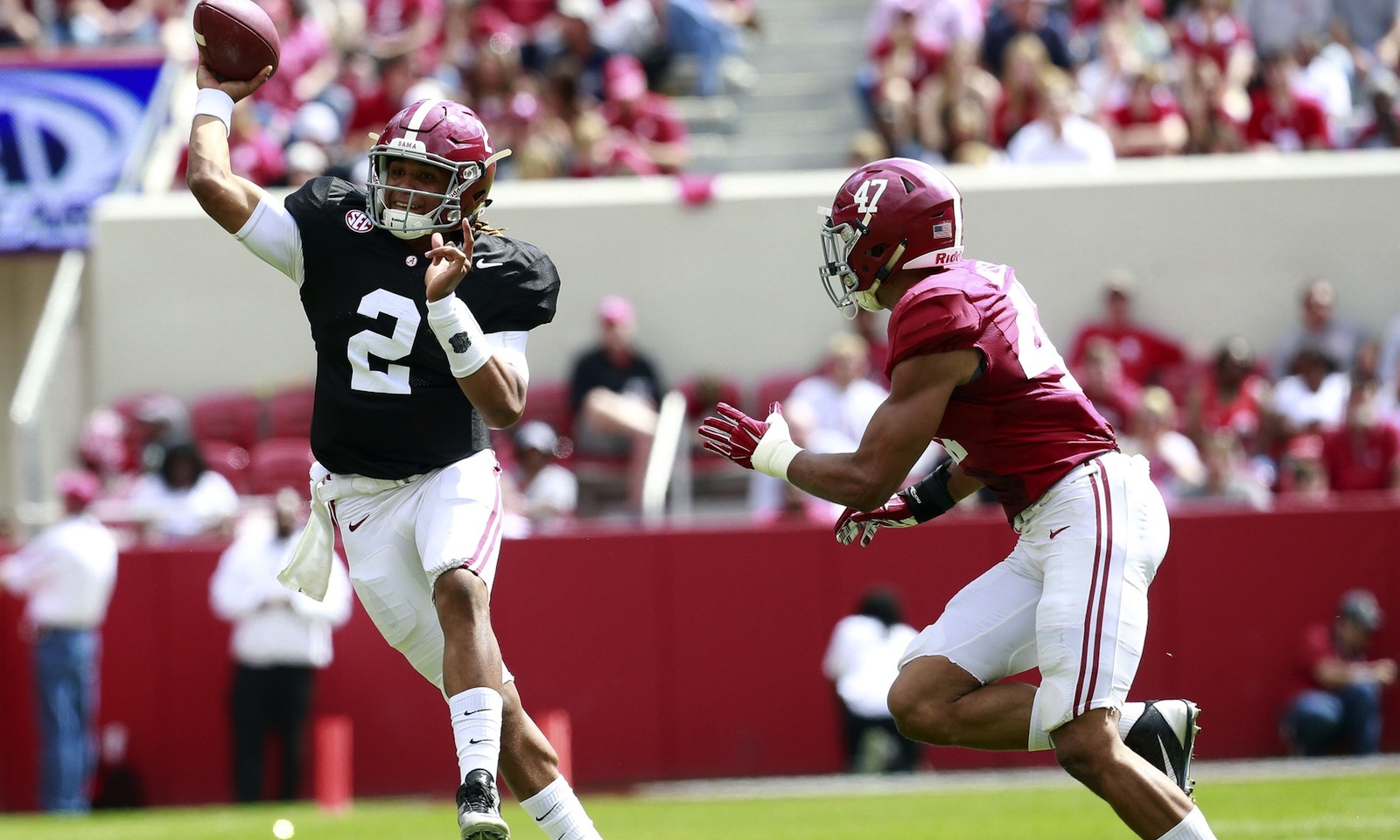 Two things happen at the University of Alabama, winning national championships and not allowing true freshman quarterbacks to run the show on offense. The Crimson Tide has yet to start a true freshman at quarterback in its history and for Nick Saban, he's not entertained the thought of having someone of this classification guide his teams on the field.
Despite the information, all signs point to the upcoming season as one that delivers the best opportune time to break tradition. Fall practice kicks off next week and of the four guys in the rotation for the starting job, only one has peaked the interest of fans from the moment he came.
Jalen Hurts is not your typical, run of the mill true freshman. His arrival in January came with a lot of ambition, including the willingness to emulate Clemson's Deshaun Watson for Alabama's first-team defense in bowl prep for the College Football Playoff National Championship Game.
A-Day is just a regular scrimmage for some; a chance to look good, meet old friends, eat well and catch up on old times. For others, it stands as an opportunity to locate the new wave of talent entering the fall season. No matter what tradition depicts, the eyes of almost 80,000 fans (76,212) cannot deny the talent it saw from Hurts back in April. Aside from Greg McElroy (2009), every Tide quarterback had encountered issues at some point in spring games under Saban since 2007.
Well, all except Hurts. The Channelview, Texas native had the strongest performance.
He completed 11 of 15 passes (73.3 percent) for 120 yards and a touchdown. His athletic abilities are special, but his arm talent during a two-minute drill in the fourth quarter got all the attention.
Hurts connected on a number of throws and ended the drive on a five-yard pass to wide receiver Derek Kief for a touchdown, winning the game for White (second-team offense) 7-3 over Crimson.
According to multiple players, the 6-foot-2, 210-pound quarterback came in focused and confident. He was astute in the film room and has already started building team chemistry.
Coach Saban told ESPN's Chris Lowe on July 19 that Hurts has what it takes to win the job and while he's working on winning the team, yours truly lays out four reasons why Hurts should win the role.
Four reasons why Hurts should start
1. Youth
A wise mother knows not to feed its newborn baby solid foods, but she allows it to grow through breast milk and formula. Prior to the last two seasons, Alabama's had a quarterback to start at least two to three years under Saban. AJ McCarron was the most adored one, being that he was a three-year starter from 2011-13. He saw playing time as a redshirt freshman in 2010 and would become a two-time BCS national champion (2011-12) and Maxwell Award winner in 2013.
Winning is far and away the most important thing to Saban and company, but for the fans, the group is crying out in essence of wanting to dominate college football with a young face again.
Cooper Bateman has had three years to win the job, while David Cornwell has had two to mentally prepare himself. Blake Barnett has made progress, nevertheless, Hurts has more of the "It" factor… Confidence. Seeing the maturation of a quarterback from freshman to senior year is not only exhilarating, but it also relieves coaches, players and fans from the stress of not having to answer the same redundant question each year, "Who is going to throw the ball this season?"
2. Highly talented
Hurts is squatting 525 pounds. Let that rotate in the cerebellum for a moment. Some offensive linemen that are 300+ pounds can't handle that much weight. The high four-star recruit was an Elite 11 quarterback and the No. 9-ranked dual threat signal-caller, per 247 Sports Composite.
He was clocked at 4.65 seconds in the 40-yard dash (spring testing) and totaled 40 touchdowns during his junior year at Channelview High School in 2014, where his father—Averion Hurts, was his football coach. Saban's pull in recruiting will keep four and five stars around Hurts at running back, wide receiver, tight end and along the offensive line, but Alabama needs that quarterback to bring it all together. The Texas native has the qualities to piece it together.
3. Lane Kiffin effect
Very few people pinned former Tide quarterback Blake Sims as being successful in 2014.
He was written off after a rough spring game and according to most, Sims was simply a holdover from spring ball. In one season, Kiffin turned Sims from holdover to the school's single season passing leader. The Gainesville, Georgia native racked up 3,487 passing yards and 35 touchdowns, guiding Alabama to a Southeastern Conference championship and a berth in the first-ever College Football Playoff. If he did this in one year with Sims, image three to four years with Hurts under his tutelage. After this season, who knows if Kiffin will remain at Alabama.
The 41-year-old receives the final $2.7 million of his $3.4 million buyout from Southern California in the fall. Once USC is done with him, the pressure falls on Saban and company as to what will be offered to Kiffin. He's the hottest offensive commodity right now and much like the women in his life, Kiffin will bolt if the right option, price and system is thoroughly presented.
While he is still under the tag of Alabama offensive coordinator, why not let him make a solid investment in Hurts. Investing in Bateman or Cornwell will last short term, but Saban is not like organizations in the NFL, NBA or MLB, he wants to sustain greatness for a long period of time.
Alabama will have a decision to make in regards to Kiffin's contract next season, but after seeing what he did with Jonathan Crompton (Tennessee) as well as Sims and Jacob Coker, anyone with a pulse should get excited at the possibilities of what the Tide can do if Kiffin invests in Hurts.
4. Representation of QBs that beat Alabama in recent years
What do Tim Tebow (2008), Johnny Manziel (2012), Cameron Newton (2010), Nick Marshall (2013), Bo Wallace (2014) and Chad Kelly (2015) all have in common? All of them defeated Alabama as dual threat quarterbacks. Each one did enough with both their legs and arms to keep the Tide's defense honest and off tempo. If it weren't for a 95-yard kick return touchdown and a perfectly executed onside kick, Clemson's trigger puller Deshaun Watson be on this list as well.
He carved up Alabama's secondary for 405 passing yards and four touchdowns, while completing 30 of 47 attempts (63.8 percent). Part of Saban's will to win is giving his teams a competitive edge.
It sounds cliché, but why not provide the teams that beat you with a taste of their own medicine in having a youth, dual threat quarterback. It's the perfect Trump card, no pun intended.
Hurts emulated Watson for the national title game and has some elements of Manziel and others in him, when it comes to his ability to adlib on certain plays.
No true freshman started under Paul Bryant because the dynamics of the game were different and at the time, freshmen weren't allowed to play due to NCAA regulations.
Offenses were more so predicated on the wishbone and establishing a run game. Much of Bryant's focus was on defense, getting his teams to recognize the value of shutting down others.
Steve Sloan (1963-65) was the best overall stats wise, posting a 60.7 percent completion rating for 2,027 passing yards with 11 touchdowns to five interceptions. After him, one would have Walter Lewis (1980-83) as the best yards wise (4,257) and of course, Joe Namath (1962-64)– who navigated the Tide to a national championship during the 1962 season.
With more freshmen earning a reputation a playmakers and offenses become more involved with the spread, no-huddle style, it behooves a team to have a quarterback that can maneuver the ball.
If Hurts would have tanked in spring, no one would be talking about him.
Because he excelled in spring practice and is showing more signs of pushing with his devotion to weight training, Saban has to at least consider him. He's the best investment and depending on how he does in fall camp, he gives Alabama the best shot at winning multiple championships.
Stephen M. Smith is a senior analyst and columnist for Touchdown Alabama Magazine. You can "like" him on Facebook or "follow" him on Twitter, via @Smsmith_TDALMag.