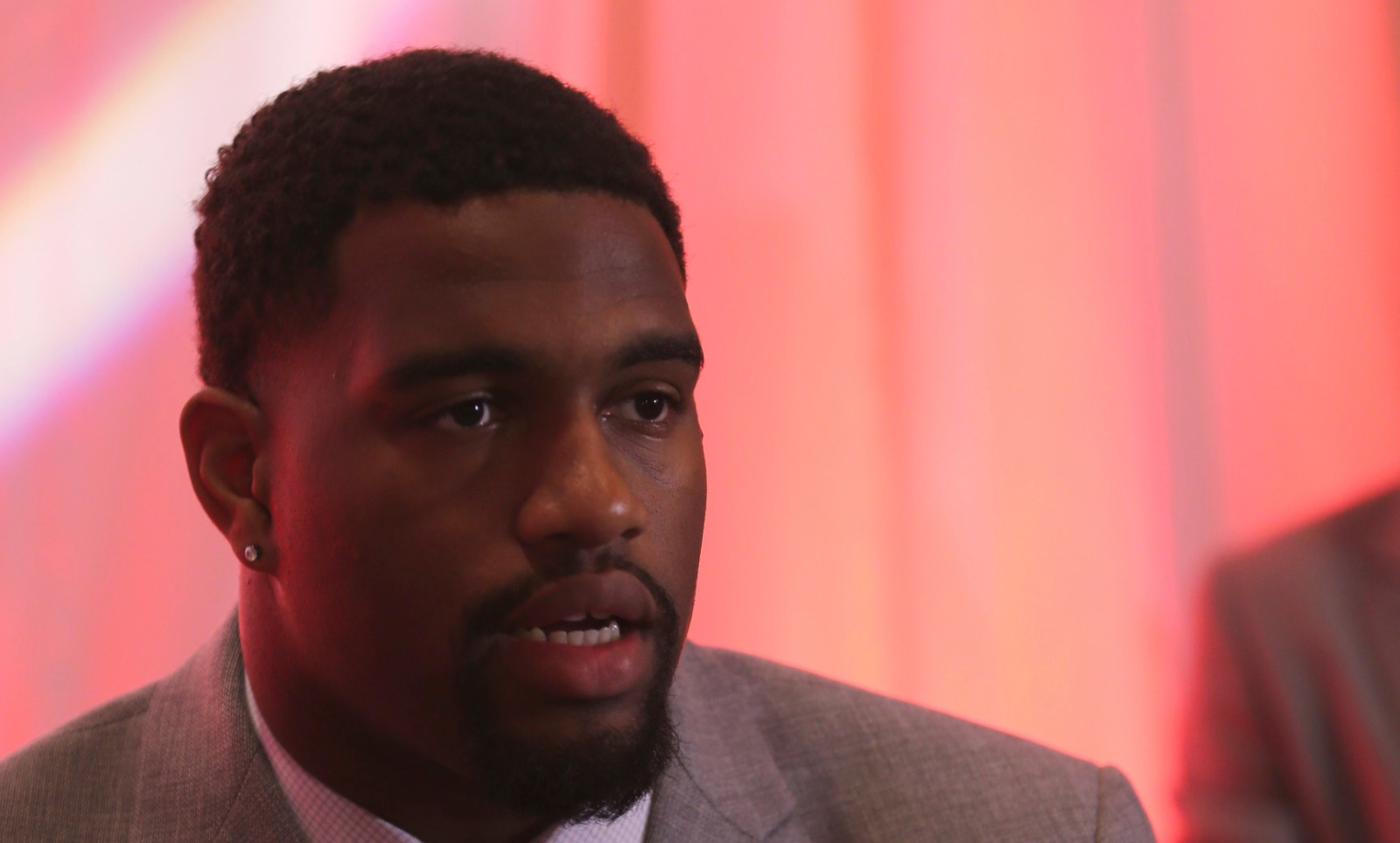 TUSCALOOSA, Ala.| After a solid grind in fall practice No. 13, two Alabama players entered the Mal Moore facility for interviews on Monday. The first of two was a person who led the team in sacks (12) and tackles for loss (14.5) on a defensive front that posted 52 sacks in 2015, Jonathan Allen.
Allen, a senior, benefited greatly from A'Shawn Robinson and Jarran Reed. The 307-pound duo allowed Allen to be fresh and dominate more so in one-on-one battles on the edge. With both guys in the National Football League, leadership responsibilities fall on the Leesburg, Virginia native.
While Reed, Robinson and Reggie Ragland led with an iron fist and a scowl on their face, Allen has taken a different angle to his position. He said he wants to understands his teammates better.
"If I see something going on, I try to talk to them, communicate with them and just give them energy," Allen said. "I try to pick them up if one is having a bad day. Just little things."
Since recovering from a shoulder surgery, the 6-foot-3, 290-pound defensive end has found himself on numerous all-conference, All-American and preseason award watch lists. Despite the accolades, only one thing hangs in Allen's mind in regards to the upcoming football season.
"I want to become an every down player," Allen said.
"I want to show that I can play the run better and improve on things that I wasn't required to do in the past. One of the things that I definitely want to get better at is being more consistent."
Allen could have declared for the NFL Draft, but was one of five juniors on defense that decided to return to Tuscaloosa. He currently stands at No. 2, behind Texas A&M's Myles Garrett on Phil Steele's top 48 draft eligible defensive ends for 2017. Depth on the front line and can this year's group surpass the 2015 unit are questions that coach Nick Saban and fans alike both wonder.
Jonathan Allen expressing his thoughts on the defensive line in Monday's player interviews. pic.twitter.com/0cVrqgGhEK

— Stephen M. Smith (@CoachingMSmith) August 15, 2016
As for Allen, he is positive in both areas where the defensive alignment is concerned.
"I feel like we have great depth on the defensive line. The one's, two's and three's are all playing well," he said. "Personally, I feel like we can beat the sack output from last year, but it's going to take a lot of effort from each side (linebackers and defensive lineman). I would not be surprised if we beat it."
Alabama's 2016 signees Raekwon Davis and Jamar King are part of the depth in question.
Alabama defensive end Jonathan Allen talking Raekwon Davis and Jamar King. pic.twitter.com/WS3MVpqV2C

— Stephen M. Smith (@CoachingMSmith) August 15, 2016
Both players have been very involved in fall practice and Davis in particular, stands head and shoulders above the competition (size wise). Allen said the defensive line has to improve on communicating and getting to the ball, but he's pleased with the progress of Davis and King.
"You see them all the time on film, but when they come in,  your like 'wow' they are really playing above their status," Allen said of Davis and King. "Davis is humongous. He's 6-foot-8, so he's huge."
"He is easily the biggest defensive lineman I have ever played with."
Allen continued with: "I've just been trying to teach him different things, technique wise. Things I've learned from previous players and stuff throughout the game and he's taken it very well."
He may be disrupting the timing of opposing offenses, but for his own, Allen said the Tide is starting to click on that side of the ball. He expects tight end O.J. Howard to have a huge year.
"It's hard for me tell where Howard is concerned because I'm on defense, but I definitely think if he does what he has to do, I can easily see him having a humongous year," Allen said.
As far as the identity of this year's defense, Allen said it's still being determined.
"I really don't feel like we've found our identity yet," he said. "We've only had one scrimmage. We have another one coming up and then another two weeks of practice. The identity is yet to be determined."
Stephen M. Smith is a senior analyst and columnist for Touchdown Alabama Magazine. You can "like" him on Facebook or "follow" him on Twitter, via @Smsmith_TDALMag.