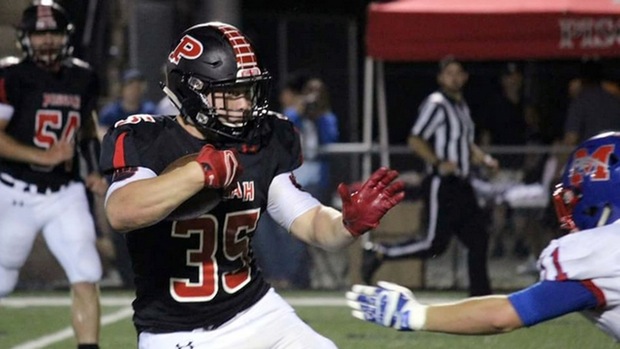 Growing up, Michael Parrott liked one thing and one thing only — football. School yard, backyard, night, day, raining or dry. Michael loved to play the game, anytime anywhere. Did he ever imagine playing past the high school level? Absolutely not. Something he didn't even dream of is happening, and he couldn't be happier.
"I grew up just loving the game. I never thought I could play, let alone play at the best school in the country. I got on campus the 9th. I'm so excited, I finished all my work early and can now prepare for next season."
Signing with Alabama is a huge honor to Michael. He is going to give 100% in everything he does, and he knows Alabama feels very happy about Michael. One thing he credits his success to: God.
"Signing with Alabama is an honor, only a handful of people get the privilege to play on the most elite football team in the country. With the help of God most importantly, my family and friends, and my coaches, all my hard work has paid off. I am right where I want to be."
Holding other offers from Vanderbilt, Wofford, Illinois State and others, Parrott knew right away his next head coach would be Nick Saban, and he still can't be happier.
"This is unreal. The best football team in the nation wants me. Although I considered other offers, I knew right then and there that was where I wanted to be. I didn't want to be anywhere else or playing for anybody else than Saban and his staff."
One thing that confirmed his decision to play for the Tide was the campus, and most importantly his visit to the school. Parrott grew up in a beautiful part of North Carolina, and he says Alabama tops it.
"When I visited and experienced the amazing campus, top of the line facilities, warm welcome from players and coaches, and the area made me feel like I was at home. I couldn't wait any longer to get there and that's why I enrolled early."
Parrott, like most fullbacks plays hard and tough. The 6'2″ 240 bulldozer is ready to make a lasting impact at Alabama and plow the way for future running backs. He doesn't get much attention, and that's just how he likes it. He hopes to better himself as a person and as a player while playing for the Tide.
"I want to work hard and hopefully be able to travel next year and maybe earn a spot on special teams. Eventually I want to bulldoze the path for the elite core of alabama running backs. As well as earn a world class education. I want to use football to succeed in life as long as I can, whether it's on the field or in the workplace. Football teaches you valuable life skills."
Being a fullback isn't being the star of the show, and Parrott knows that. He is ready to contribute to the team, help win games for Alabama and is ready to get to work in Tuscaloosa.
"Being a [fullback] is being the baddest dude out there. I pride myself in being a team player, I don't care who is doing the scoring as long as the team is winning. I'm a teammate first, and a player second. I may not get credit, but good players and coaches know it. I'm going to help win games for Alabama and I try to fly low."
Bobby Kunz is a Recruiting Analyst for Touchdown Alabama. You can follow him on Twitter at @TDALMAGKunz.