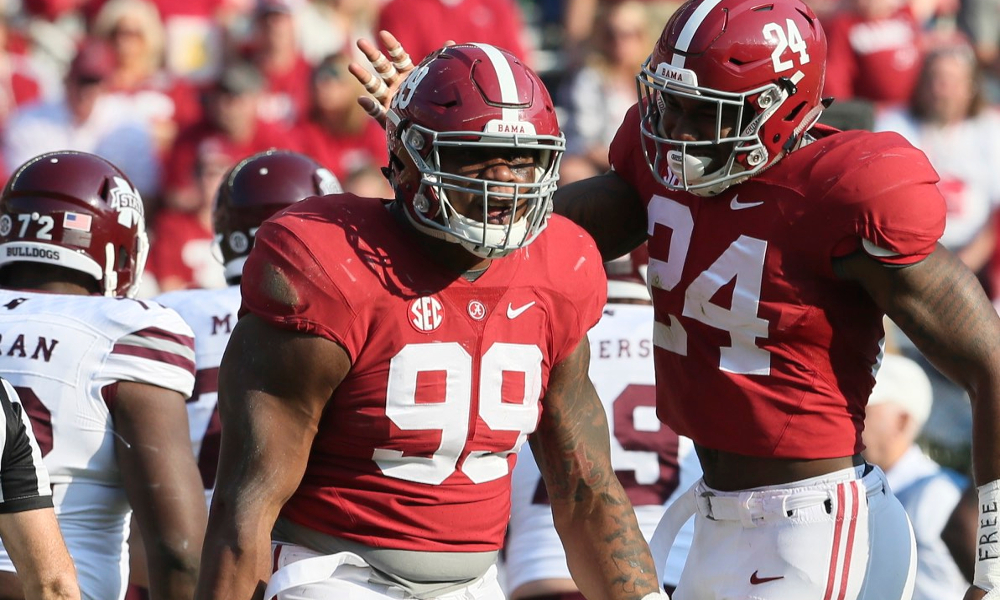 While guys like Jalen Hurts and Jonah Williams are expected to have excellent years, they both experienced 'break out' seasons as true freshman, and are therefore not applicable. On this list, I have compiled five true sophomores that I believe are in line to take over in T-Town this Fall. While most of them saw playing time last year, they did not have break out campaigns. That is going to change in 2017.
1.) Mack Wilson
Position: LB  Height: 6-2  Weight: 231 lbs.
2016 Season Stats: 8 total tackles, 1 fumble recovery, 1 Rec TD
With the departure of linebackers Tim Williams and Reuben Foster, Mack Wilson is in line for a major increase in playing time this Fall. He became known to some as the "Mack Truck" for this hit stick on Texas A&M's punt returner:
As is routine, Nick Saban assigned him special teams' duties last year. Not only did Wilson succeed, he over achieved, seeing his way onto the field with the offense in goal line scenarios. In a show of athleticism, he even managed to snag a Jalen Hurts throw for a trick play touchdown reception. In a strange turn of events, he was also considered Alabama's back up punter. For those that missed that piece of news during the season, yes you read it right: backup punter.
Prior to his hey-day, Reuben Foster was a hard-hitting, highlight-making special teamist as well. Things went pretty well for him, considering he was just picked up in the first round of the NFL Draft. A lot of comparisons have been made towards Wilson and Foster, but where Wilson may actually win out that discussion is in pure athleticism.
Not that Reuben Foster was not athletic, because he obviously was, but Wilson has a different build and frame. His 230 pounds are spread a little bit differently than Foster's because of his 6-2 height – Foster measured in at just 6-0 prior to the Draft.
As shown by his multi-faceted game, Wilson will be able to find his way on the field if given an opportunity. A Mack/Hamilton super-duo at middle linebacker seems imminent, and should it come to fruition, will be one of the best combinations in all of college football.
2.) Terrell Hall
Position: OLB  Height: 6-5   Weight: 251 lbs.
2016 Season Stats: 11 total tackles, 1.0 tackles for loss
Standing at an enormous six feet and five inches, it would be easy to confuse Terrell Hall for a tight end. However, he is not.
Instead, he is an outside linebacker with elite pass rushing skills. At his height, he will also be a nightmare for quarterbacks trying to throw past him as he can reach up and bat down just about anything in his direction. He showed great this ability, as well as strong hands and elite speed, during April's spring game.
Typically, this is a completed pass, but with Hall in the way, well, it was quite a different story. Not only did he find his way around the offensive lineman, he had the football IQ to read the play and jump up to snag the ball from the air. A typical 6-0 or 6-1 linebacker would not have had the ability to make this play, but his unusual speed/height combination allows him to do so and turn it in for six points.
With pass-rushing specialist Tim Williams and strip-specialist Ryan Anderson both playing on Sundays now, the Tide will need a huge contribution from a new face. Hall has the tools to be that new face, and if he lives up to his billing, will be next in line for a big time payday.
3.) Trevon Diggs
Position: DB  Height: 6-2  Weight: 195 lbs.
2016 Season Stats: 11 receptions, 88 yards, 1 Rec TD
As I've noted before, Trevon Diggs is following in the path set by Cyrus Jones. A Maryland native playing at wide receiver then flipped to corner. For Cyrus Jones, that worked out pretty well as he now prepares for his second season with the New England Patriots. The Diggs Experiment has yet to come to a definite conclusion.
In April's spring game, Diggs did in fact start at cornerback opposite Anthony Averett. However, he was repeatedly picked on by Hurts and company and his lack of experience showed. He was beat deep on more than one occasion, and sometimes for big play touchdowns.
There was a silver lining, however, as he did make an excellent instinctive play by picking Jalen Hurts off in the endzone early in the game. With Minkah Fitzpatrick reportedly moving back to corner, Diggs may be relieved of starting duties in the base defense, but we will likely see him on nickel and dime packages covering inside zones and slot receivers.
What makes him a breakout candidate, is that he is always going to be one of the fastest guys on the field, and the fact that he is 6-2. Like with Terrell Hall, size matters, especially if combined with other elite athletic gifts. Should Diggs get on the field, he has the speed to cover smaller slot guys, and the size to cover bigger tight ends. He has a long way to go in terms of learning the nuances of the position, but defensive back-mastermind Nick Saban will help shore up those issues sooner than later.
Whether he has a break out season is entirely up to whether or not he is able to learn the position by Fall.
4.) Miller Forristall
Position: TE  Height: 6-5  Weight: 238 lbs.
2016 Season Stats: 5 receptions, 73 yards
O.J. Howard could have gone down as one of the best tight ends in college football history with the set of skills he possessed. While the first round pick certainly won't be forgotten anytime soon, his stats will never do him justice (looking at you Lane Kiffin).
Regardless, he was one of the centerpieces of the Tide's offense the last few years and now he is gone. Another highly touted player will be looked upon to answer that call in 2017.
Miller Forristall saw the field in all 15 games as a true freshman, a difficult thing to accomplish on a Nick Saban coached team. He only recorded five catches, but he made a much larger impact with his blocking instincts. Kiffin liked to use tight ends as additional blockers, especially on draws, sweeps, and options. Forristall carved out a spot on the team using his quickness and strength. While most highly heralded players come in with an elite skill, blocking duties are typically scant.
Guys like Derrick Henry and O.J. Howard were both criticized early in their careers for their inability to pass and run block, despite being extremely talented in all other aspects. With Forristall, he came in and immediately showed an instinctive knack for blocking despite being just a true freshman.
As he showed throughout highs school and various recruiting camps and combines, Miller can do more than block if given the chance. I believe he will take the starting job left behind by Howard because of his blocking skills, but will have a break out season due to his underrated receiving abilities.
5.) Raekwon Davis
Position: DL  Height: 6-7  Weight: 303 lbs.
2016 Season Stats: 4 total tackles, 1.0 tackles for loss, 1 forced fumble
Size seems to be a pretty common key in this list, but Raekwon Davis is an absolute monster of a man. If you see him on the field in person, you can spot him from a mile away because he literally towers over everyone else.
A lot of the same things said about Terrell Hall's height can be said about Davis'. A lot of passes are thrown over the defensive tackles, and it is proven not to be easy trying to throw a slant pattern over a skyscraper. At 303 pounds, you expect him to look a little more like Terrence Cody, but he actually looks much slimmer than most of the rest of the defensive linemen.
In flashes, he has shown relative quickness and strong hands, so it will be fun to watch how that progresses in more playing time this season with the NFL exoduses of Johnathan Allen and Dalvin Tomlinson.
He will get a lot of attention due to his size, by both fans and coordinators alike. With the spotlight on him, he is in perfect position to score a break out season in 2017.
Jake Weaver is a lead writer for TD Alabama Magazine and Bama Hoops Hype. You can contact him via phone at 205-612-5060, or on Twitter @JWeaver_TDALMag