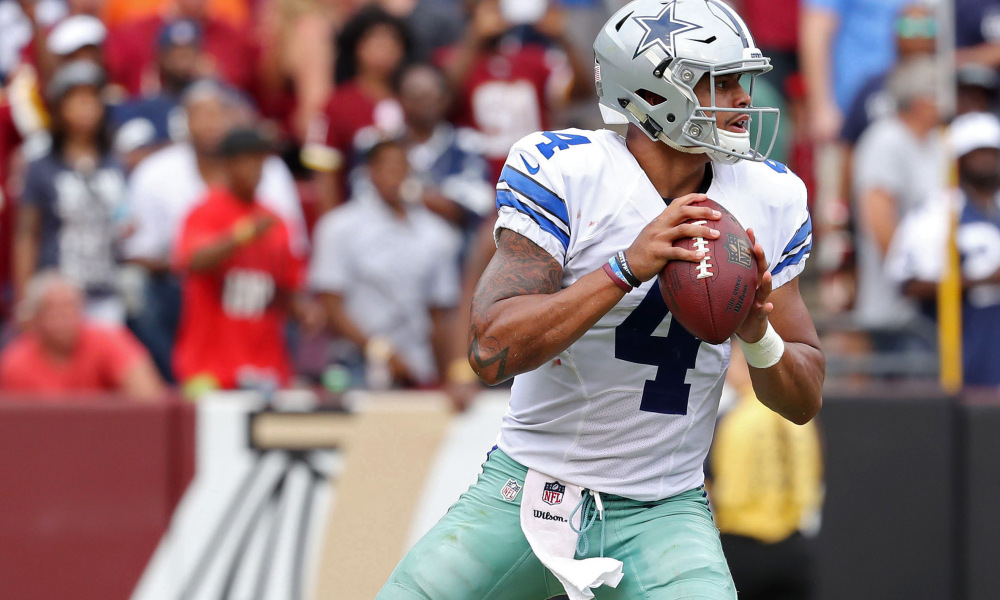 Weaver's Web is an opinionated column by TDA's Jake Weaver. All views and opinions shared are his own.
The Dallas Cowboys production crew released a 40-minute documentary last week on the history of Dak Prescott and the impact he has made on and off the field. This both rose a question in my mind, and answered it at the same. Who is the best all-around quarterback Alabama has faced under Nick Saban?
He didn't get the same accolades as the other guys on this list, but former Mississippi State Bulldog, Dak Prescott, has proven to be one of the best quarterbacks to ever play in the SEC. He may even be one of the best quarterbacks in the NFL, but it's too early to tell.
Yes, that is right. I said ever. He is without a doubt on the same page as Johnny Manziel, Cam Newton, A.J. McCarron, Tim Tebow, and countless others, despite not having a Heisman Trophy or National Championship ring to show for it. He took Mississippi State to new and unparalleled heights it had never seen before. His Bulldogs landed the #1 spot  in the AP Poll for the first time in school history in 2014, and were voted into first place on the first ever College Football Playoffs rankings.
Since being drafted by the Dallas Cowboys in the fourth round of the 2016 NFL Draft, he took the starting job and led the 'Boys to a 13-3 record and a first-round bye in the playoffs. While he may not have won a lot of personal awards in college, he came away with NFL Offensive Rookie of the Year trophy. He did this after throwing for 3,667 yards, 23 touchdowns, and just four interceptions after stepping in for the injured Tony Romo.
Nick Saban's Crimson Tide have played some of the best quarterbacks in the nation over the last decade – a list including Tim Tebow, Deshaun Watson, Johnny Manziel, Cam Newton, Colt McCoy, Matthew Stafford, Aaron Murray, and so many more.
Most of these quarterbacks listed above have victories over Saban's Tide, but not all of them. Dak Prescott is one of those without one, but that is not the deciding factor in what makes a great quarterback. After all, Alabama fell to Bo Wallace of Ole Miss in 2014…and he was by no means a 'great' quarterback.
What made Dak Prescott so special in college was that even though he started his career as a run-first guy, he was capable of making every throw by the time he graduated. In his four seasons in Starkville, he threw for 9,376 yards, and 70 touchdowns to just 23 interceptions. He also ran for 2,521 yards and 41 rushing touchdowns. In all, that comes out to 11,897 yards and 111 touchdowns. He did this all while only being the full-time starter in his final two seasons.
Comparably, Tim Tebow threw for 9,285 yards and 88 touchdowns while rushing for over 2,900 yards and adding another 57 scores on the ground. Tebow, however, started for three seasons on an already elite team coached by Urban Meyer (and Dan Mullen, too).
Johnny 'Football' Manziel, who gave Alabama's defense fits two years in a row, threw for 7,820 yards, 63 touchdowns, and 22 interceptions during his two seasons as the Aggies' starter. He, too, scrambled for over 2k yards on the ground, with 2,169 and 30 scores.
In basically what was two-and-a-half seasons, Deshaun Watson also put up incredible numbers. He threw for 10,168 yards, 90 touchdowns, and 32 picks. He put up less yards on the ground, however, with 1,934 yards and 26 rushing scores.
Cam Newton was phenomenal for Auburn in 2010, as well, but only played one season so his stats are incomparable.
While I could continue listing great quarterbacks and their respective stats, the pattern has been made clear by now. Dak's numbers were as good as anyone's, if not better. In his two games as starting quarterback against Alabama, Dak threw for 590 yards, and two touchdowns, but also threw four picks. However, he did add 96 additional yards on the ground as well.
His best team was in 2014, when the Bulldogs came in to Tuscaloosa ranked #1 in the nation. After going down 19-0 early on, he led his guys back to just a six-point deficit, down just 19-13 early in the fourth quarter. Blake Sims athleticism kept Alabama's sluggish offense alive late in that game to help lift them over State 25-20 after all was said and done. So, no, not a win, but certainly not a blowout.
Deshaun Watson could turn out to be one hell of a quarterback for the Houston Texans in the NFL, and at that point it would be fair for one to want to re-open this conversation, as it is a very close duel between the two. However, I feel it is safe to say the best all-around signal-caller Nick Saban's Crimson Tide has faced was neither Johnny Football, Deshaun Watson, nor Cam Newton. Instead, the best they faced came from a historically subpar team that he then took to another level.
Dak Prescott was – and still is – the real deal.
Jake Weaver is a lead writer for TD Alabama Magazine and Bama Hoops Hype. You can contact him via phone at 205-612-5060, or on Twitter @JWeaver_TDALMag