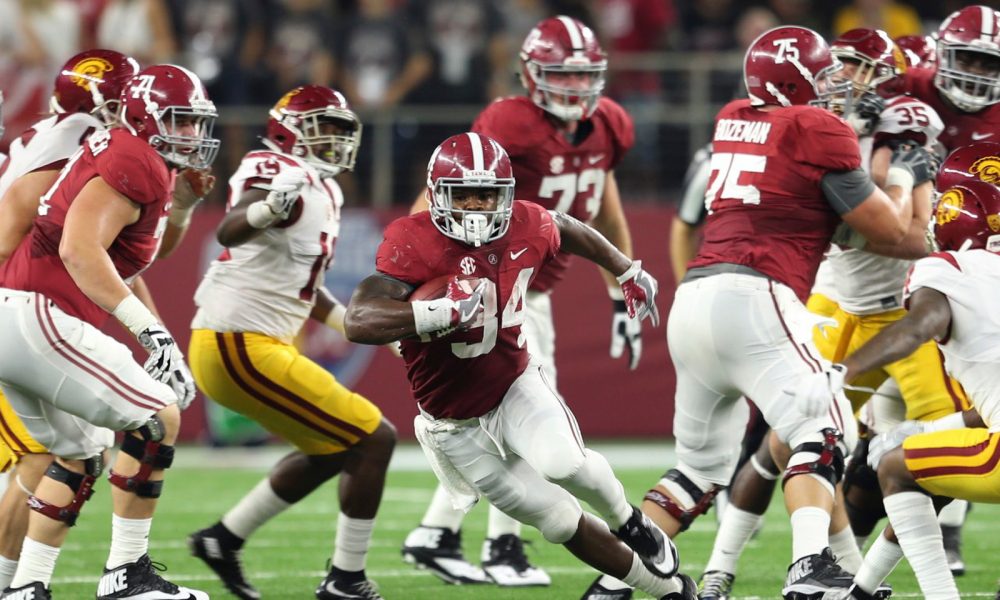 Bo Scarbrough is getting all the attention and hype for this upcoming game as Bama's top rusher, but should he be? Read why he should not be.
Damien Harris or Bo Scarbrough, Who Will be the Top Rusher for Alabama?
By: Larry Burton
Bo Scarbrough seems to be getting all the buzz and headlines, but while Bo had a few good games, Damien Harris had a better season last year. Throughout the entire season, he was the man Alabama could count on while Bo stayed nicked up and had games where he didn't put up numbers. So why is Scarbrough perceived as "Number One" in the running back order as the hype builds toward the big clash with Florida State?
Sure, Henry can make some highlight runs, but he finished the year with a 6.5 yard per carry average.
Let's get some facts down before people jump to their own conclusions. Last season Harris ran for 1037 yards, leading all running backs with an almost unbelievable 7.10 yards per carry. Let me say that again folks, 7.10 yards per carry. That's insane! On any other team, he would be their Heisman guy. That's an average yard per carry average that shames everyone else. Let's put up some other facts you may have forgotten. Derrick Henry, Mr. Heisman, had a 5.62 yard per carry average in 2015  and Henry's 2014 average of 5.74 yards per carry. Henry was the rusher leading all Alabama running backs in those two years.
Eddie Lacy's top season? It was 2012 with 6.42 yards per carry. The other Heisman winner Mark Ingram you wonder? His best year was 5.54 yards per carry during the 2009 championship season. No season ending top rusher in the entire Nick Saban era has a higher yard per carry average than Damien Harris put up. Of all leading rushers, he's the Alpha, the top dog, numeral uno, the best of the best.
And yet all you hear about is how is Scarbrough going to do against FSU. It's his picture you see and his name in the anticipated match up of Alabama and Florida State running backs.
But folks I'll tell you here and now in no uncertain terms and without ambiguity that if a smart man was drafting for an NFL team, they would take Harris over Scarbrough right now based on what they have seen so far through both their careers and it's not just the yard per carry average. Harris also worked against teams when they were fresh and at their peak early on in the season and Scarbrough would come in later when they were a good bit more worn down. That's something to consider too.
If you watch running backs like Saban does, you look for what kind of job are they doing when they're not toting the rock. Scarbrough's missed picking up some blocks and isn't as astute in getting open coming out of the backfield as Harris has shown he can be. Last season Harris caught 14 balls for about a 100 yards and for the math impaired that was yet another 7+ yards a snag. This guy's seven plus yards every time he gets to touch the ball. Again folks, that's great stats. Scarbrough on the other hand, had just four catches for 22 yards, a 5.5 average and at times just didn't show he had the most grace in catching the ball. Harris catches and secures the ball like a receiver with soft hands.
That's another reason to take him over Scarbrough on an imaginary NFL team, but the other is toughness. Scarbrough has the size, the muscle and the strength to be bull, but he's more often been a hobbled bull while Harris takes the licks and keeps on going back to the huddle. The best running back in the world isn't worth a toot if his butt is on the bench or on crutches. Scarbrough is going to have to prove he can make it through a whole season without going lame.
That's not to say that this may not be the breakout year for Bo. He could go straight up and put up better numbers than Harris. But he hasn't done it yet and he didn't do last season. I'm not demeaning Scarbrough in any way, he's a fantastic back with a huge potential and future. I'm just frustrated that Damien Harris isn't getting the love and respect from the press that he is due because he worked his butt off and earned the right to all the praise and hype he just isn't getting. Last season only one man could be the best and last season it was Harris in every aspect of what makes a running back number one.
So the question in leading up to this game doesn't have a darn thing to do with Alabama's rushing totals vs Florida State's rushing totals, that's a joke and it won't close. The real question folks should start asking is about the real contest in this game. Which Alabama back will have the best day and who will nail down the number one title? That is the intriguing story line in this game when it comes to running backs. The reason it's so intriguing is that they may split the carries, no one gets over 75 yards each and Najee Harris comes in late and breaks an 80 yard run in one attempt and wins the prize. With this backfield, nothing is certain except lots of talent and lots of depth.
But folks, they'say if you don't learn from history you're a fool and history tells us that you better keep your eye on Damien Harris. Until he's dethroned, it is he who is king and it wouldn't be surprising all to see him stay that way. That's who this author thinks will win the day, but let's see what you think.
Now let's all watch and see what unfolds in this interesting sub-category of this game.
Larry has been published in almost every media outlet for college sports and now primarily writes here for Touchdown Alabama. Follow Larry on Twitter for inside thoughts and game time comments at https://twitter.com/LBSportswriter
THANKS FOR SHARING THE LINK TO THIS STORY ON YOUR FACEBOOK PAGE OR A FACEBOOK GROUP YOU BELONG TO, IT SUPPORTS OUR ENDEAVORS AND HELPS KEEP MOST OF THIS SITE FREE, SO PLEASE SHARE!